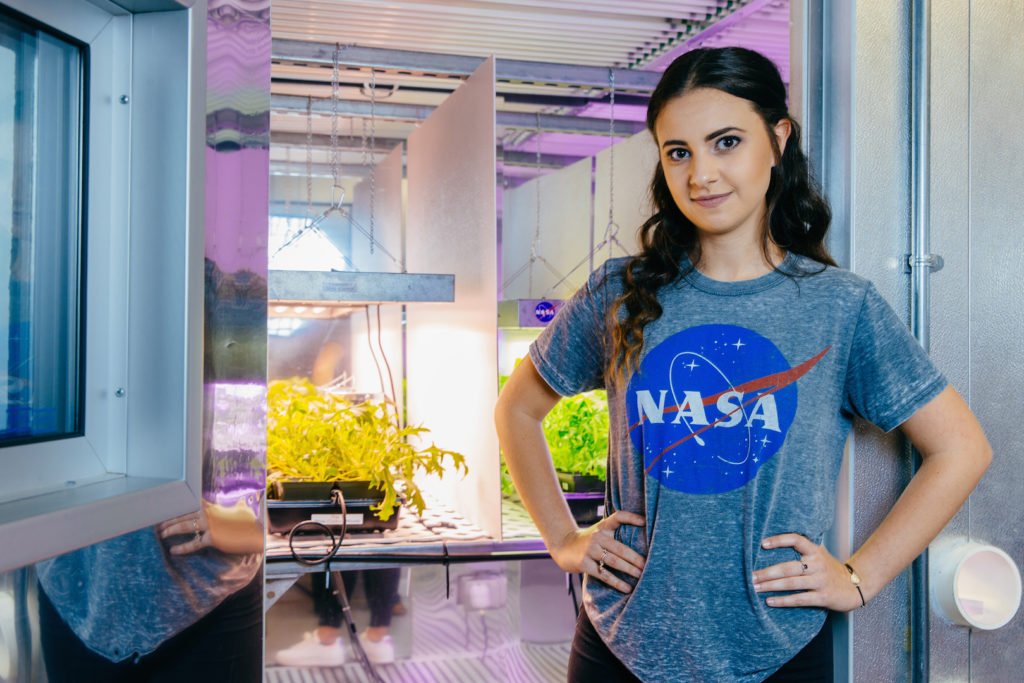 Getting to Mars takes more than rockets.
Hundreds of people are working on the logistics of sending astronauts to the red planet, from staying fit to entertainment on the long ride. Among them is Florida Poly rising Junior Payton Barnwell, who spent the summer testing the optimal conditions to grow plants in space.
It's familiar territory for Payton, who is already studying space radiation at the University thanks to a $12,000 grant from the NASA Space Consortium. This time, though, her lab is actually at Cape Canaveral.
"I'm one of several interns from across the country bringing all types of backgrounds to this research, including microbiology, horticulture and nanotechnology. It's really shown me the power of having a diverse team," Payton says.
The experiments involve using different light sources to test the durability and viability of various species of lettuce and other vegetables. Throughout the summer, Payton has learned the exact science of measuring, cataloguing and analyzing the results of these experiments. The best results will be replicated on the International Space Station. Payton says she was already familiar with the spectrum of light waves central to these experiments because of classes at Florida Poly.
Working around NASA property has brought other advantages. Payton has toured launch pads, shared a room with Buzz Aldrin and Jeff Bezos, experimented in negative temperatures and even had lunch with astronaut Bob Cabana, director of NASA's John F. Kennedy Space Center.
"I thought going into this I would just be sitting in a lab looking at plants, but it's opened up experiences I never thought possible," Payton says.
The Mechanical Engineering major highly suggests pursuing a NASA internship to anyone who wants to make change in the space industry.
"There are so many ways to apply your major and it's a great place to work. This is America's space port; there's nothing else like it," she says.