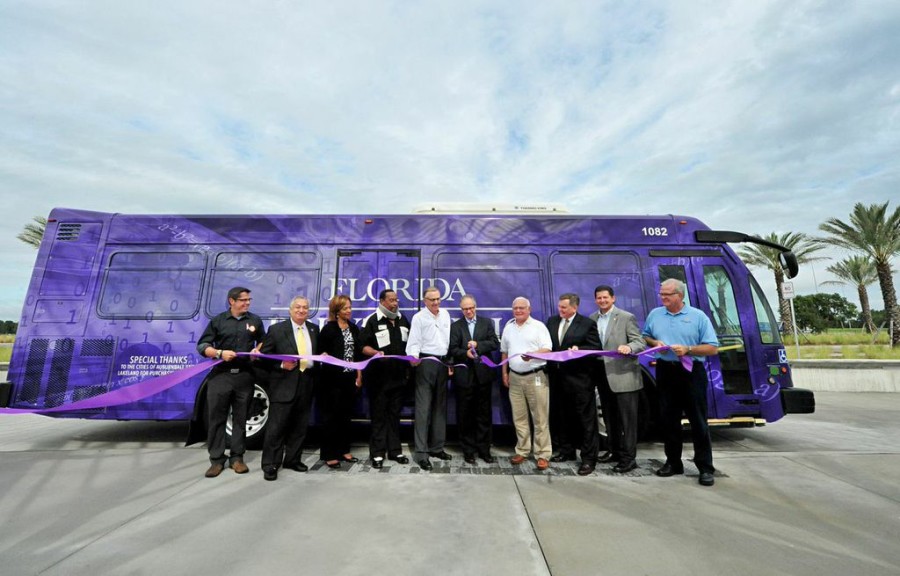 LAKELAND, Fla. – Florida Polytechnic University students, faculty and staff have free access to the Polytechnic Circuit Express, thanks to a partnership that officially kicked off Wednesday between the University, Polk Transit and the Cities of Lakeland and Auburndale.
A 32-passenger bus provided by the Cities of Lakeland and Auburndale will now connect the University community to popular housing, shopping and entertainment in the region.
To celebrate the Polytechnic Circuit Express service option, an official ribbon cutting and dedication ceremony took place at Florida Polytechnic University on Wednesday. City officials from Lakeland and Auburndale traveled to the ceremony from their respective cities aboard two Polk Transit buses – each wrapped in a Florida Polytechnic theme.
"It's exciting to be able to offer our students safe and convenient bus service to help them get to class, socialize with friends and explore all that our region has to offer. The response to the Polytechnic Circuit has been great so far and we continue to see increased participation from our students," said University President Dr. Randy K. Avent. "I'm very grateful to our partners Polk Transit, the City of Lakeland and the City of Auburndale for their commitment to this project, the University and most importantly, our students."
Monday through Saturday, the Polytechnic Circuit Express takes students from the University to four apartment complexes (Arbor Glen, The Landings, Victoria Manor and The Preserve), through Downtown Lakeland, and then back to Florida Polytechnic. Late night service is offered on Friday and Saturday, and limited Sunday service provides an extra stop at Lakeside Village.
In addition to the Polytechnic Circuit Express, students, faculty and staff with a valid Florida Poly ID also have free access to the entire bus system in Polk County.
"This partnership is a great example of how our region can work together for the greater good," said Executive Director of Polk Transit Tom Phillips. "Students enjoy safe, reliable transportation, and the local businesses will benefit from the increased student traffic. We are delighted to work with the Cities of Lakeland and Auburndale on this project."
For more information about the Polytechnic Circuit Express Bus Service, please visit http://staging-floridapoly.kinsta.cloud/student-life/bus-service/.