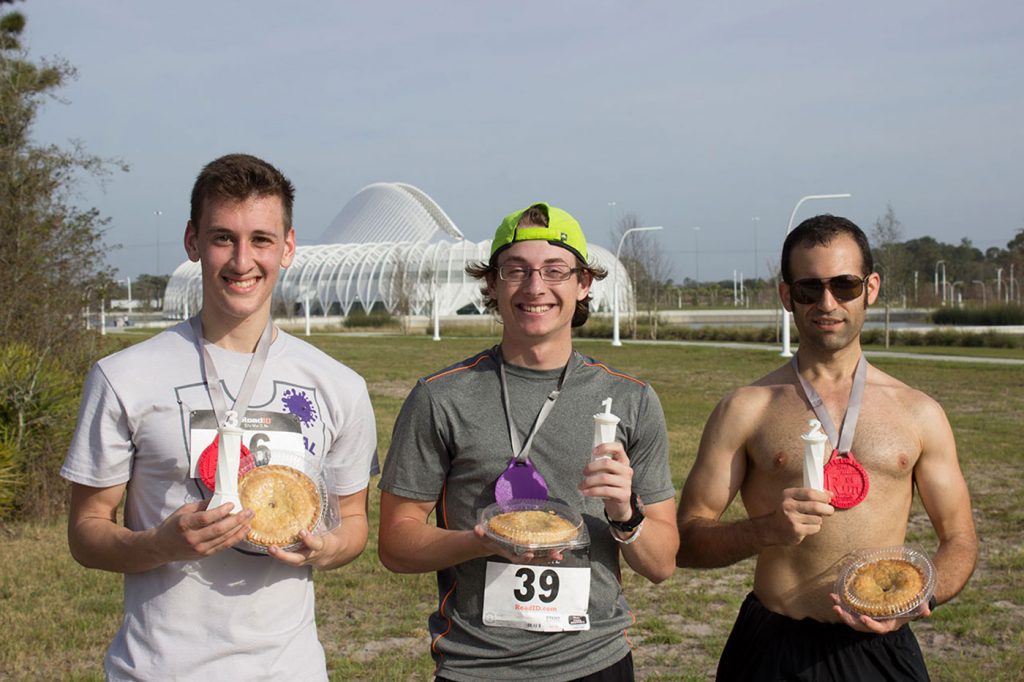 Florida Polytechnic University students organized and hosted the second annual Florida Poly Pi Run, which featured a scenic 3.14-mile course around the campus and award-winning Innovation, Science and Technology Building.
More than 100 runners participated in this year's race. The annual Pi Run was open to all University students, faculty and employees, as well as the public and helped to raise more than $1700.00 to support scholarships. Participants received a T-shirt, race bib and 3D medal produced by Florida Poly's 3D printing lab.
"We want to thank everyone who participated and contributed to the success of our second annual Pi Run," said Dr. Steve Warner, Director of Student Affairs. "Florida Poly has an engaged student body with extraordinary potential. Not only was this a fun event, the funds generated will help support the academic pursuits of these future high-tech leaders."
The Pi Run is held in honor of the mathematical constant pi (3.14), and corresponds with National Pi Day on March 14, or 3-14. Now in its second year, the annual fundraiser was created by Florida Poly's student body to help fund student scholarships.
"This event is a great opportunity for our community to come together to support students and the university in a fun way," said Florida Poly's Student Life Coordinator Dana Kwiatkowski. "Because we're a brand-new university, students are creating the traditions that will define Florida Poly's culture for generations. Everyone who participated today can say they're a part of that exciting process."
After the race, spectators, walkers and runners alike enjoyed a slice of real pie at the finish line. In addition, first, second and third place medals were awarded to runners Cory Chambers, Leon Hurtado and Josiah Hunsinger.
"Being involved with Florida Poly like this is more rewarding than any of us realize, and when I look back at what I have been part of, I will be grateful for opportunities and proud of the accomplishments," said Brendan Burke, one of the event's organizers and a student at Florida Poly.
In addition to raising scholarship funds, the event gives members of the community the opportunity to see Florida Poly's state-of-the-art campus and iconic main building up close.
"Every time I wake up and walk to class, I look at our building and realize that I have the opportunity to build something great," said Florida Poly student Austin Alvis, co-organizer of the event. "Whether it's the chance to build the next great invention or the next Florida Poly tradition."
"I'm grateful for what this university has given me so far and what it continues to offer me," said Jorge Nunez, Jr., a student a Florida Poly. "It is because of this that I want to give back by helping to organize this event and raise money to continue the scholarships that funded my education and give current and future students of Florida Poly an opportunity to realize their dreams without worrying how to pay for it."