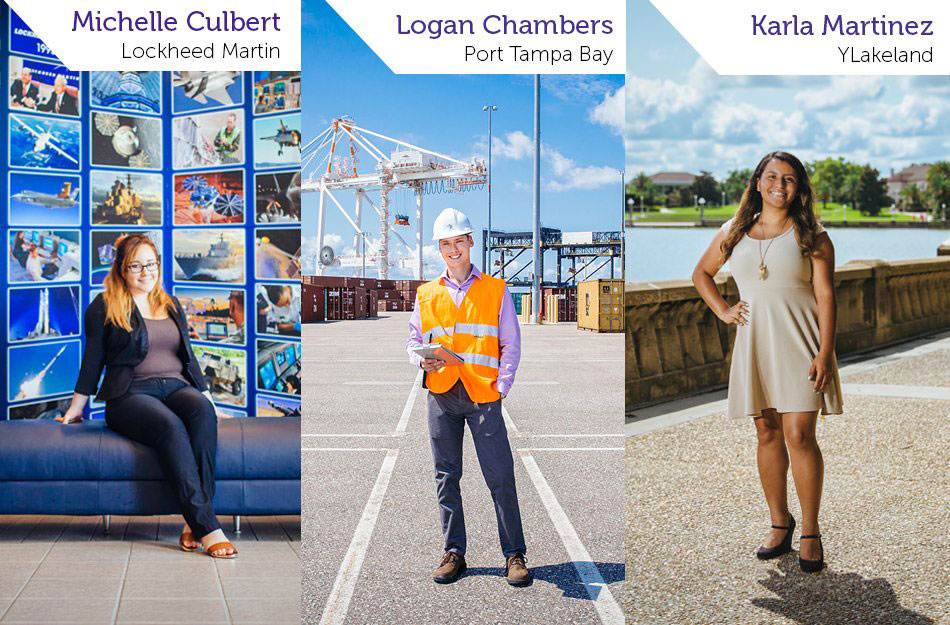 LAKELAND, Fla. – This summer, dozens of students at Florida Polytechnic University are fanning out across the country to intern with some of the largest and most high-tech companies, solving real-world challenges and building their path to full-time employment.
A total of 64 Florida Poly students have secured internships with dozens of companies such as Coca-Cola, General Electric, Lockheed Martin, Motorola and Port Tampa Bay.
"Our goal is to help students take what they learn in the classroom, and apply those tools to solve real-world problems that affect us all," said Florida Poly Vice Provost of Academic Support Services, Dr. Kathryn Miller, who oversees career development and internship efforts at the University. "We have a wide pool of highly talented students with the skills needed to meet market needs and we want to make them easily accessible to employers."
The Career Development Center at Florida Poly is powered by Purple Briefcase, a career readiness platform that uses technology and content from industry experts to help students stand out in today's competitive job market.
"This is an actual workplace that you see in the movies, and I never imagined I would be in that kind of place as a sophomore in college," says Michelle Culbert, a rising junior interning at Lockheed Martin in Lakeland.
Through the Center, students can explore a variety of career paths, search for jobs and internships, receive individual resume assistance, ask questions in career chatrooms and learn about career workshops and events.
"One of our top priorities is to produce graduates who possess an entrepreneurial drive and ability to think outside the box to bring forth solutions," says Florida Poly President Dr. Randy K. Avent. "Our students, even as early as the freshman year, are tackling projects in which they have to work in teams, conduct research and collaborate with faculty and industry to solve problems. Internships are an important extension of that learning, and I'm proud that our students are gaining real-world experience with such innovative companies as early as their first two years of college."
Florida Poly plans to expand its internship program through industry partnerships. University members have the opportunity to work side by side with industry leaders in research, entrepreneurship and interdisciplinary collaborations, offering a significant advantage for students, faculty and companies.
"They really want to make sure we're learning and getting hands-on experience," says Florida Poly student Logan Chambers interning at the Port of Tampa Bay alongside two other Florida Poly students.
"These internships are stepping stones for us, but you have to go out and look for the opportunities," added Karla Martinez interning at YLakeland, an initiative of the Lakeland Economic Development Council working to attract and retain young professionals in Central Florida.
For companies interested in participating in on-campus workshops, recruiting events or joining Florida Poly's influential group of Industry Partners, please visit our partnership page.
Students at Florida Poly are interning with the following companies during the summer of 2016:
Accusoft

Allstate

Chastain Skillman

City of Lakeland

Coca-Cola

Cognitive Performance Group

DRS Technologies

Dura-Cast Products

Engineering Matrix

Florida Poly

Florida State University: High-Performance Materials Institute

Florida's Natural

General Electric

Inerjy

JBT Foodtech

Jensen and Group Engineering Consultants

Lakeland Electric

Lockheed Martin

Medtronics

Millennium Engineering and Integration Company

Mitsubishi Hitachi Power Systems Americas

MOSI

Motorola

Nautical Research & Recovery

Nielsen Company

Northrop Grumman

Oak Ridge National Laboratory

Oakley Transportation

Pall Aeropower Corporation

Port Tampa Bay

Pragmatics

Primary Partners

ProPak Software

Publix

Saddle Creek

Sherwin-Williams

Sofwerx

SteriPack

UPS

Visit Days

WesGarde

Wyndham Vacation Ownership

YLakeland