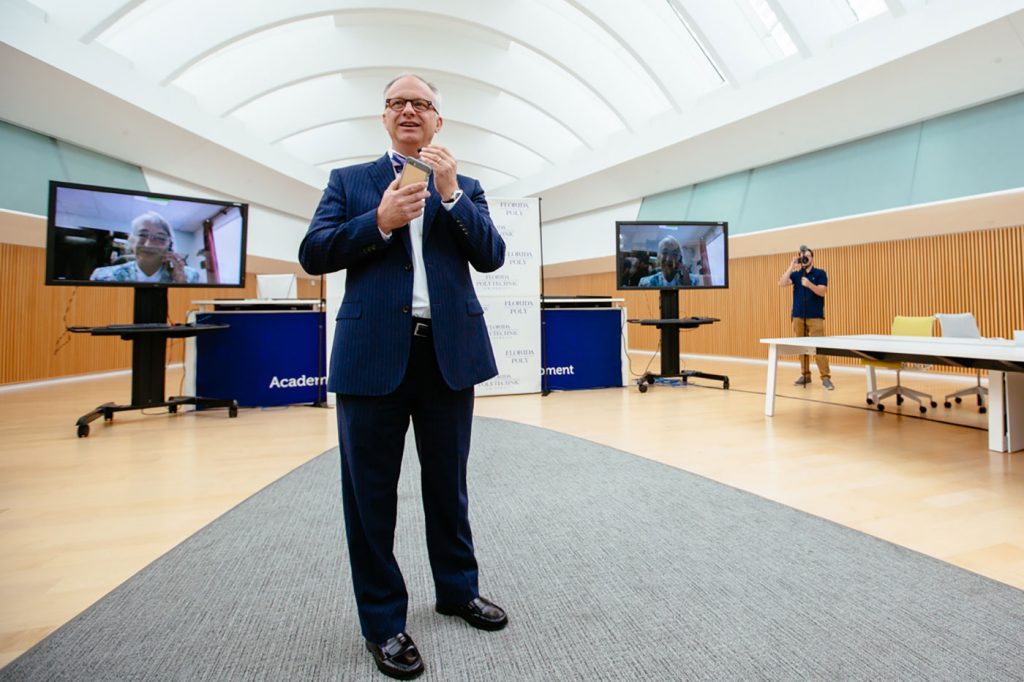 LAKELAND, Fla. – Florida Polytechnic University has been awarded "Candidacy for Accreditation" status by the Southern Association of Colleges and Schools Commission on Colleges (SACSCOC), one of the nation's leading accrediting bodies.
University President Dr. Randy K. Avent shared the news with students, faculty and staff during a gathering at the Innovation, Science and Technology (IST) Building. SACSCOC Vice President, Dr. Mary Kirk addressed the crowd via WebEx from her offices in Atlanta.
"I am so very proud of all of you," said Dr. Kirk, speaking to a crowd of more than 100 students, faculty, staff and supporters. "You've worked hard. I can't tell you how pleased I am that you've received this candidacy. Let's get ready for the next step."
Before a university can be accredited by SACSCOC, two steps must be completed: The first is candidacy, which Florida Poly has just received. Candidacy means the university has demonstrated through narrative and documentation its compliance with core requirements as well as certain comprehensive and federal standards, such as
Offering degree programs compatible with the school's stated mission,
Having adequate full-time faculty to support the mission of the institution and ensure the quality and integrity of its academic programs,
Providing student support programs that promote student learning and enhance student development,
Having a sound financial base and demonstrated financial stability and
Demonstrating a process for ensuring continuous improvement and institutional effectiveness.
The second step in the accreditation process – and the next step for Florida Poly – is to complete and submit a compliance certification. In this step, the university must submit several documents that demonstrate the school's compliance with all core requirements, comprehensive standards and federal requirements.
"Since before Florida Poly opened its doors two years ago, we have been working toward obtaining accreditation. We have been taking steps in the process at the earliest opportunities they become available. Achieving candidacy marks our biggest milestone thus far," said Dr. Avent. "Our students, faculty, staff and partners have all worked extremely hard to get us to this point. We look forward to continuing our work with SACSCOC and gaining initial accreditation as quickly as possible."
In March of this year, a Candidacy Committee from SACSCOC visited Florida Poly and reviewed the university's initial documentation to evaluate its eligibility for candidacy. Based on their assessment, the committee voted to grant the university candidacy for accreditation to award baccalaureate and master's degrees. Florida Poly currently offers six bachelor's degree programs and two master's degree programs. The university does not currently offer doctorate degree programs.
As a candidate for accreditation, Florida Poly is now authorized to complete its compliance certification documentation and to receive a visit from an Accreditation Committee. In line with SACSCOC requirements, Florida Poly will seek an accreditation decision as soon as possible in 2017.
"I've heard how much work and effort the faculty and staff have put into reaching this first step," said Holly Pafford, a junior majoring in Mechanical and Industrial Engineering with a concentration in Nanotechnology. "Even though the application has been a huge focus, the faculty has gone above and beyond to ensure the classroom experience is also great. I think that's the kind of university we are – going above and beyond to achieve as much as we can."
SACSCOC is the recognized regional accrediting body in the eleven U.S. Southern states (Alabama, Florida, Georgia, Kentucky, Louisiana, Mississippi, North Carolina, South Carolina, Tennessee, Texas and Virginia) and in Latin America for institutions of higher education that award associate, baccalaureate, master's or doctoral degrees. The Commission on Colleges' Board of Trustees is the representative body of the College Delegate Assembly and is charged with carrying out the accreditation process.
For questions or comments regarding the candidacy or accreditation status of Florida Polytechnic University, please contact the Commission on Colleges at 1866 Southern Lane, Decatur, Georgia 30033-4097 or call 404-679-4501.