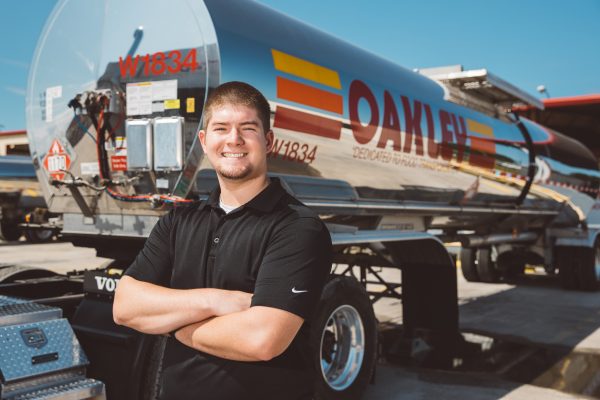 Matt Edwards admits with a grin that he's "a bit of a perfectionist." So it's not a surprise he chose a career in logistics.
"If you can find a job that suits your personality, that's what you need to pursue," Matt says.
Now in his junior year at Florida Polytechnic University, Matt, of Bartow, Fla., is taking his own advice. Matt began interning at Oakley Transport, Inc. in February 2016 and quickly began applying his classroom knowledge.
Oakley Transport started as a citrus hauling company in 1961 and has since branched out into transporting liquid food grade products. The company has terminals across the South and Midwest and a 27-acre headquarters property in Lake Wales for maintenance and fueling. Matt's internship was an opportunity to study the logistics of how trucks were deployed, the routes they took and the effect those decisions had on the bottom line.
His hard work and innovative approach to problem solving made him such a valuable asset to Oakley, Matt was offered a full-time position at the beginning of the Fall 2016 semester. 
"I started learning more about the business and how they operate. As I studied it, I saw a lot of things that could be improved, so I brought those ideas up to them," Matt says.
The significance of transitioning from hourly jobs to a salaried career position before graduation is not lost on him. 
"It's slightly intimidating," Matt says. "Not least of which is that I'm going to school full-time and I want to graduate on time. But it's also rewarding to already have a job doing something I love."