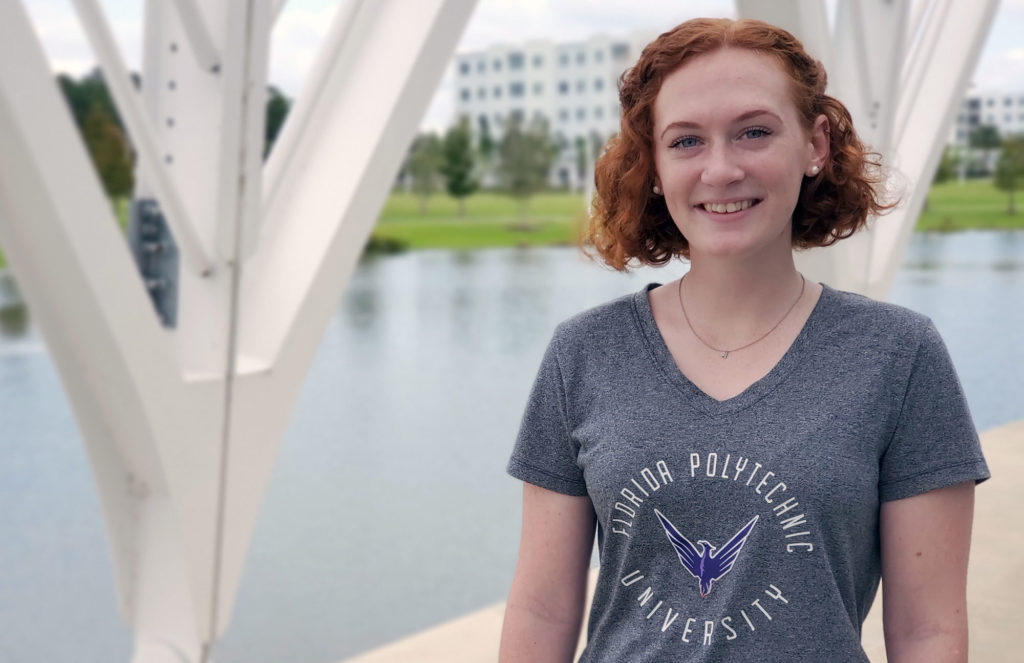 Before choosing Florida Polytechnic University as the best place to work toward her degree in mechanical engineering, Ameila Wood began her studies at the University of Central Florida in Orlando.
"I liked it because it was close to home and had a good program, but when I got there, I was sitting in lectures of like 500 students," said Wood, now a sophomore at Florida Poly.
With an undergraduate enrollment of more than 55,000, Wood found herself sitting on the floor in some crowded classes at UCF, struggling to connect with both peers and professors.
"I came to tour Florida Poly in October (2018) and at the end of the tour my mom turned to me and said, 'You belong here,'" Wood said.
She began the transfer process and started classes as a Phoenix in January 2019.
"I'm glad I went to UCF and had the experience of both, but I'm so happy to be at Florida Poly," said Wood, who also works as an admissions ambassador on campus.
The Titusville, Florida, native said once she settled in at Florida Poly, not only did her comfort level improve, her grades did, too.
"When I was at UCF, I was alone, studying by myself," she said, adding that limited faculty office hours combined with a large number of students made reaching out to her professors challenging. "Here, it's easy to find study groups and if you have a question you can just go upstairs and drop by your professor's office."
She also has become active in Acapoly, a campus choir group, and has started attending meetings of the Themed Entertainment Association.
National Transfer Student Week is Oct. 21-25, and Wood said she feels it's important to let students know that transferring is a great option if they don't feel their current college is the right fit.
"You're not stuck. It doesn't matter if you're already at a university – change can be good," Wood said. "There's a university for everyone and Florida Poly is the university that's right for me."
Contact:
Lydia Guzman
Director of Communications
863-874-8557