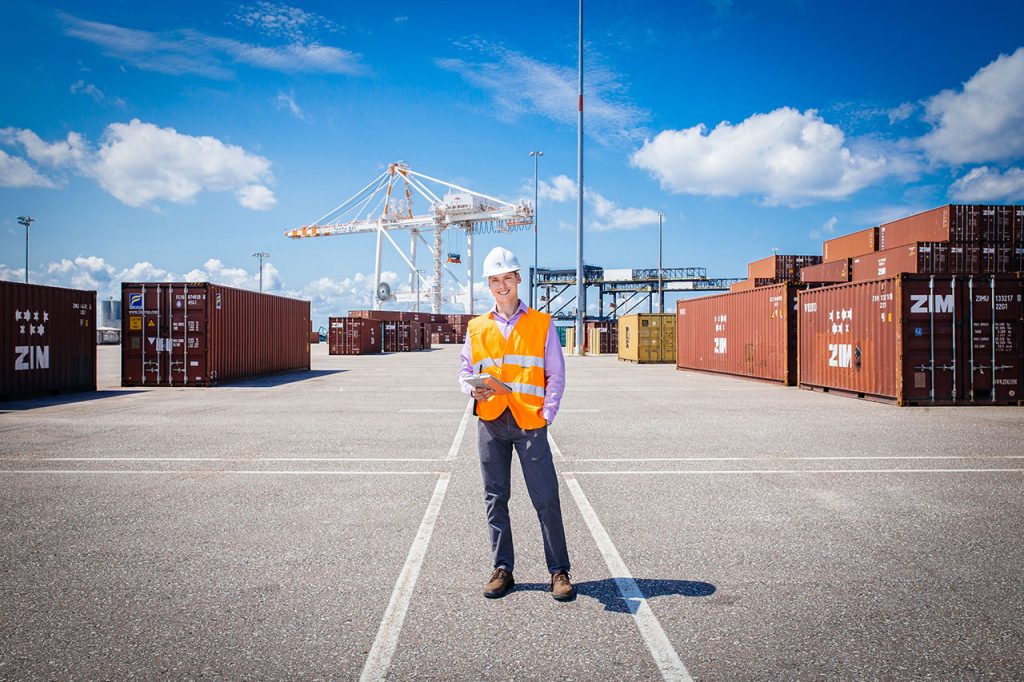 While studying how materials handle stress, Logan Chambers has proven himself capable of bearing heavy workloads. This summer, the Florida Polytechnic University rising junior is taking a class, working jobs at Subway and in the school's IT department and has an internship with the Port of Tampa Bay.
Logan started his internship May 16, and it hasn't taken long for his studies to intersect with his port duties. A strength and materials class he is taking has already helped him with a port project.
"They were trying to determine the appropriate strength of materials to line the wharf," Logan explains, so he and the project members assessed the load effects of not only the ocean, but also things such as the trucks and forklifts that would be on the wharf. They used that information to determine spacing, and the material and grading to use.
The class "really helped a lot," Logan says.
When Logan gets into work for his 8:30 am-5 pm shift on Mondays, Wednesdays and Fridays, he rotates across the engineering department. He is often either with the survey crew collecting data for engineers, trailing project managers as they attend meetings about hiring contractors, project budgets and work progress; or with the engineers, going over plans and numbers.
"They really want to make sure we're learning and getting hands-on experience," says Logan, who is joined at the port by two other Florida Poly interns.
The mechanical engineering major learned about the internship through Florida Poly and applied online. He commutes 50 minutes from Lakeland to the port in Tampa's Channel District.
"I've always been interested in how they take care of all the boats and how such a big agency operates," the 20-year-old Logan says.
Working at the port has shown him how conditions across the world affect day-to-day operations at the port.
For example, the widening of the Panama Canal compelled the port to spend more than $20 million to acquire two cranes that will allow it to handle wider loads from bigger container ships. Logan says working on the testing of the cranes with project manager Roy Wilber is one of his favorite aspects of the job.
Logan has also had the opportunity to meet with Port CEO Paul Anderson, who gave him an overview of how the port functions and how technology is driving changes as they adapt to stay ahead of the game.
Though Logan has "never been bored" at the port and could envision a career there, his dream job is designing the internal components of cars.
"I would love to work for a car manufacturer, working on cars and designing them," he says.
A few years ago, Logan and older brother Glen put together and built a high-performance engine for Glen's Ford Bronco. "It was really fun," says Logan, who does a lot of work around the house to keep the family vehicles running well.
As he enters his junior year at Florida Poly, Logan aims to stay busy and says "It's been really amazing being the first class, seeing how the University is changing and adapting, and helping to fix all the small bugs to make it better for us."