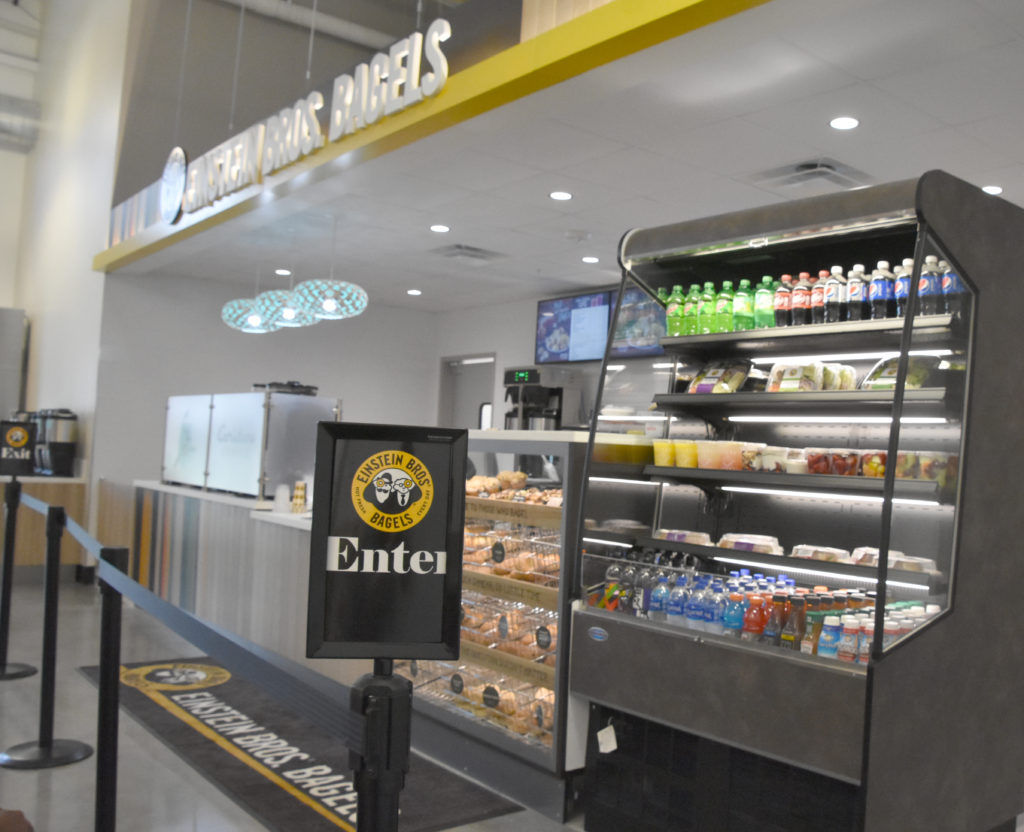 When it comes to dining options, Florida Polytechnic University students now have more places to go on campus.
The beginning of the 2018-19 academic year will also usher in a new era in dining options with the addition of Einstein Bros. Bagels and Tú Taco at the Wellness Center. This gives students, faculty and staff the kind of variety not seen before at Florida Poly.
"We are listening to the students," said Jennifer Dignin, senior director of dining services for Chartwells Higher Education Dining Services, which has been managing the university's dining facilities since May 2017. "We've had a year on campus to hear what students are saying and what they want."
Einstein Bros. Bagels
Einstein Bros. Bagels, which opened Aug. 13, is much more than a breakfast destination. The menu includes sandwiches and salads along with a variety of bagels and coffee drinks. It is open weekdays from 7:30 a.m. to 5 p.m. Catering services (pick up only) are also available by emailing Dignin or her colleague Michelle Lightsey.
Tú Taco
Tú Taco, an internal Chartwells concept, will offer a traditional Mexican-style street taco menu as well as rotating weekly specials. Offerings such as several types of salsa and queso will be fresh-made daily. Tú Taco is scheduled to open Aug. 22 with weekday hours from 11:30 a.m. to 10 p.m. and weekend hours from noon to 8 p.m.
Dining Center
The all-you-can eat option in the Wellness Dining Center has expanded to include the Corner Grill and Mondo Subs with a student meal swipe or by paying the door rate. The retail options – such as drinks, snacks, chips, etc. – will now be available adjacent to Tú Taco. Another change for the upcoming year includes the return of the large pizzas, which can be ordered at the Wellness Dining Center register.
"It's exciting. It's been a lot of work from a lot of people," said Dignin. "Almost everyone on campus came together to help make these changes happen."
Both Einstein Bros. Bagels and Tú Taco will offer promotions, including frequency cards which will be handed out during Move-In Day, during the first week of classes and Purple Fire Week.
Florida Poly Dining – Where to go
Wellness Center
Wellness Dining Center (All-you-can eat and now includes the Corner Grill and Mondo Subs)
Einstein Bros. Bagels (new)
Tú Taco (new)
IST Building
Contact:
Lydia Guzman
Assistant Director of Communications
863-874-8557