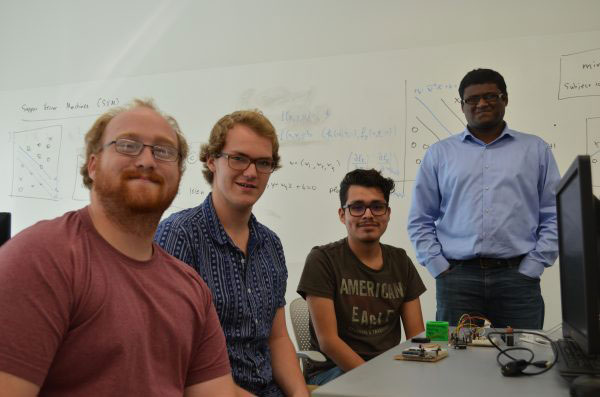 An innovative project from Florida Polytechnic University students could potentially save hospitals significant investment by re-engineering a device that measures vibration, dust, noise and differences in air pressure during hospital construction projects.
The existing Skanska USA inSite monitor typically costs $6,000, and in some cases more.  Florida Poly created a hardware prototype for use in their student laboratory with $300 in components.  The next steps for the students is to validate their design in a construction environment, then develop the packaging to create a commercial product.
Harish Chintakunta, assistant professor of Electrical Engineering at Florida Poly, along with four Florida Poly students — Eric Vickers, Joseph Prine, Ezequiel Juarez Garcia and Paul Luckey — began the project this summer.
"We introduce students during class time to a variety of sensors and principles," Chintakunta said. "But finding the right specifications for a specific application and finding something within budget is a whole different task. I think the students gained significant experience in the latter."
Skanska is the international construction firm that built Florida Poly's Innovation, Science and Technology Building. The inSite systems are used in Skanska's hospital renovation projects to monitor noise, dust, air pressure and other variables. If not kept below certain levels, those factors can pose significant health risks for patients and damage to hospital equipment.
The collaboration with Florida Poly has the potential to significantly reduce the cost of the product and enable customers to increase the number of sensors in the work zones, while still reducing the overall cost of the deployment.
"For Skanska and our team it was rewarding to come back to Florida Poly after building it and work with the students on this project," said Chuck Jablon, senior vice president of Skanska USA Building. "The students were not only enthusiastic to meet this challenge, but also very engaged throughout the process."
This project is representative of Florida Poly's hands-on approach to instruction and the opportunities students have to apply classroom knowledge to real-world problems. As part of the project, students tested their knowledge and worked one-on-one with experienced Skanska engineers.
The benefits flowed back to the Skanska team which, in addition to reaping the potential benefits of cheaper and more efficient equipment, formed quality relationships with the students.
"The students embarked on what they do best at a STEM-focused school like Florida Poly and they challenged the limits of science," Jablon said.
Re-engineering the monitor reinforced topics studied in the classroom, said Vickers, one of the participating students. But he also saw other benefits from the project.
"We (gave) the industry partner a different perspective on a solution to their problem," he said. "I think this strengthened the relationship between Skanska and the University and hopefully created more opportunities for research projects and internships."