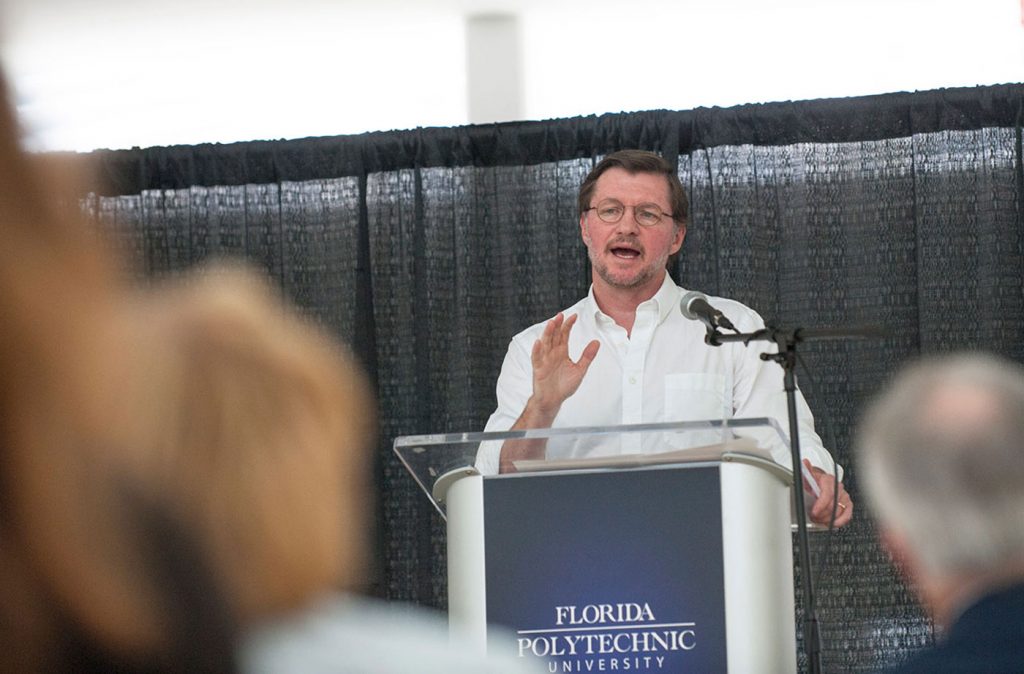 Founder behind cutting-edge fingerprint sensor addresses University partners and students.
LAKELAND, Fla. – Florida Polytechnic University today held its first in-person #STEMTalks event titled "Disrupting Markets, One Person – or Fingerprint – at a Time," with a keynote by Co-founder and CEO of K4Connect F. Scott Moody, one of the founders behind the fingerprint sensor technology used in many Apple products.
The event at Florida Poly's Innovation, Science and Technology (IST) Building focused heavily on STEM entrepreneurship and the process of taking innovative tech solutions to market. Industry partners had a chance to connect with each other as well as University leaders, faculty and students – the next generation of tech leaders and entrepreneurs.
In addition to Moody's keynote address, the event featured a panel of local business leaders discussing STEM Entrepreneurship, a talk by the Tampa Bay Port Authority about the value of industry-academic partnerships and a presentation by Florida Poly student Alberto Pinero, Jr., an Electrical Engineering major who spoke about his experience at the school pursuing hands-on, problem-based projects such as an electric bike that can reach 50 mph in five seconds and a firefighting robot.
"I have to say I was pretty honored and certainly impressed being around so many clearly smart students," said Moody.  "I can tell you now that they are far ahead of where I was back when I was in college.  Not only did I find the students at Florida Poly to be incredibly bright, but they are already thinking like entrepreneurs and bringing forth real engineering solutions to life's challenges."
Moody's keynote address examined the process of developing and launching a tech startup in today's fast-paced global market. He is best known as the co-founder and former CEO of AuthenTec, a leading provider of fingerprint sensor technology, which was acquired by Apple in 2012. The AuthenTec fingerprint sensor is the foundation of the iPhone and iPad Touch ID feature, allowing users to secure their devices using their fingerprint.
This event was the first in-person #STEMTalks conversation to take place at the University. Florida Poly has held virtual group conversations in the past through its #STEMTalks Google Hangout series, where experts, industry leaders and professors discuss hot topics in STEM innovation.
"We want to place our students in front of innovative business and technology leaders like Scott," said Florida Poly President Dr. Randy K. Avent. "Through joint research projects and internship programs, our students will have a significant advantage in today's competitive workforce. These events allow our campus community to come together to help the students continue their education and ensure they are job-ready to meet market needs."
As part of its robust industry partnership program, Florida Poly works closely with more than 90 high-tech companies from across Florida and the United States to spur innovation and produce real-world solutions to problems facing government and industry. The partnerships also provide hands-on opportunities for students.
"Events such as these are a wonderful way to expose students to the amazing innovators who are changing today's marketplace," said Dr. Bill Rhey, Associate Vice President of Entrepreneurship at Florida Poly. "Students can see a clear path to their future career, and our partner companies can foster connections with future recruits to gain an advantage in the marketplace."
To learn more about the #STEMTalks series and upcoming virtual events, visit floridapoly.edu/stemtalks. For industry partnerships information email partners@floridapoly.edu.
About #STEMTalks: Innovation in science, technology and engineering is happening around the globe at unprecedented speed, and it's changing the way we live, communicate and collaborate to solve the world's most pressing problems. #STEMTalks, powered by Florida Poly, is a series of conversations with some of the foremost thought leaders in STEM fields today. Through both in-person and virtual events, these conversations are exploring hot topics like cyber security, autonomous vehicles, machine intelligence and more. To see the #STEMTalks archive and join future conversations visit our #STEMTalks page. Past episodes can also be found on YouTube, iTunes, and Sound Cloud.