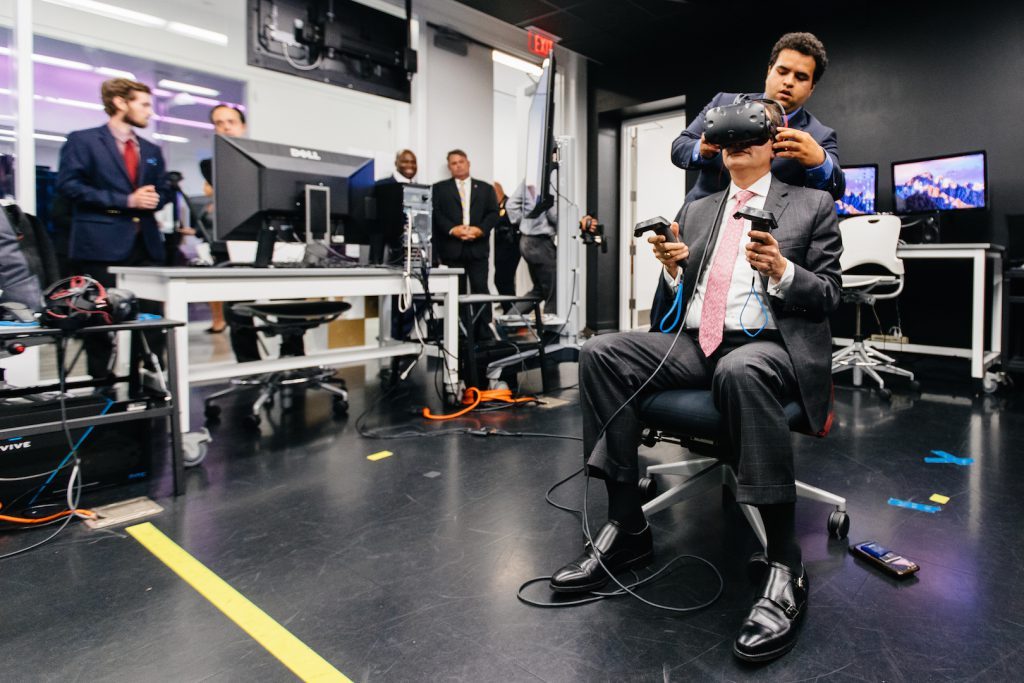 Developing the next wave of Florida's high-tech business leaders was the focus of U.S. Secretary of Labor Alexander Acosta's visit Friday to Florida Polytechnic University.
The visit included a meeting between University leadership and the Secretary to discuss Florida Poly's unique approach to high-tech higher education, the creation of highly skilled jobs and the impact on the economy.  The Secretary also toured campus and interacted with Florida Poly students who demonstrated the projects they're developing to solve challenges presented to them by industry. Among them was research to curb the spread of the Zika virus by using a high frequency sound to neutralize mosquitoes and a virtual reality project to train crime scene investigators.
"Today's visit highlighted a student-focused curriculum that teaches the skills required by the modern workplace. This partnership between the University and the private sector is an example of demand-driven education that leads to career success," Secretary Acosta said.
Florida Poly President Dr. Randy K. Avent also briefed the Secretary on SunTrax, a partnership between the Florida Department of Transportation and the University.  SunTrax recently broke ground on a 400-acre site to build a 2.25-mile test track that will include testing for tolling and autonomous vehicle technology. Complementing the discussion was a student demonstration of small-scale autonomous vehicles built during their spring 2017 course, as well a student CEO who presented his business, Logentix, which is developing an after-market product that gives autonomous capabilities to ordinary vehicles.
"Florida Poly believes in teaching through application and that's reflected in the projects Secretary Acosta saw today. We were proud to present our vision for Florida's high-tech economy and the University's dedication to developing the next generation of entrepreneurs and high-tech leaders," President Avent said.