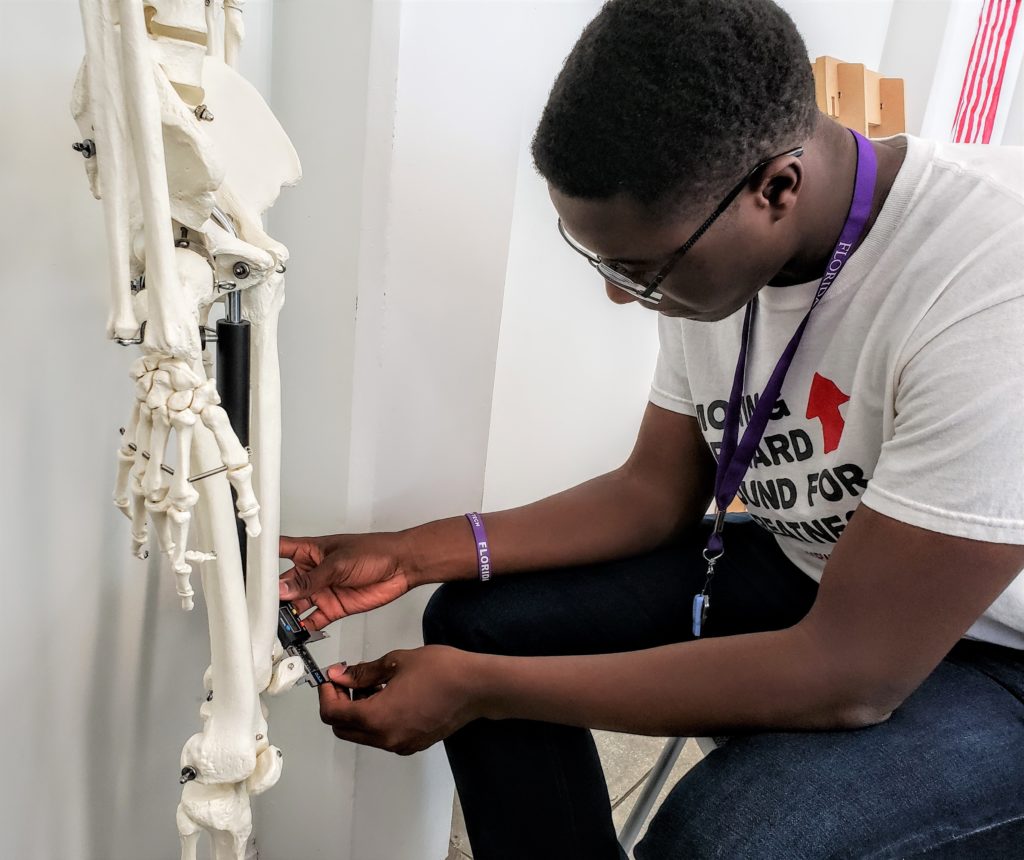 Stanley Pierre Gilles, 17, said he sees himself as a corporate lawyer when he pictures the future. At least those were his plans before participating in the second Summer STEAM Boot Camp at Florida Polytechnic University, designed for first-generation-in-college and low-income high school students in Polk County.
"Normally I shy away from engineering and physics because I'm not that strong in math," said Gilles, who attends Haines City High School. "But this camp has taught me that the most important part is not the math, it's the details about the process."
Gilles is one of 15 students who spent the first week of June taking part in the intense, high-tech camp organized by Florida Poly in partnership with Polk State College. The main goal was to provide disadvantaged and underrepresented students the chance to gain hands-on experience in STEAM (science, technology, engineering, arts, and math) disciplines through a combination of workshops, experiments and activities in an engaging and enriching environment.
"Many high school students think STEM is all about math," said Florida Poly assistant professor of biology Dr. Melba Horton, who led the campers through a 3D printing workshop. "These type of camps allow us to reach out to these students and give them the opportunity to see first-hand the integration of technology within the different STEM fields, so they can understand and experience what STEM really is."
The students, who are part of the Polk State Upward Bound program, learned about robotics, 3D printing, coding, high-tech agriculture, virtual reality, and the science behind roller coasters, among other interactive activities. Participants stayed at the Florida Poly's residence halls and learned from its successful faculty each day, providing them a true college experience.
"This partnership between Polk State College and Florida Polytechnic University aligns with the mission to provide access to quality education for all residents of Polk County, including our youth," said Polk State president Angela Garcia Falconetti. "Opportunities for careers in science, engineering, mathematics, arts, and technology continue to grow and our institutions are dedicated to creating a pipeline of students who will become the future highly-skilled workers and economic drivers of our community."
Gilles said he feels encouraged by everything he's learned during the past week, and how it has opened the door to different possibilities as he looks ahead.
"This camp has helped me focus more. I already feel like a college student," said Gilles. "I'm hoping to get a clear understanding of how great a school Florida Poly is and if it's a real option for me."
Contact:
Lydia Guzman
Assistant Director of Communications
863-874-8805