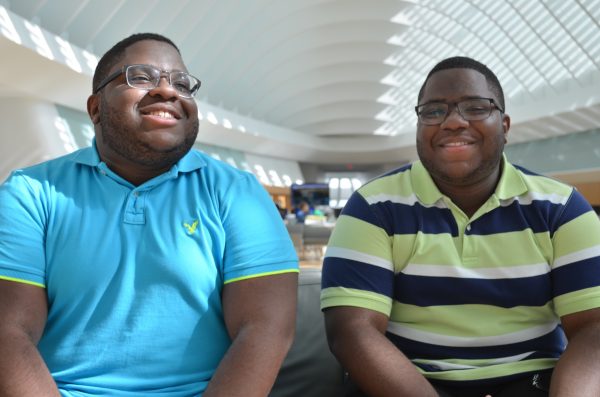 "Making the world a better place" is more than a cliché for Carl-Edwin Rigaud and his twin brother, Marc-Edwin Riguad.
The Florida Poly juniors grew up in Haiti, the poorest country in the Western Hemisphere and a frequent target for natural disasters. Most recently, Hurricane Matthew swept through the country, killing more than 1,000 people. In 2010, the country was torn apart by a devastating earthquake. The brothers vividly remember the near-death experience. They were in a supermarket with their mother when the ground began to shake.
"It was my first earthquake. I remember running for the door when the building collapsed," Marc-Edwin recalls.
Marc-Edwin, his brother and his mother were trapped under the rubble for about nine hours. They survived the earthquake with just cuts and bruises, but the psychological impact lasted much longer.
"When you experience a traumatic life or death event, you realize what really matters in life. Our attitude towards our education and future really turned for the better after that, and we actually started pushing ourselves," Carl-Edwin says.
Their middle class upbringing afforded them more privileges than the general population and they truly began taking advantage of those opportunities after the earthquake. Their grades improved and, by their senior year of high school, they had moved to Wesley Chapel, Fla. When considering potential careers and colleges, science and technology were an obvious choice.
"I've always been able to visualize how stuff works and break it down," Carl-Edwin explains.
Marc-Edwin shares his brother's affinity for technology, so it was an easy choice when both were accepted to Florida Poly. Marc-Edwin is studying Computer Engineering with a concentration in Machine Intelligence. Carl-Edwin is studying Computer Science, with an emphasis on Information Technology. The hands-on, real-world learning happening inside and outside the classroom help them focus on areas they enjoy and see the practical application for their work. Marc-Edwin, for instance, is on a project team developing ways to remotely monitor potentially damaging vibrations at construction sites.
Now, with graduation just a year away, the pair are looking toward the future and how to apply their newfound knowledge. The end-goal is to become successful in their fields, then use the acquired wealth to create change in places like their home in Haiti.
"We truly want to make things better," Marc-Edwin says.