Shahram Taj
Professor - 9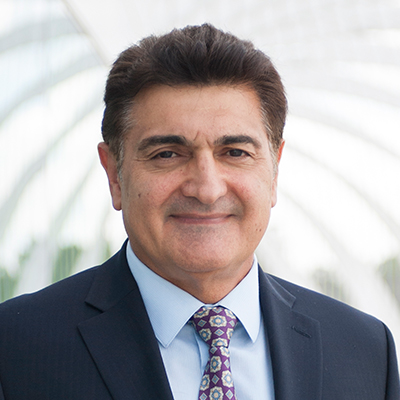 Education
Ph.D. in Industrial Engineering & Operations Research, 1984, University of Massachusetts, Amherst
M.S. in Industrial Engineering, 1980, University of Rhode Island, Kingston
B.S. in Applied Mathematics and Operations Research, 1977, School of Planning and Computer Applications, Tehran
About
Dr. Shahram Taj joined Florida Polytechnic University in August 2016 as a professor of logistics and supply chain management. He served as the academic program coordinator of science and technology management and the academic program coordinator of graduate programs in 2017. Since January 2018, he has served as the chair of the department of data science and business analytics.
Taj is an accomplished academician, executive consultant with an expertise in business model innovation, lean and sustainable operations, strategic management, production systems design, systems optimization/simulation, and supply chain management.
Taj has extensive tenure in academia. He was professor and chair of the Department of Management and Marketing at Lawrence Technological University in Michigan from 2013 to 2016. He served as The Cameron Endowed Chair of Management and Marketing at the University of St. Thomas in Houston from 2008 to 2013. Taj previously taught for more than 20 years at the University of Detroit Mercy and earned the institution's President's Award for Faculty Excellence. He also taught in the Global Entrepreneurial MBA Program at Fu Jen Catholic University in Taiwan from 2004 to 2006 and was a visiting professor at Peking University in China teaching in the Beijing International MBA Program in 2004. Taj also taught at Baruch College, The City University of New York from 1984 to 1987.
Taj has developed several graduate programs such as the master's degree in product development in collaboration with Massachusetts Institute of Technology (MIT), Ford, Xerox, and the National Science Foundation. He also developed graduate degree programs in software engineering, EMBA, and supply chain/transportation efficiency systems (funded by the U.S. Department of Transportation).
Taj has conducted more than 100 projects at Ford, Visteon, New Venture Gear (formerly joint venture of GM and DaimlerChrysler), GM-Holden, Baker Hughes, and Schlumberger in the United States, Germany, Australia, and Japan. The projects have covered productivity improvements, implementing lean manufacturing, and optimizing process design. In 1999, he earned the Franz Edelman Finalist Award for Achievement in Operations Research/Management Science for projects that resulted in $15.5 million capital savings and a profit increase of more than $2 billion for Ford Motor Company. From 1998 to 2000, Taj worked as an executive consultant for New Venture Gear Company to design a lean automotive manufacturing plant in Leipzig, Germany, to supply powertrain to Porsche Cayenne and Volkswagen Touareg that resulted in savings of $21 million (This plant has been designated by Porsche as the supplier of the year.). From 2009 to 2010, Taj served as an executive technical advisor to executives in the new worldwide Supply Chain and Manufacturing Division at Baker Hughes in Houston.
Taj also collaborated with the Production System Design Laboratory at MIT conducting research in the design and the implementation of "lean production systems" in the automotive industry in the U.S. and Europe.
Taj has served as thesis advisor/reader of more than 100 graduate students at the University of Detroit Mercy, including a doctoral thesis committee at MIT. He served as the track chair of the "Lean Manufacturing, Manufacturing Information Management, Supply Chain, and Product Development" for the SAE International in Ireland, Spain, and France. He has published 68 refereed articles in journals and proceedings of many international conferences. Recently, he published several articles on the adaptation of lean production in China, and most recently in areas of sustainability and business model innovation.
Expertise
Lean and sustainable operations
Production systems design
Systems optimization/simulation
Business model innovation
Strategic management
Professional Activities
Reviewer for Journal of Manufacturing Technology Management
Reviewer for International Journal of Simulation and Process Modelling
Reviewer for International Journal of Production Economics
Board Member, Florida Polytechnic University-Lakeland Regional Health Collaboration Oversight Board
Awards and Honors
Cameron Endowed Chair of Management and Marketing, Cameron School of Business, University of St. Thomas, Houston, Texas (2008-2013)
MPD Pride, Award of Academic Recognition in Master of Science in Product Development, University of Detroit Mercy (2004)
Franz Edelman Finalist Award-INFORMS (1999)
Selected Publications
Shahram Taj, Beena George, Priya Nath, and Adeyinka Adenrele "Sustainability and Business Model Innovation at the Bottom of the Pyramid: A Graduate Business Project," Business Education Innovation Journal. Vol. 8, No. 2, pp.13-20, 2016
Shahram Taj and Elham Mousavidin, "Using Discrete Event Visual Simulation to Teach Process Modelling in MBA Operations Management," International Journal of Simulation and Process Modeling, Vol. 10, No. 1, pp. 45-64, 2015
Shahram Taj, Souheil Badda, Sarena Garcia-DeLeone, and Beena George, "Morocco's Novatis Group: Diaper Manufacturing in a Developing Country," Emerald Emerging Markets Case Studies, Vol. 2. No. 8, pp. 1-11, 2012.
Shahram Taj, Galia Novakova Nedeltcheva, George Pfeil, and Michael Roumaya, "A Spread-Sheet Model for Efficient Production and Scheduling of a Manufacturing Line/Cell," International Journal of Production Research, Vol. 50, No. 4, pp. 1141-1154, 2012.
Shahram Taj, Cyrus Motlagh, Mary Ann Hazen, and Cristian Morosan "Dependencies within Dimensions of Lean Manufacturing: Evidence from Chinese Manufacturing Plants," International Journal of Operations and Quantitative Management, Vol. 17, No. 4, pp. 279-302, 2011.
Shahram Taj and Cristian Morosan, "The Impact of Lean Operations on the Chinese Manufacturing Performance," Journal of Manufacturing Technology Management, Vol. 22, No. 1, pp. 223-240, 2011.
Shahram Taj "Lean Manufacturing Performance in China-Assessment of 65 Manufacturing Plants", Journal of Manufacturing Technology Management, Vol. 19, No. 2, pp. 217-234, 2008.
Shahram Taj and Lismar Berro, "Application of Constrained Management and Lean Manufacturing in Developing Best Practices for Productivity Improvement in An Auto-Assembly Plant," International Journal of Productivity and Performance Management, Vol. 55 No. ¾, pp. 332-345, 2006.
Lilly Lancaster, Joseph Balintfy, and Shahram Taj, "Modeling the Supplementing of Human Diets," Socio-Economic Planning Sciences, The International Journal of Public Sector Decision-Making, Vol. 39, Issue 1, pp 1-10, 2005.
George Pfeil, Ron Holcomb, Charles Muir, and Shahram Taj, "Visteon's Sterling Plant Uses Simulation-Based Decision Support in Training, Operations, and Planning," Interfaces, Vol 30, Jan.-Feb. 2000.