Danny Houser
Deputy Chief of Police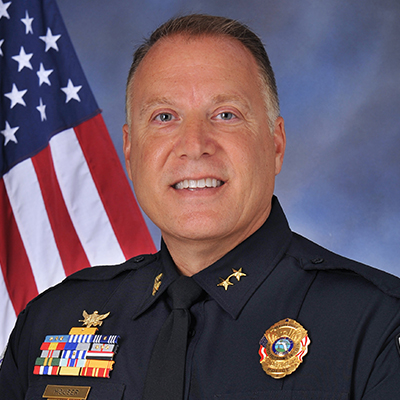 John D. Houser (Danny) is a career law-enforcement officer with a vast background of experience, which lends itself to his role as Deputy Chief of Police at Florida Polytechnic University. He brings expertise in patrol operations, investigations, training, records, policymaking, procurement, hurricane and emergency preparedness, crisis intervention, advanced tactics, leadership and crime scene procedures.
Houser has more than 25 years of law enforcement experience with the Auburndale Police Department, with a focus on community-based policing. He is a highly decorated law enforcement officer with numerous commendations, awards, and citations that include being honored as Law Enforcement Officer of the Year by the City of Auburndale and recognized among the State of Florida Veterans of Foreign Wars.
Houser began his career in law enforcement with the Auburndale Police Department in 1989. During his tenure with the agency, he was a member of the Patrol Division, Marine Patrol, Traffic Unit, Honor Guard, Investigations, Special Enforcement Unit and also served as Field Training Office.
In 1991, Houser was assigned to the Criminal Investigations Division where he served as a detective. He was responsible for investigating crimes that ranged from theft to homicides. In 1994, Houser took on a new assignment in the Patrol Division where his duties were to assist the sergeant and supervise the squad in the absence of the supervisor.
In 1996, Houser was promoted to sergeant in the Patrol Division where he was assigned to oversee a uniform patrol squad. Later, along with his patrol supervisory duties, he was assigned as the department's field training coordinator, overseeing training of newly hired officers. Houser also worked as an adjunct instructor at Polk State College's Kenneth C. Thompson Institute of Public Safety teaching basic and advanced law enforcement courses. In 2006, Houser became a member of the Special Enforcement Tactical Unit, which is a group of highly trained and motivated members assembled to execute high-risk search/arrest warrants and buildings entries.
On June 23, 2008, Houser was promoted to the rank of lieutenant and served as the Law Enforcement Commander. Along with those duties, he served as Tactical Commander of the Special Enforcement Unit and its specially trained SEU members. While rising through the ranks, he acquired several instructor certifications and continued his formal education obtaining his college degree.
Houser spent 12 years on the Auburndale Police Pension Board, serving eight of those years as the Chairman of the Board. In January 2014, the Auburndale Police Department created a newly formed division, Support Service, in which he was given the honor of being its first commander before retiring to join Florida Polytechnic University.
Law Enforcement Officer of the Year, City of Auburndale

State of Florida Veterans of Foreign Wars