Lydia Guzman
Director, Communications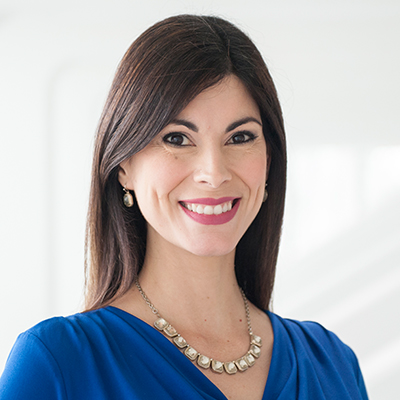 Lydia Guzmán joined Florida Polytechnic University as assistant director of communications in 2017, bringing more than 15 years of media experience from Florida's largest cities. She was promoted to director of communications in 2019.
Before Florida Poly, she worked at Bay News 9 in Tampa where she was an anchor for its sister station, Bay News 9 en Español/InfoMas, as well as a reporter for both channels. She provided a steady and credible voice during live coverage of severe storms, elections, the Space Shuttle program, trials, and historical events.
As Hurricane Irma ravaged Florida in 2017, Guzmán kept the community informed throughout and later reported on the aftermath. She was also crucial in Emmy-winning coverage of the Boston Marathon bombing in April 2013, providing live reports from the scene for stations in Tampa and Orlando.
Her career began at El Nuevo Herald in Miami as a general assignment reporter. Guzmán later joined El Nuevo Día newspaper in Orlando, where she mainly focused on news about politics and social issues.
Guzmán earned a bachelor's in mass communications from the University of Puerto Rico and later a master's in investigative journalism from Florida International University.
Master's degree in Investigative Journalism, Florida International University

Bachelor's degree in Mass Communications, University of Puerto Rico