Michael Ullom
University Police Officer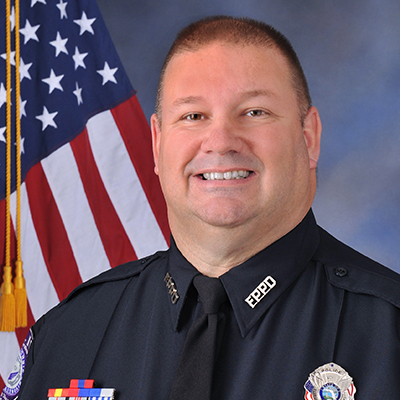 Mike Ullom joined the Florida Polytechnic University Police Department in 2019. He was born and raised in Winter Haven, is a lifelong resident of Polk County, and attended Auburndale High School from 1985–87. While in high school he met Laurie Bostelman; they were married in 1993 and are still married today. While attending classes at Polk Community College, he held primarily warehousing and transportation jobs at Ingersoll Rand, Sherwin Williams, and Pepsi until he attended the Kenneth C. Thompson police academy at Polk Community College in 1995.
In 1996 he began his law enforcement career at the Auburndale Police Department. He served as a patrol officer, field training officer, general instructor, firearms instructor, high liability instructor, narcotics detective, special enforcement unit (SEU) member, agency armorer, FTO coordinator, K9 coordinator, training coordinator, SRO coordinator, communications supervisor, support division commander, and patrol division commander. During his service he received numerous awards, citations, and commendations from within and outside the agency.
In 1999 he was assigned the rank of corporal where he became a squad leader and a primary FTO responsible for training new recruits in addition to his patrol duties. He also attended advanced and specialized classes, certifying as a general instructor, firearms instructor and high liability instructor. In 2006 he was selected as one of the first four SEU members to make the 10-man team; which was responsible for serving high-risk search warrants and making building entries.
In 2008 he was promoted to the rank of sergeant and was responsible for the day-to-day duties of running a patrol squad in addition to overseeing annual high liability training for the agency. In 2010 he was assigned as the SEU commander.
In 2014 he was promoted to the rank of lieutenant, first serving as the support division commander and then as the patrol division commander. After more than 22 years of service, he retired in February 2019 and joined the Florida Polytechnic University Police Department.