Richard Holland
Chief of Police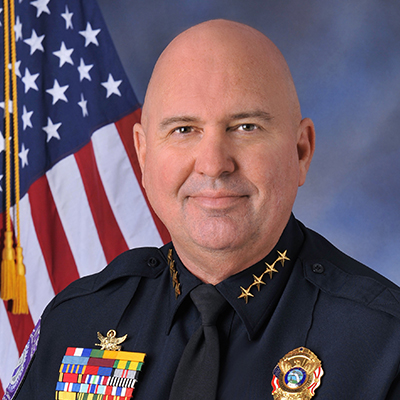 Chief Richard Holland started his career at Florida Polytechnic University in June of 2014. Holland is a career law enforcement officer who brings expertise in investigations, mentorship, security operations and policymaking. He has experience and training in hurricane preparedness, crises intervention, hazardous materials, advanced tactical leadership and emergency operations of critical incidents. Holland previously worked for the Polk County Sheriff's Office from 1988 to 2014 after serving 26 years and retired as a captain. Holland served in the Special Operations Division which encompasses SWAT, crises negotiators, tactical medics, tactical hazmat, and tactical doctors for most of his career (1993-2013, 20 years).
Holland also served as the southeast district commander and the bureau of special investigations captain. In the later role, his work targeted illegal drug operations, organized crime, computer crimes, and identity theft working alongside the US Marshals Service Task Force, FBI Joint Terrorism Task Force, and DEA Task Force.
Holland also served as the training Lieutenant overseeing training for 2000 members of the Polk County Sheriff's Office. Holland started his law enforcement career at the Winter Haven Police Department in 1986.
Medal of Honor, Polk County Sheriff's Office, 2003
Florida Law Enforcement Officer of the Year, 2006
Twenty-three outreach programs, Florida Polytechnic University, 2016-current
Annual Lakeland Regional Health Care Pediatrics Ward Christmas Toy Drive, 2016-current
Master of Science in Criminal Justice, Troy University, 2006
Bachelor of Science in Criminology, Saint Leo University, 2002
Board Member, State University System Education Chief of Police Committee Florida Police Chiefs Association, 2016-current
Board Member, Florida Police Chiefs Association Highway and Safety Committee, 2018-current
Board Member, Polk County Police Chiefs Association, 2018-current
Member, Polk County Police Chiefs Association, 2014-current
Member, Florida Police Chiefs Association, 2014-current