'20 Florida Poly alum springboards to dream career in cybersecurity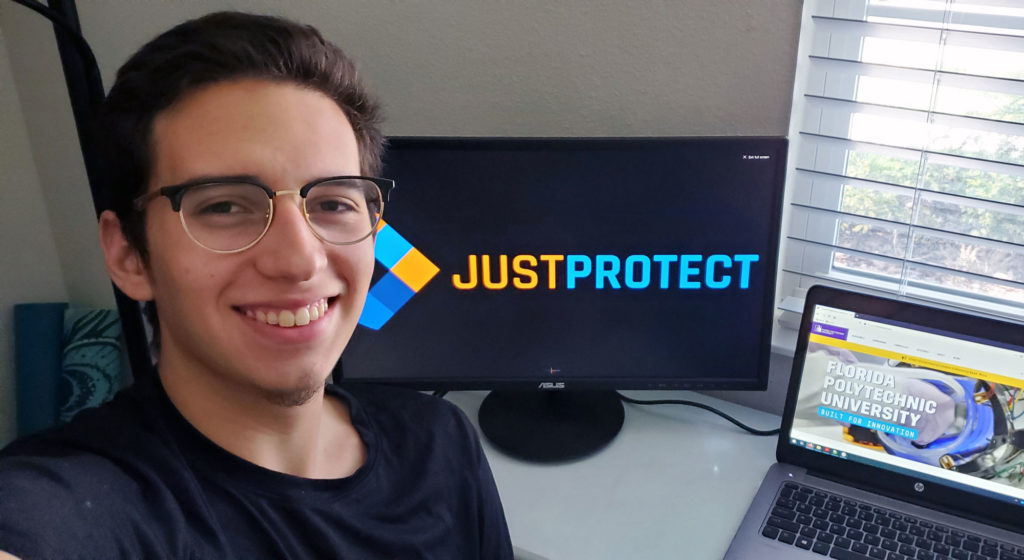 The work Bryan Urias '20 does as an information security analyst for tech start-up JustProtect is the culmination of years of dedication and hard work. And he couldn't be happier.
"This has been amazing," Urias said. "It's been really cool seeing all the things I learned in school apply to the real world."
JustProtect, based in Tampa, Florida, helps businesses adhere to regulatory compliance requirements by simplifying the risk assessment process. In his position, Urias assists in developing the processes and implementation of the company's assessments and cybersecurity policies.
Urias said he would not have been hired for the demanding role without the exceptional education and experiences he received at Florida Polytechnic University, including internship opportunities, organizations that helped him hone his soft skills, and the industry-current technological skills he gained in class.
"All the things I learned – the skills I gained in my computer security class, they are all things I'm doing at work right now," said Urias, who earned his bachelor's degree in computer science with a concentration in information assurance and cybersecurity this month. "Everything is expanding on its own."
But the lion's share of the credit goes to Urias' determination to make the most of the opportunities available at the University.
"As soon as I got there, I saw the innovative way that Florida Poly does things like its commitment to STEM and project-based curriculum and pretty much everything made me fall in love with it," Urias said.
The opportunities he sought arrived quickly.
Urias worked for the University's Helpdesk, helping to keep Florida Poly technology running smoothly. He worked for Orange County Public Schools as a summer IT intern, and also worked with computer science assistant professor Dr. Oguzhan Topsakal as a teaching assistant. Urias stepped up to serve as projects manager for the Student Government Association's Sustainability Committee, and he even volunteered to spread the word about Florida Poly to prospective students at admissions fairs.
However, it was a March 2020 internship with JustProtect that would jumpstart his professional life. Urias said he approached the company's CEO directly with a request to be considered for the position, and his unmistakable drive did the trick.
"Since I was hired, I've learned something new every day," Urias said. "Somebody told me that in a start-up, every month is equal to 12 months of experience you would gain in another company, and that is definitely true."
Urias quickly made a big impression in his internship and was hired for a full-time position with three weeks left in his senior year at Florida Poly. He said his experience is proof for younger students that the best way to succeed is to keep their eyes open and not let opportunities pass them by.
"They should take advantage of all the opportunities because there are so many things to do and learn at Florida Poly," Urias said. "You only have so much time, so make the best of it."
Contact:
Lydia Guzman
Director of Communications
863-874-8557