2020 grad working to revolutionize high-tech crop harvesting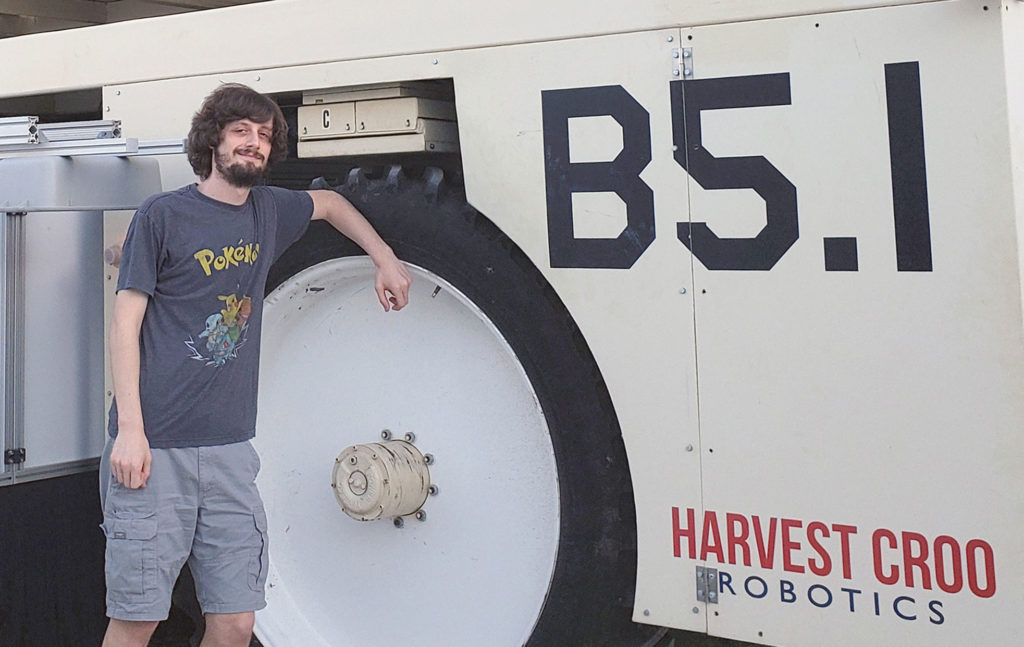 Editor's note: While the COVID-19 situation has caused Florida Polytechnic University to shift to remote instruction for the remainder of the semester and reschedule our commencement ceremony, the hard work of our graduating seniors continues. This story is part of a series of stories highlighting and honoring our 2020 graduates.
Florida Polytechnic University senior Kendon Ricketts lives out a childhood dream every time he heads into work.
The computer engineering major at Florida Polytechnic University works on enormous robots used to harvest crops at Harvest Croo Robotics in Tampa, Florida. His work is ongoing, even amid the COVID-19 pandemic.
"I've been doing computer engineering-type things for probably about half my life. When I was about 7, I asked for a TI-84 calculator for my birthday and learned you could program it and I just went from there," Ricketts said. "Now I work at a nice, laid-back place with a start-up atmosphere and we're building giant robots. What kid doesn't want to do that?"
Ricketts is part of the class of 2020 and is eager to move to a salaried computer vision specialist position at the company. He joined Harvest Croo in 2017 as an intern and advanced to his current full-time position with work that includes computer vision, network management, machine learning, and programming a robotic arm.
The company's flagship robot – a strawberry harvester – automatically harvests strawberries to slash the traditional time and effort required for manual harvesting. Ricketts, a graduate of Northeast High School in St. Petersburg, Florida, has been heavily involved in the machine's development.
"He was instrumental in developing the firmware for the robot controllers," said Alex Figueroa, the company's head of computer vision. These controllers are the control modules for the picking assemblies beneath the harvester platform.
I've written software for just about every component in the harvester," said Ricketts.
Ricketts transferred to Florida Poly from the University of South Florida in fall 2017. He says the academic environment at the all-STEM university helped him better prepare for his high-tech career.
"I do a lot of computer engineering work and some classes I've taken have been quite valuable in my role at work, particularly the heavy theoretical computer engineering classes," Ricketts said.
The giant harvester is far from Ricketts' first robot. In his time as an undergraduate student, he worked on an autonomous robotics project involving the Roomba robotic vacuum and helped publish a paper on the results.
Contact:
Lydia Guzman
Director of Communications
863-874-8557