2020 graduate ready to make impact in computer science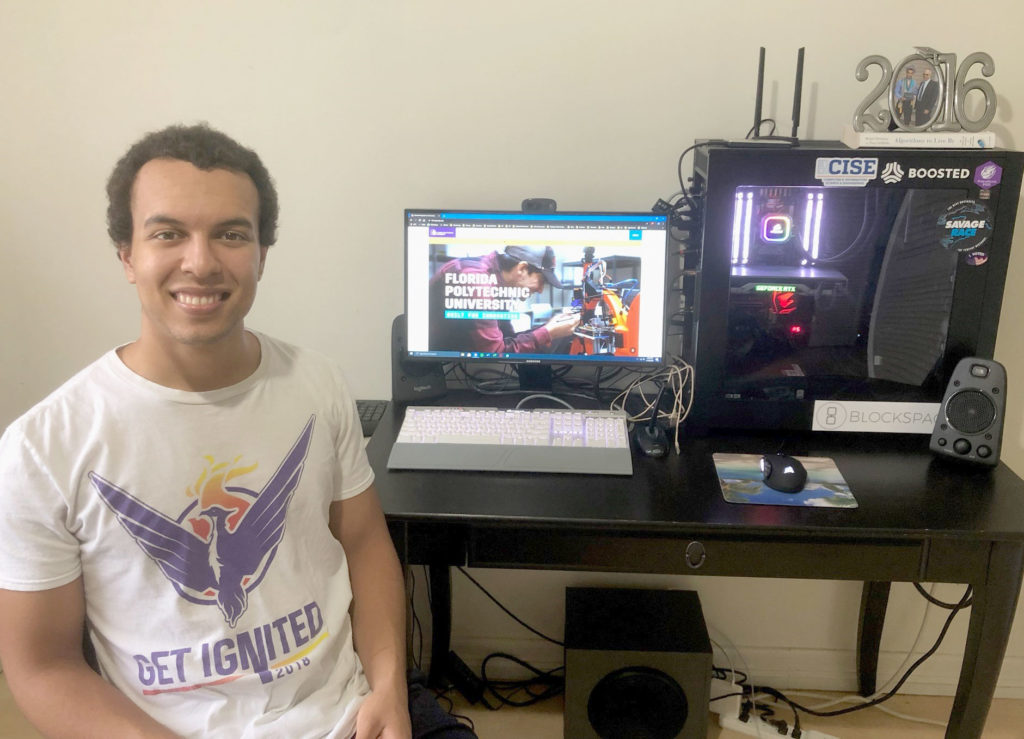 Editor's note: While the COVID-19 situation has caused Florida Polytechnic University to shift to remote instruction for the remainder of the semester and reschedule our commencement ceremony, the hard work of our graduating seniors continues. This story is part of a series of stories highlighting and honoring our 2020 graduates.
When Michael Perez transferred to Florida Polytechnic University in 2018, he uncovered a talent that would transform his life.
"The whole research experience is something I've grown to enjoy," said Perez, who this week earned his bachelor's degree in computer science with a concentration in advanced topics. "Reading research papers and getting to know what has already been done in the field, then making further advances – that's something I've found to really like at Florida Poly and I hope to continue in my future career."
He will get his chance beginning this fall when he begins a demanding Ph.D. program in the Computer Science Department at the University of Florida in Gainesville. In addition to his acceptance to the program, Perez received the Graduate School Preeminence Award, which provides five years of stipend, tuition, and healthcare coverage together valued at more than $250,000. He will work on a master's degree during the first two years of the program.
"I was elated when I found out I got in," said Perez, from Davie, Florida. "Being a student at Florida Poly allowed me to focus on my work and dedicate a lot of time to my research and my schoolwork, which I think that helped me gain admission to the program."
During his final year at the University, Perez was a research assistant for Dr. Oguzhan Topsakal, who is working to apply computational methods to rhinoplasty. The goal of the research is to achieve better results in rhinoplasty surgery by guiding the surgeons and the patients via digitalization.
"This is an outstanding achievement given to only the most outstanding of Ph.D. candidates," Topsakal, an assistant professor of computer science, said of Perez's accomplisments. "I have been working with Michael for a year and he is making significant contributions to our research. I am very proud to see his success."
Perez said although he initially was interested in pursuing an undergraduate degree in mathematics, he discovered computer science was far more in tune with his strengths.
"I feel like I can make the biggest impact on the world through this field," said the graduate of Archbishop McCarthy High School.
After earning his doctorate, Perez hopes to begin working in industry and begin making that impact.
"I'm really excited about what the future holds," he said.
Contact:
Lydia Guzman
Director of Communications
863-874-8557