Florida Poly computer science team works to transform surgical training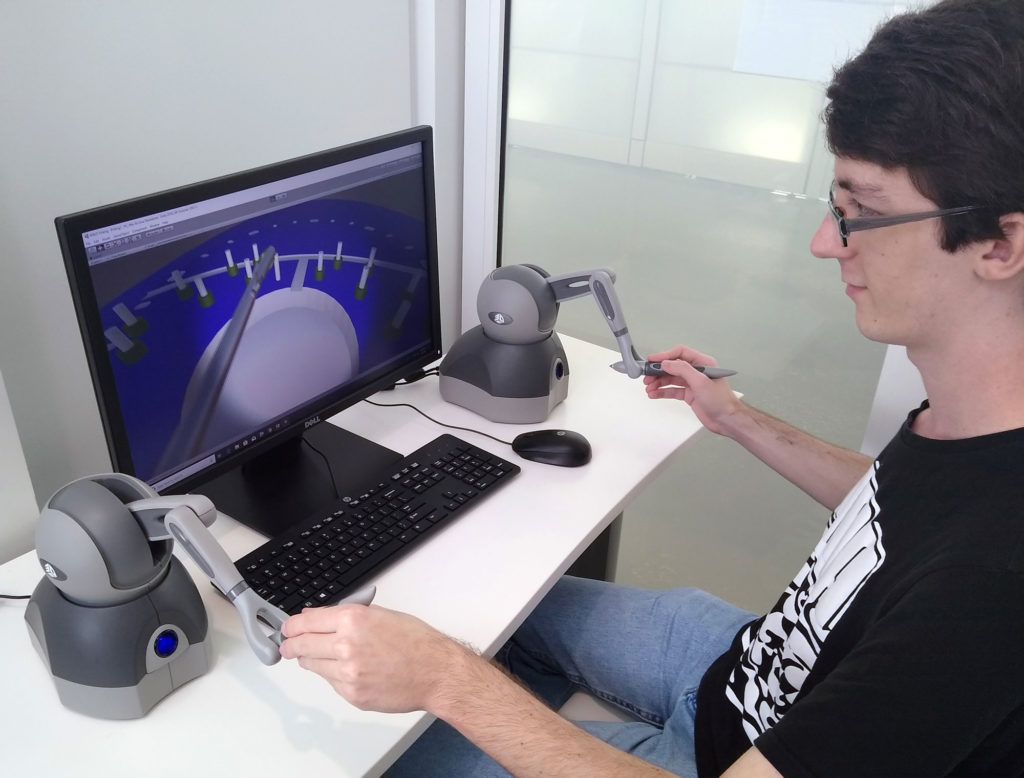 When surgeons learn to perform arthroscopic surgery on a patient's shoulder area, navigating around the confined area and tight structures with instruments inserted through small incisions can be challenging. Adding unintuitive camera orientation and constrained motions further complicates the task.
A group of faculty and student researchers at Florida Polytechnic University are working to make this training and assessment of surgical technique easier and more effective through the use of virtual technology.
Dr. Doga Demirel, an assistant professor of computer science at Florida Poly, is leading the effort to update the Fundamentals of Arthroscopy Surgery Training (FAST) Program.
"The FAST Program has a physical toolbox with different tasks on it that you carry out, but it doesn't offer difficulty levels for mastery; only very simple scenarios," Demirel said. "We created VFAST, which is pretty much the creation of the FAST Program in a virtual environment."
Demirel is being assisted by Douglas Burnside and Jacob Barker, computer science majors who completed their degrees in spring 2020. Both of them plan to continue this work as Florida Poly graduate students this fall.
"This is like nothing else I've experienced," said Barker, of Lithia, Florida. "It's such an innovative method and the haptic devices used to do the simulation are so unique."
The team of researchers worked on two FAST toolbox tasks that require trainees to use surgical tools to pick up objects and place them somewhere else in the area. They incorporated a haptic device to provide touch feedback to the user in real time. As the difficulty levels are changed, trainees can experience scenarios that accurately replicate what they would encounter in the field.
"When you interact with a scene you are feeling a force feedback similar to what you would feel in real life," Demirel said. "If used correctly, it replicates the touch sensation."
In addition to the realistic training scenario, the team has developed metrics to grade users in real time to provide immediate feedback about errors and ways to improve.
"If you continually increase difficulty scenarios for cases the surgeon or trainees are practicing on, they will do much better and learn much faster," Demirel said.
The team will soon begin an initial validation study, taking VFAST to real surgeons and trainees to gain feedback. They are working with researchers from the University of Central Arkansas and the University of Arkansas for Medical Sciences and hope to publish a paper on the effort soon.
"This is definitely an experience I didn't think I was going to have as an undergraduate," said Burnside, of Fort Lauderdale, Florida.
"Working with new technologies and using software that's been developed by others and making sure it works with our code has been a great challenge."
Contact:
Lydia Guzman
Director of Communications
863-874-8557