Florida Poly students engage business leaders at Synapse Summit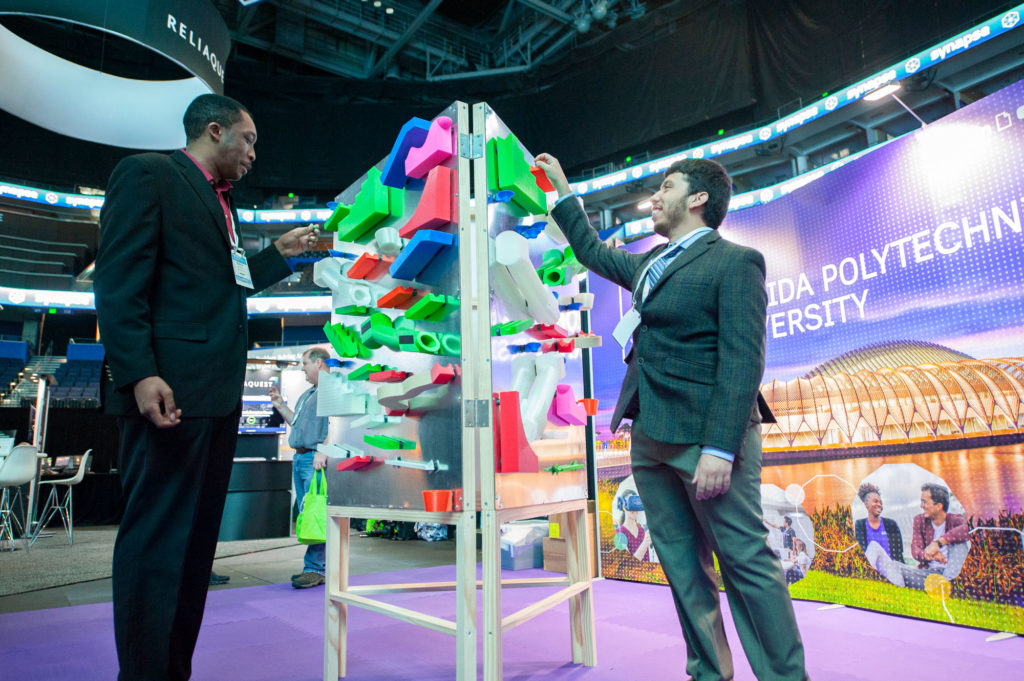 A group of Florida Polytechnic University students seized the opportunity to network with business leaders, learn about career possibilities, and teach the Central Florida business community about what Florida Poly has to offer at an annual event hosted by Synapse, an entrepreneurship support organization.
The students attended the two-day Synapse Summit at Amalie Arena in Tampa, Florida, on Feb. 12-13. The event connected entrepreneurs, corporations, educational institutions, and other stakeholders to discuss the future of innovation in Florida.
"There's a ton of companies here and I've been adding people on LinkedIn and making connections," said Florida Poly senior Vinicius Seixas, who is majoring in computer engineering. "It's an amazing experience being out here and meeting people."
Seixas joined several Presidential Ambassadors in staffing an interactive Florida Poly booth that encouraged Synapse attendees to construct a Rube Goldberg marble run machine from modular, 3D-printed pieces.
Florida Poly students then talked with booth visitors about the University and its mission to produce high-achieving graduates in the fields of science, technology, engineering, and math (STEM).
"We've been able to talk about our experience and explain our project-based learning and our great curriculum," said computer science and cyber security major Vamsi Hanumanthu.
Dr. Matt Bohm, an associate professor of mechanical engineering and director of industry engagement and capstone projects at Florida Poly, said the Synapse Summit provided a rare chance for students to connect with so many business leaders in one place.
"From an institutional perspective we were able to make meaningful connections with industry representatives who want to hire our students, bring in our students as interns, and even sponsor capstone projects," Bohm said. "Additionally, we were able to connect with technology-focused high school students as well as parents of potential students who wanted to learn more about our University. Hands down, it was a great event for our students, our community, and the University."
Seixas, who is a native of Brazil, said he took full advantage of his opportunity to connect with potential employers.
"Talking to these companies and putting ourselves out there is how you get jobs, how you get opportunities, and how you value your work a little more," Seixas said. "I think networking is one of the most important skills to have in any profession, and this is giving us a great opportunity to do that."
Hanumanthu, of Morrisville, North Carolina, said the networking he and his peers achieved at the event will have a lasting effect on those who come after them.
"This is really great because we're able to put Florida Poly's name out there and create those partnerships that will be there a long time and open doors for future students and graduates," Hanumanthu said.
Contact:
Lydia Guzman
Director of Communications
863-874-8557