Florida Poly works to protect healthcare workers amid COVID-19 crisis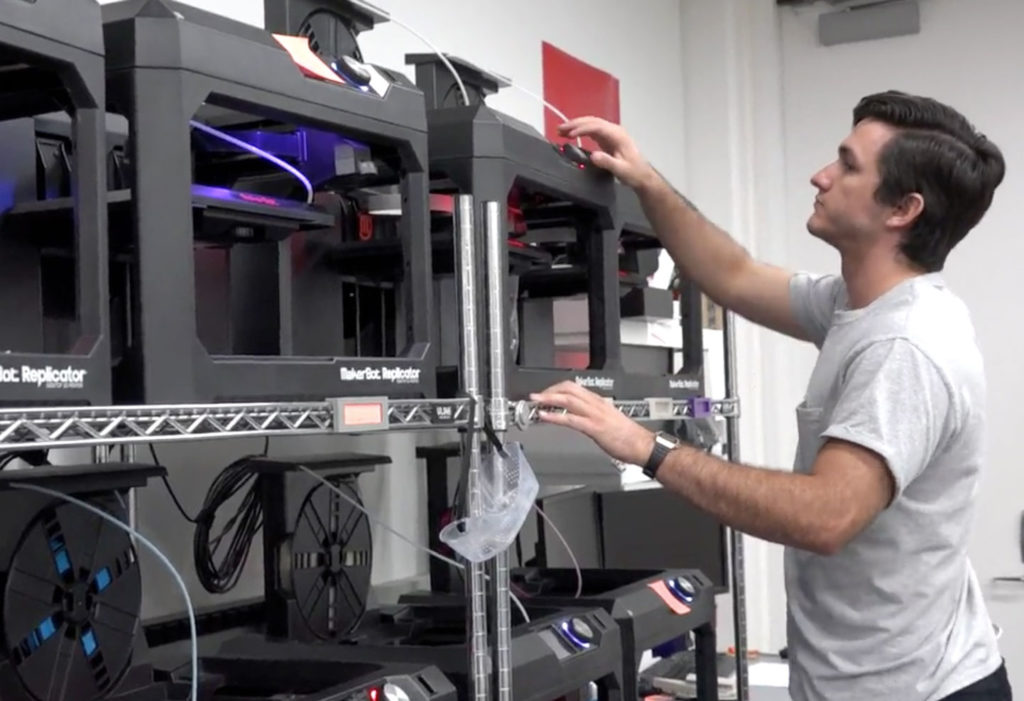 LAKELAND, Fla. – A team of Florida Polytechnic University faculty, staff, and students is working to build critical personal protection equipment for clinicians treating patients amid the current COVID-19 pandemic. The effort is in partnership with AdventHealth and will help address the shortage of protective supplies facing healthcare organizations nationwide.
The group is using 3D printers on campus to create components for protective face shields. After the 3D-printed headbands and other pieces are done, they will be assembled at AdventHealth's Nicholson Center and distributed to the provider's locations throughout Central Florida.
"In this time of crisis, we are happy to be able to help because we have the equipment and the facilities to make a difference," said Dr. Matt Bohm, director of industry engagement and capstone projects at Florida Poly. He is organizing the effort from Florida Poly.
The face shield components are being printed on 20 of the University's 3D printers, and an additional 10 printers will get to work in the next few days. Depending on the printer, one to two headbands can be produced in four to five hours. Bohm said he hopes 3,000 to 4,000 face shield components can be completed by the end of April.
"It's really great to see everybody coming together to try to get some solutions out there," Bohm said.
Bohm is part of a team of eight at Florida Poly that is working to complete the face shield components. They are ensuring their own health and safety by only allowing one person in the lab at a time and sanitizing tools after they are used.
Florida Poly is joining a growing number of colleges and universities across the country and around the world who are contributing time, talent, and materials toward the fight against COVID-19.
"Many of us are even working with people we normally would consider our competitor and doing collaborations that might usually be tense under typical circumstances," Bohm said.
Djuan Gayle, a senior majoring in computer engineering, is one of two students who have received special permission to work inside the Innovation, Science, and Technology building as part of the effort.
"The fact that we can now turn to 3D printing when other means of manufacturing cannot keep up is mind-blowing and it finally brings the importance of 3D printing to light," said Gayle, who is from Miami, Florida. "Being part of this project means that I get to play my part and help my community."
Contact:
Lydia Guzman
Director of Communications
863-874-8557