Internship blooms into programming career for 2020 Florida Poly grad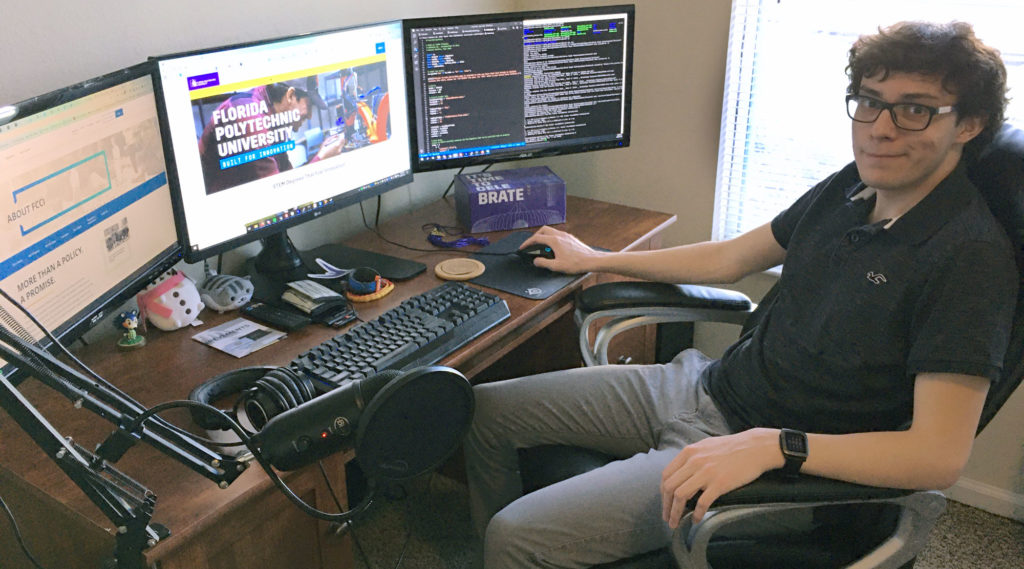 Editor's note: While COVID-19 has caused Florida Polytechnic University to shift to remote instruction through the summer and reschedule our commencement ceremony, the hard work of our graduating seniors continues. This feature is part of a series of stories highlighting and honoring our 2020 graduates.
One of the first times Daniel Rentfro laid his hands on a computer was when he was only 4 years old. The preschooler sat with his father in their Clearfield, Utah home, opening the case to a contraption that would change his life.
"I was hooked," Rentfro said. "It was this machine that could do incredible things and you could also teach it to do new things. It was pretty cool then and is still very cool now."
Today, the 2020 Florida Polytechnic University graduate has taken his fascination and love for computers to new heights. Rentfro not only graduated with a bachelor's degree in computer science with a concentration in information assurance and cybersecurity, but before completing his degree he already had a job with FCCI Insurance Group as the primary programmer on a companywide project overhauling its intranet system.
"I've designed it with new technologies and new functionality," Rentfro said. "I have made the system work a lot better and be a lot more flexible."
FCCI Insurance Group, based in Sarasota, Florida, first connected with Rentfro when they hired him as a systems developer intern. He then leveraged this experience into a permanent position.
Rentfro said his Florida Poly education played a key role in this accomplishment because it sharpened his technical skills and left him better prepared than he would have been if he'd attended another institution.
"The class sizes, accessibility, and total focus of STEM made all the difference," he said.
The Lakeland, Florida, resident said freshmen at Florida Poly should take full advantage of the academic opportunities at the University, but not overlook the many other areas for personal growth available on campus.
"It's important to be diligent in your studies; make sure you understand things and ask questions, but at the same time you have to have some fun," Rentfro said.
"There's a lot of people around you who are in the same headspace as you are, so make friends and connections and have a lot of fun."
Contact:
Lydia Guzman
Director of Communications
863-874-8557