One Florida Poly Against Cancer spreads message of awareness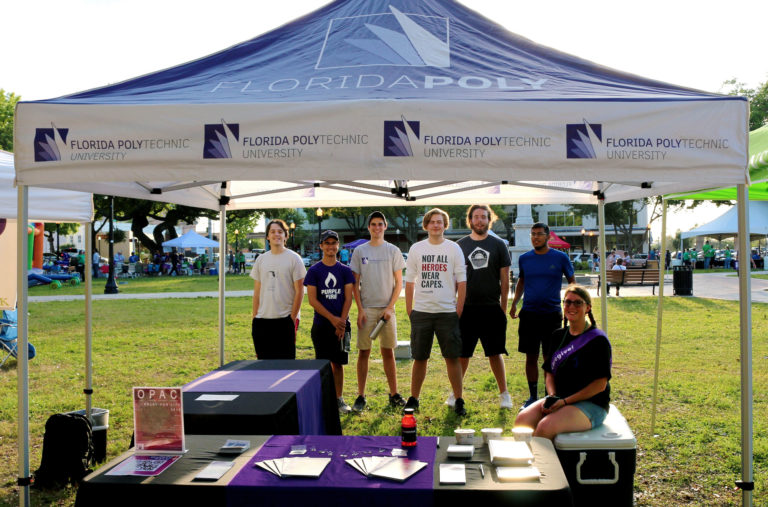 The knowledge that cancer eventually touches everyone in some way drives a group of Florida Polytechnic University students to do all they can to raise money and awareness to battle the disease.
"One of my friends passed away from cancer so I wanted to start this organization to bring light to the disease and help other people who might be going through the same situation," said Juan Forero, a junior majoring in computer engineering and president of One Florida Poly Against Cancer. "Our mission is to spread cancer awareness across campus and inform the student body about the effects it has on people's lives."
February is Cancer Prevention Month and the group is gearing up to participate at the American Cancer Society's Relay for Life fundraising event at Munn Park in Lakeland, Florida, on May 15.
"We know our time is going to something we believe in and it's going to help others," said Jaimie Davis, a junior majoring in electrical engineering and a member of the club.
One Florida Poly Against Cancer formed during the spring 2019 semester and is working to bring as many students as possible into their pursuit. The group plans to invite guest speakers to campus to talk about their experiences as survivors, caregivers, or specialists in cancer research.
"When I saw the mission and met Juan, I knew that I wanted to be a part of this and volunteer and just learn more about cancer as a disease and those affected," said Davis, of Fort Myers, Florida. "I want to try to help in any way I can."
For freshman computer science major Mykell Spencer, the club was a beacon.
"I lost a friend of mine to breast cancer and when I saw this club I had to join," said the native of Port Charlotte, Florida. "I'm now the vice president and we're hoping to grow the club and change lives."
In addition to raising money, they are asking other Florida Poly students, faculty, and staff to join them in participating in the May event.
"The best way that people can get involved is to come out, volunteer with us and help us have a big team," said Forero, who is from Tampa, Florida.
"We want to let everyone know that Florida Poly is fighting for this cause and the more people we have, the stronger our message."
Those interested in getting involved or becoming a guest speaker should email the club.
Contact:
Lydia Guzman
Director of Communications
863-874-8557