University police find success combining enforcement with outreach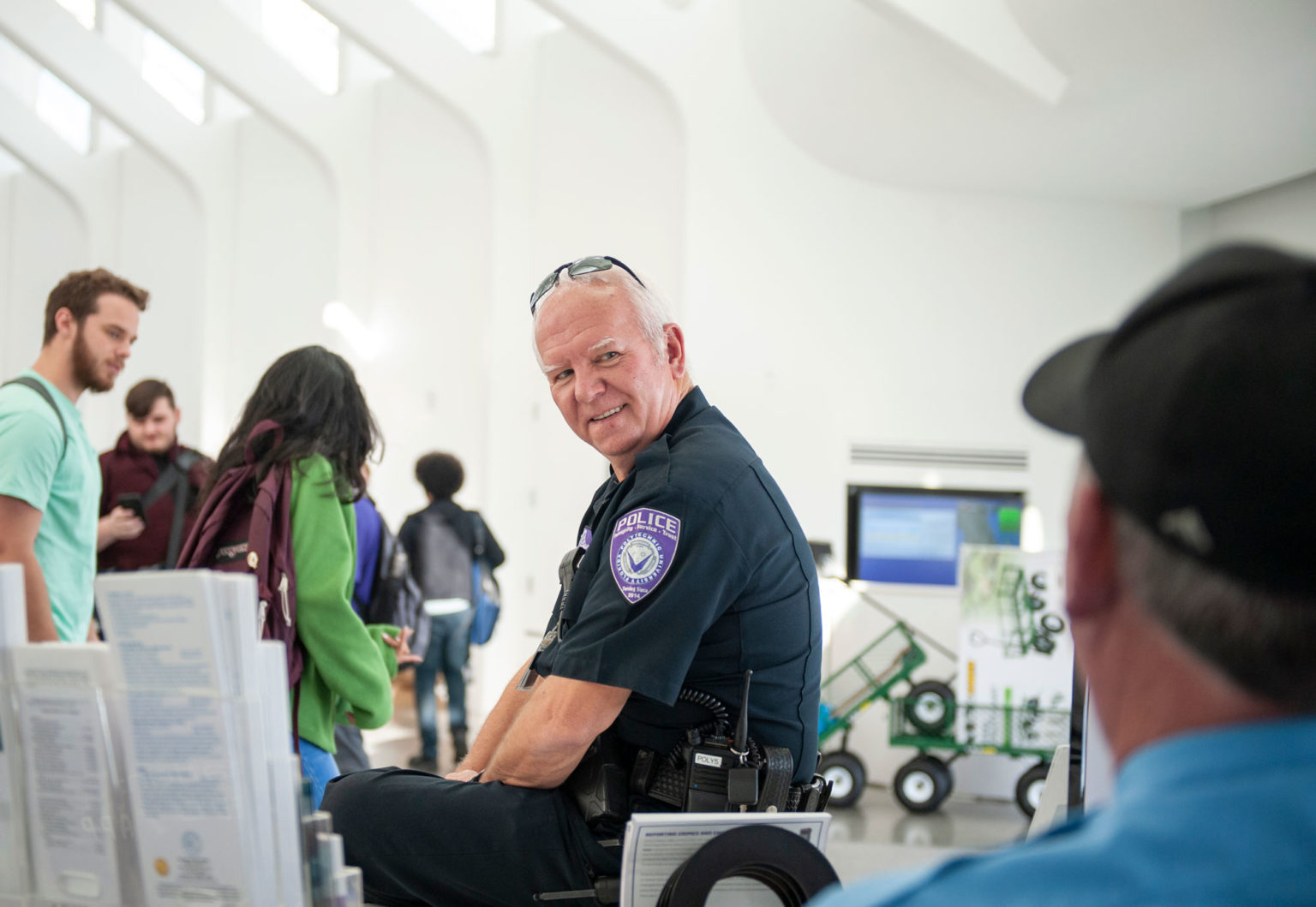 Officers of the Florida Polytechnic University Police Department have seen and done it all. With more than 250 years of law enforcement among them, these seasoned officers use their expertise to keep the Florida Poly community safe every day.
"We have no rookies here, so we've got a lot of experience among us," said Chief Richard Holland, who is in his 34th year in law enforcement. "Most of us are also parents, so we get it and really understand this community."
Jan. 9 is National Law Enforcement Appreciation Day, and Holland said the 10-member police department is grateful to have become a vital part of the University campus.
"We have students that come by and give us cookies and drinks, and parents doing the same thing," Holland said. "You have to pinch yourself once in a while because law enforcement is not that way. Usually police put a Band-Aid on a problem and move on to the next call, but here we get to live a different experience."
Holland said the department has prioritized community policing and engaging with students whenever possible through events like Pool with the Cops, Pizza with the Cops, Coffee with the Cops, and Grilling with the Cops.
"The Ping-Pong with the Cops is my specialty," Sgt. David Last said. "The students come and beat up on me, but it's all fun. They get to see us in a different atmosphere and find we are more approachable than we might seem when we're out walking around in an enforcement mode."
Holland said the department emphasizes education with efforts that include active assailant training as well as crime prevention and self-defense classes.
"We are here to help and support. We are an extension of the family," Holland said. "We try to make sure everyone understands that we're here for them, and what better way to support students than to give them a safe environment to actually learn in."
Last said he feels fortunate to serve the University community. He worked at the Polk County Sheriff's Office for 20 years before joining Florida Poly.
"The biggest difference I noticed when I came here was everyone was smiling and happy to see you," Last said. "It was very welcoming and as you get to know all the people here, you find out it's genuine."
Contact:
Lydia Guzman
Director of Communications
863-874-8557