Florida Poly's new Scatter Band prepares to soar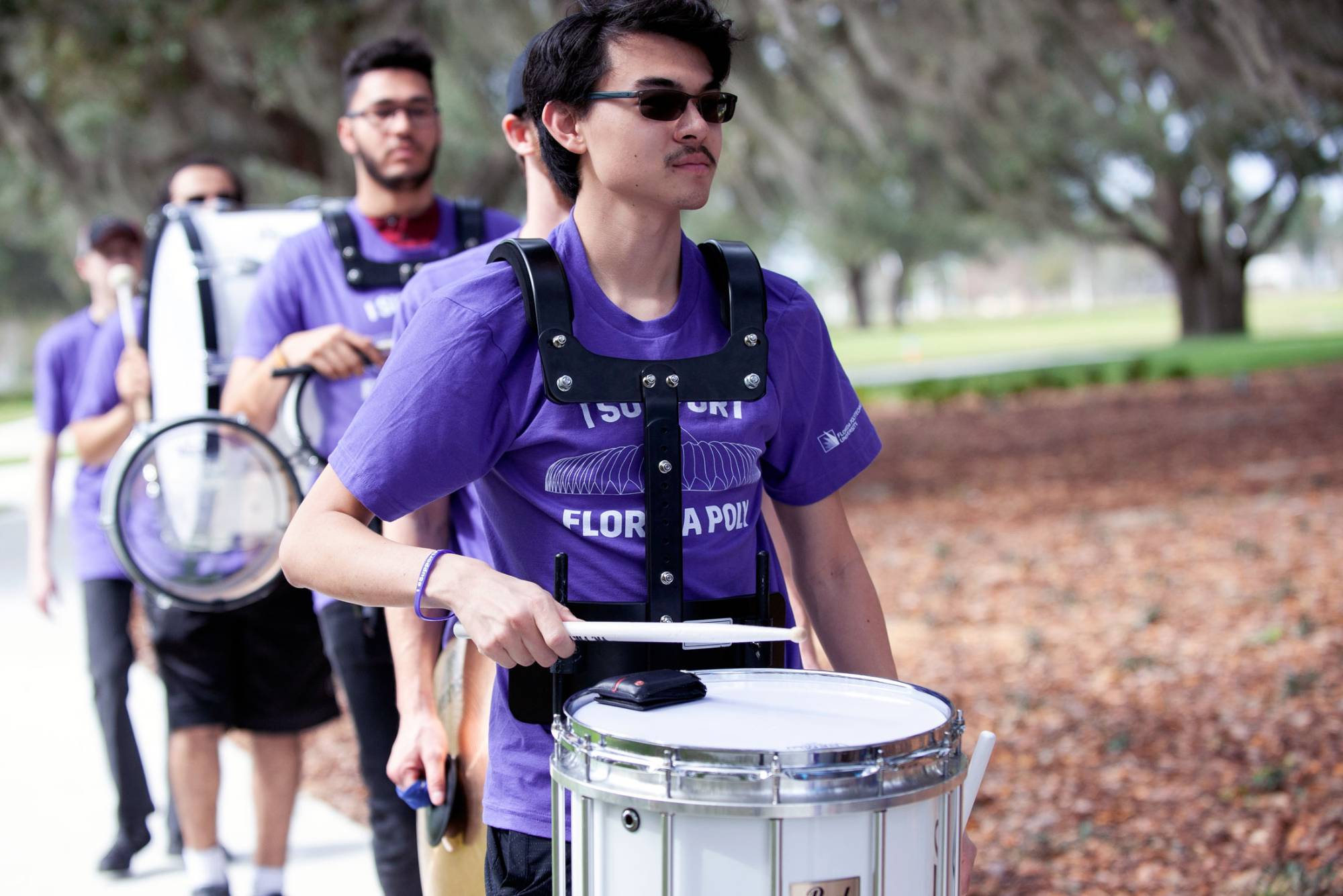 Students will have a fun, new musical outlet for their time and talent when Florida Polytechnic University kicks off its fall semester.
The University has hired two band directors to lead the new Florida Poly Scatter Band. Scatter bands, also known as scramble bands, perform similarly to university marching bands, but rather than marching to form complex geometric formations, these bands scatter to form simple shapes while performing.
"I'm really excited and I know the students are really excited," said band director Brandon Bangle, who has taught band and orchestra for about 10 years and is currently the orchestra director at Olympia High School in Orlando, Florida. "We can't wait to show the school what this is going to be."
Joining Bangle in leading the band is Robert Cook, who has taught middle and high school band for 22 years.
"I believe we can start forming a band that will eventually be a calling card for not just our students, but for the community, and one day for the state of Florida," Cook said.
The band is open to all interested students, and although a musical background is helpful, it's not required. To date more than 40 students, including 29 incoming students, have expressed interest in joining the band.
In addition to the brass, woodwind, and percussion instruments typically played by University band members, the Florida Poly Scatter Band will include students who play guitar, bass, stringed instruments such as the violin and cello, and even vocalists.
"A lot of times when students go to a STEM (science, technology, engineering, and math) school, they have to drop that creativity piece," said Paul Carey, Florida Poly's assistant director of residential life and student experience. "We want them to continue having that creative outlet and do their best academically while being their true selves."
The Florida Poly Drum Line, which was formed in fall of 2019, will also now be part of the Scatter Band.
"I am excited to see the new Florida Poly Scatter Band become a reality," said computer science junior Joshua Kim, who is captain of the drum line. "To see the dream (of becoming a full band) become a reality is amazing, knowing that the school is willing to work with students who have a passion for music."
Bangle said the new scatter band will be able to do many of the same things that pep bands and marching bands do.
"We can play for any reason the school needs or just for fun," he said.
Bangle and Cook said it will be critical to follow social distancing and other safety measures put forth by the U.S. Centers for Disease Control and Prevention and other health officials as the band comes together amid the COVID-19 pandemic. Current plans call for outdoor, distanced practices in smaller groups.
"Playing in a band takes you away from everything else in life," Bangle said. "It gives you an outlet to perform and create and focus on something you already know how to do and are excited about at the college level."
Students interested in learning more about the Florida Poly Scatter band should contact Paul Carey via email.
Contact:
Lydia Guzman
Director of Communications
863-874-8557