Student body president gears up for busy and unusual academic year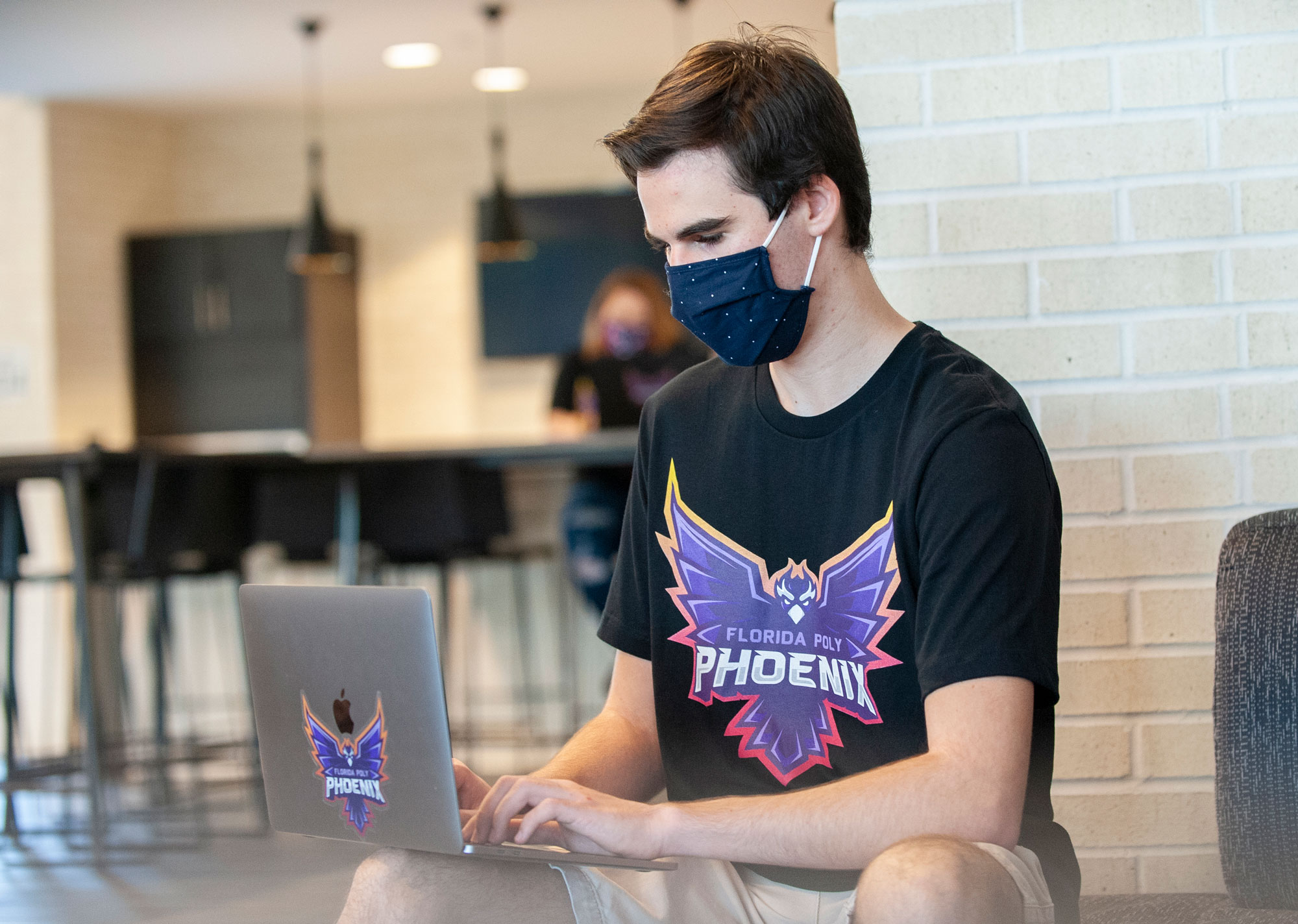 As students return to campus for the start of the 2020-2021 academic year, Connor Coddington is getting ready to tackle far more than a busy course schedule.
"It's definitely an exciting time right now," said Coddington, Florida Polytechnic University's new student body president. "There's a lot going on and I think we'll probably be able to make a lot of great things happen."
Coddington hopes to incorporate both virtual and in-person events and activities, as well as a new array of programming to help students get connected and get more involved.
"One of our big goals this year is to push our social media presence and make the student body more aware of what's happening on campus," said Coddington, who is majoring in computer science.
As part of this effort to spread the word about campus events and organizations, Coddington and the entire Student Government Association have worked throughout the summer to get Phoenix Link ready for its campus debut. The website offers as centralized location for students to discover new interests, learn about upcoming meetings, and build connections with their peers.
"We noticed that there were a ton of flyers around campus that showed all the events, but sometimes it was easy to miss them," said Coddington, from Orlando, Florida. "We wanted one place where students could visit and see everything happening around campus."
In addition to working on the development of the site over the summer, Coddington was part of the student focus groups assisting in Florida Poly's return-to-campus plan. This week, returning students are being greeted by festive decorations welcoming them back to campus – Coddington had a hand in that, too.
"We've been doing a lot of virtual planning and trying to gauge the student body and see what they want to see this year," he said.
Before his election to student body president, Coddington was the SGA's junior class representative and senate president. He also is treasurer of the Themed Entertainment Association, an organization that focuses on the engineering and behind-the-scenes workings of theme parks.
"I'm surprised that time has gone by so fast," he said. "I'm happy with what I've been able to accomplish so far, and hopefully in my senior year I can get even more things completed."
Coddington's role as student body president is the culmination of an academic career studded with high marks and community involvement.
"I joined Florida Poly mainly for its small class sizes – I saw other universities had lecture halls with 300 students and I knew that might not be the right fit for me," he said. "I knew this was a new school that I could make an impact on."
As the new academic year begins, Coddington advises new and returning students to step outside their comfort zones and find or create their own niche.
"Get involved in something on campus you're passionate about, and if you don't see something you're interested in, you can create it," Coddington said. "We have a ton of clubs and it's good to do some fun things during college because it's not all about doing work."
Contact:
Lydia Guzman
Director of Communications
863-874-8557