Sky's the limit for students in tactical fighter aircraft internship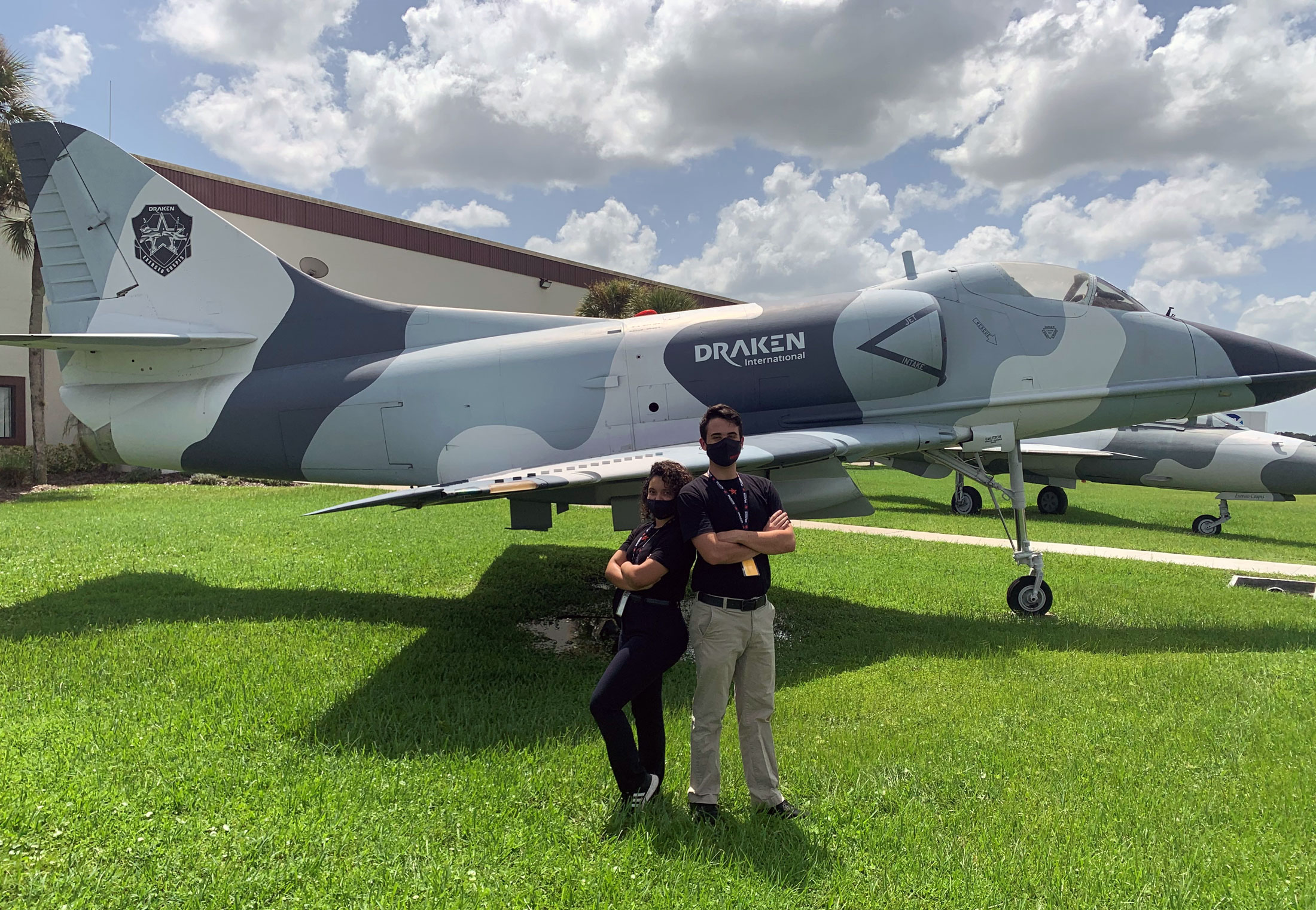 Two Florida Polytechnic University students are getting a high-flying look at an industry that plays a major role Florida's high-tech future. And the opportunity will surely shape their professional future as well.
Senior Krystal Rivera and junior Andre Archer are completing an internship at Draken International in Lakeland, Florida, the leading company in adversary air service in the world. Both mechanical engineering students are actively working on modernizing aircraft.
Draken owns over 100 tactical fighter aircraft and operates the largest commercial fleet of ex-military jets in the world. The company plays the role of enemy aircraft, known as Red Air forces, in training exercises for multiple branches of the U.S. military and other Air Forces around the globe.
"We're bringing legacy international aircraft into the modern century by doing engineering projects on anything they need," said Archer, who is pursuing a concentration in aerospace. "We get to do everything from start to finish, from the initial problem to design to prototype to final product."
Retired Air Force Maj. Gen. Jake Polumbo, who assists with strategy and industry partnerships at Florida Poly, said Archer and Rivera are working as one of Draken's engineering teams for modifications to its fleet of aircraft.
"These mods include structural changes requiring company validation and approval before the new part or modification can be flown on any aircraft," Polumbo said. "This entails a full CAD design with a drawing package necessary for fabrication, followed by the development of a prototype that goes through detailed structural analysis conducted by another set of interns from Embry Riddle Aeronautical University.
"It's an impressive effort by two of our Florida Poly students and represents the true innovative spirit of the University."
The importance of the work they do is not lost on Rivera and Archer.
"We have pilots' lives in our hands, depending on what we're working on," said Rivera, a graduate of Avon Park High School in Avon Park, Florida. "Thankfully, we have a team and we work together to make sure what we do and what we have as a final product is safe to use in the actual product."
Rivera's days are spent working with pilots, engineers, and others to devise and refine solutions to a variety of engineering challenges. She said she is grateful for the experience.
"I feel like this is a one-in-a-million opportunity," she said. "It's not every day you get to work with experts in this field in specific processes. How many times can you say, 'I worked alongside the military helping provide tactical aircraft'?"
Both Rivera and Archer credit the relationships they've built with Florida Poly faculty members for helping them secure their coveted internships.
"We have professors who actively seek out and help the students and we wouldn't have gotten this internship if Dr. (Sanna) Siddiqui hadn't reached out to us," said Rivera, who transferred to Florida Poly from the University of Central Florida in 2018.
"The fact that this school and the professors are making the effort to help students is something you just don't see in bigger schools."
Contact:
Lydia Guzman
Director of Communications
863-874-8557