Florida Poly breaks into national rankings of top engineering colleges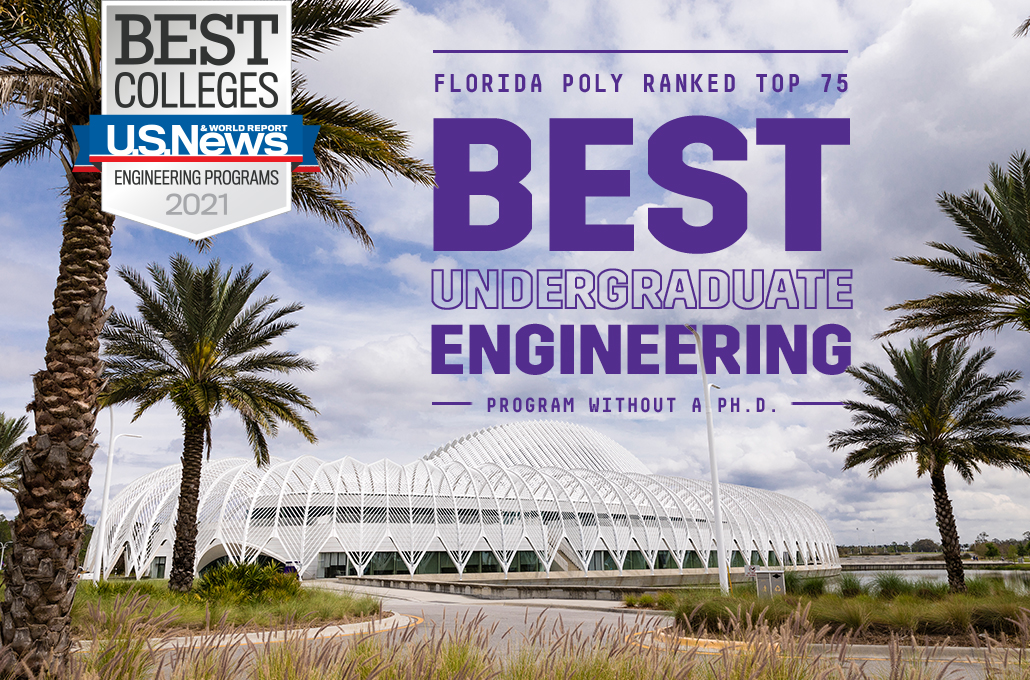 After only six years in existence, Florida Polytechnic University made its first appearance in the national rankings of the prestigious U.S News and World Report as a top 75 engineering college without a doctorate degree.
In its national ranking debut, Florida Poly breaks out at 72 among more than 230 undergraduate engineering colleges without a Ph.D., and in the top 40 of those that are public. It is also the only top undergraduate engineering program in the state of Florida to appear in this category.
"These rankings indicate that Florida Poly's academic programs are among the very best in the nation," said Dr. Randy K. Avent, president of Florida Poly. "In addition to advancing the University's reputation for excellence, this is evidence that our faculty are engaged in research and teaching, and that Florida Poly has a positive impact that is now recognized at a national level."
Florida Poly had a remarkable 2019-20 academic year, having achieved ABET accreditation in record time, assuring its programs meet essential standards to produce graduates ready to enter the STEM fields. The University also had a significant increase in student applications at the beginning of 2020, contrasting the trends in postsecondary enrollment throughout the nation. Later, despite the challenges caused by COVID-19, the University was able to grow its incoming class to nearly 500 in fall 2020, with gains in both quantity and quality of students.
"We are just starting our seventh academic year, and Florida Poly has already surpassed in the rankings some fine institutions that have existed for more than 100 years," said Dr. Ben Matthew Corpus, vice provost for enrollment. "Florida Poly has rapidly become popular. The market is recognizing that a STEM education at an affordable price is the way to go."
As the only public university in Florida dedicated exclusively to core STEM (science, technology, engineering, and math) programs, Florida Poly offers degrees in high-demand areas of study that are critical to economic growth and job creation.
"Many of us have spent countless hours developing degree programs that are unique, accreditable, and leverage project-based learning while appealing to both students and employers," said Dr. Matt Bohm, director of industry engagement and associate professor of mechanical engineering.
"These rankings recognize all of the hard work done by our faculty, staff, and administration to build this University from the ground up," Bohm said.
Contact:
Lydia Guzman
Director of Communications
863-874-8557