Students to explore professional opportunities at University's first virtual career fair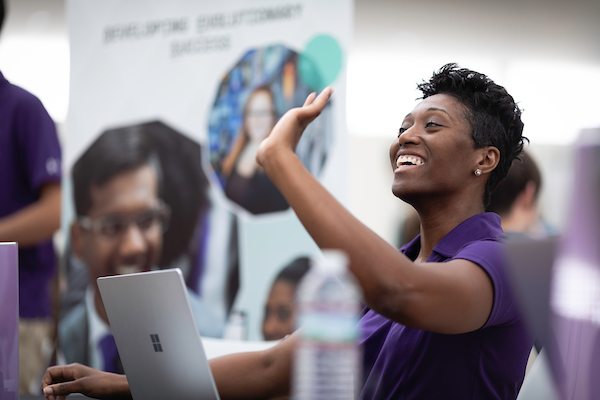 The search for jobs and internships got more complicated after the COVID-19 pandemic pushed many companies to shift their interview and hiring processes online. But Pairris Jones, Florida Polytechnic University's associate director of career development, said Phoenixes are well positioned to do well in today's employment landscape.
Students will have the chance to explore just what is out there during Florida Poly's first Virtual Career Fair from 10 a.m. to 2 p.m. on Thursday, Oct. 15. Representatives from more than 40 companies will be available to meet with students via Handshake.
The fair will feature video, audio, and text-based chat, allowing participants to make a personal connection. Employers also will be able to host group meetings via an external video provider.
"The truth is STEM career paths dominate the work environment," Jones said. "They are the ones creating the world around us with innovation, helping us have better lifestyles."
The University's exclusive dedication to STEM (science, technology, engineering, and math) degrees means students continue to have big opportunities, even as many sectors of the job market struggle.
In addition to the virtual career fair, employers from some of the nation's biggest companies like Northrop Grumman, will be on campus individually to meet and recruit students throughout the month.
Jones said while hiring in a virtual environment may feel strange and different, students don't need to be intimidated. Instead, they should adjust their expectations and presentation skills to succeed in their pursuit of jobs and internships.
"Most interviews now are virtual, so students need to modify their environment," she said.
That starts with what potential employers will see and experience as students make their first impression.
"Make sure you're in a quiet space, and even if you're at home, make sure everything looks professional and polished," Jones said. "This includes dressing to impress – at least from the waist up."
When the interview begins, students should place the camera at eye level and maintain eye contact throughout the discussion.
"Look into the camera so the person on the other end can feel that connection," she said. "And smile, even if you're on the phone. The person can hear it and see you as approachable and personable, as well as brilliant."
Before the professional encounter ever begins, Jones said students should research the specific opportunities they're interested in and be prepared to discuss them with the company.
She said there are also many other things people should do to set themselves up for success, including gaining new relevant credentials and certifications, and maintaining a strong LinkedIn profile.
"Let the company see that you know what you're capable of," Jones said. "Don't be afraid of putting some of your projects on there. Do videos showing yourself doing things, showing that you've received accolades in your area of expertise, so they see you are someone who enjoys learning and who has momentum."
In addition to the scheduled virtual job opportunities on campus this month, Jones said students should actively search for job postings on their own and not be intimidated by what they encounter.
"Job descriptions are the equivalent to the company saying, 'I need help; I need someone like you.' So students can approach it with the mindset of showing them how they can help," Jones said. "Show them how you can help them achieve company goals, help them develop their newest product, or help beat their competitors."
Finally, Jones said students shouldn't wait until their upper-division years to start exploring jobs and internships.
"Prepare yourself. Do not stop," she said. "Don't wait until you're about to graduate. Network, build relationships, and utilize people on campus now. Don't stop connecting."
Click here to register for the Virtual Career Fair.