Bright future is on deck for 2018 alum and Navy officer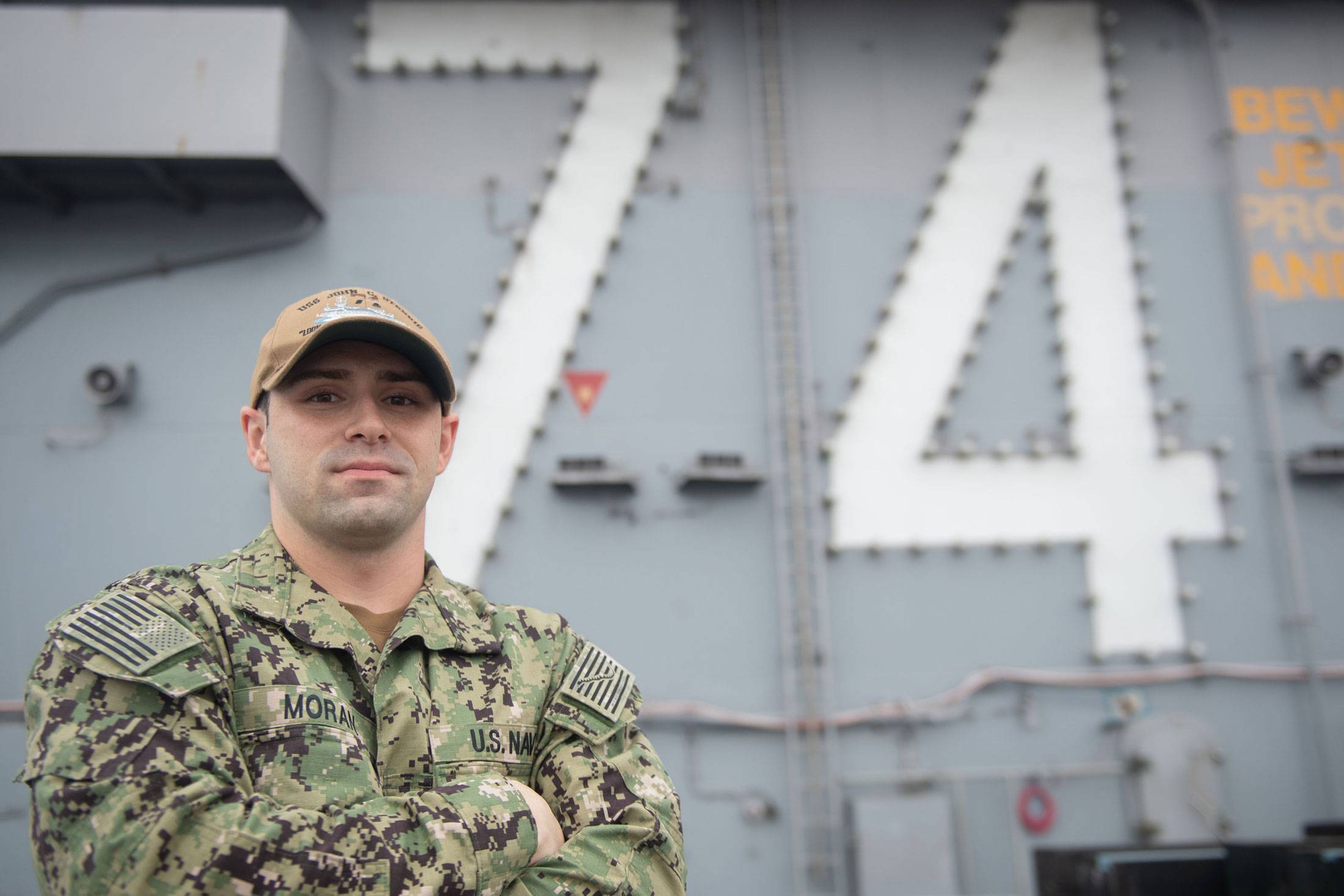 When Peter Moran '18 joined the Navy in 2019, his thoughts were of his grandfather who served in the Marine Corps during World War II.
"I wanted to continue that legacy and do my part for my country," said Moran, who now is a supply corps officer and the hazardous materials officer on USS John C. Stennis, a nuclear-powered supercarrier based in Norfolk, Virginia.
"This ship is huge. Ginormous," he said. "To be part of an operation like that, you sometimes take it for granted, but it's an amazing opportunity."
Moran's Naval career is the perfect use of his Florida Polytechnic University bachelor's degree in business analytics with a concentration in logistics and supply chain management.
"Florida Poly set me up well in terms of their curriculum for supply chain," he said. "Me coming in and having in-depth knowledge about the industry and supply chain in general gives me a leg up from every other supply corps officer."
Moran prepared for the bustling life he now has while he was still a student at Florida Poly. He joined the leadership of the University's chapter of the American Production and Inventory Control Society and earned the Certified, Logistics, Transportation, and Distribution certification [EJ1] that he uses in his current position.
Today, life on the USS John C. Stennis is busy and very dynamic, Moran said.
"Ships are very complex and being able to adapt on a day-to-day basis to work the ship's schedule is important," he said.
Moran, who graduated from Durant High School in Plant City, Florida, said his job is giving him the important experience he needs to be a leader and open his own logistics firm one day. While his path is inspired by his grandfather's service, Moran has always wanted to follow in his father's footsteps.
"He was a 25-year supply chain veteran who worked in containerized shipping," Moran said. "When I was about 11 it was 'bring your kid to work day' and my dad showed me what he did, and I loved it."
Moran worked hard at Florida Poly and excelled in its small classes, making connections with professors and reveling in the hands-on educational environment.
"I think where I am now speaks volumes in terms of how well Florida Poly prepared me," Moran said.
Contact:
Lydia Guzman
Director of Communications
863-874-8557