Annual Florida Poly toy drive brings cheer to Lakeland pediatric patients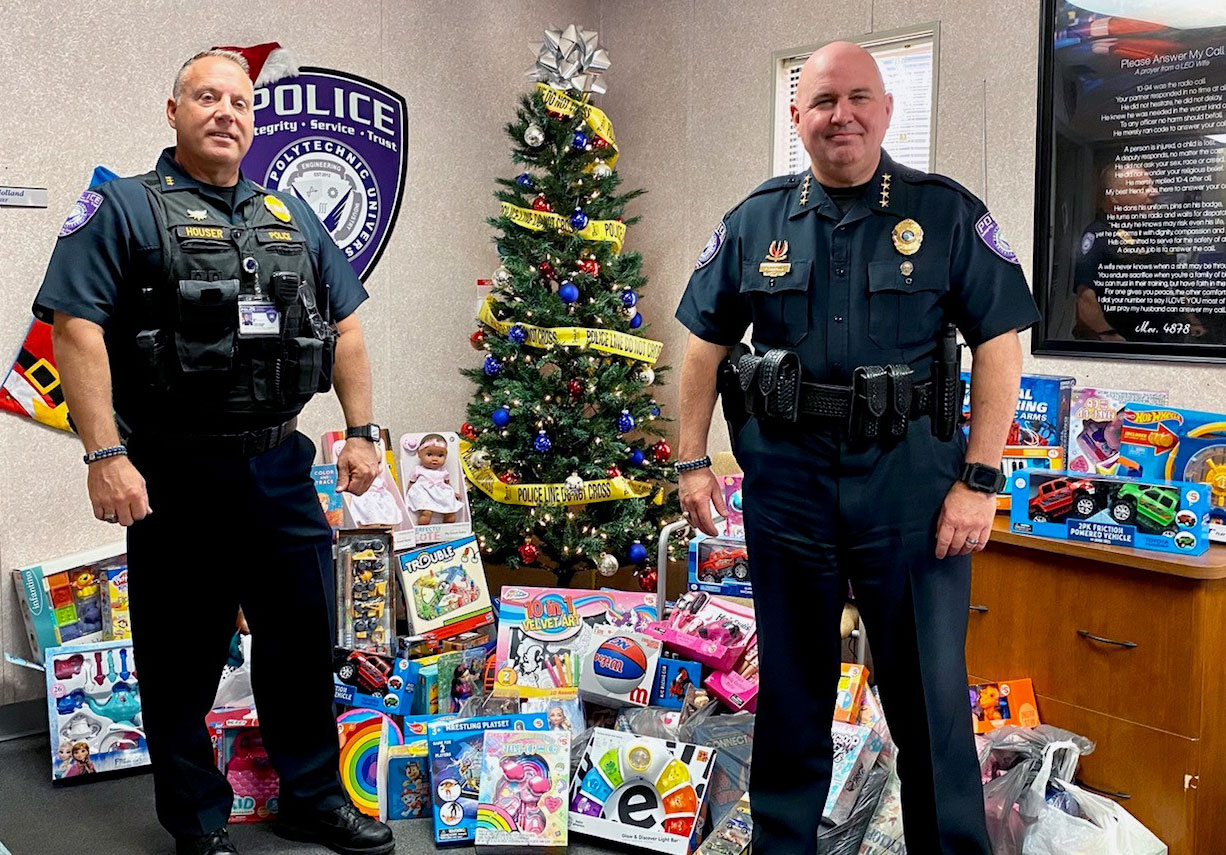 The holiday season will be a little brighter for pediatric patients at Lakeland Regional Health Medical Center. The Florida Polytechnic University community once again rallied behind an effort of the University's Police Department to donate toys to children who are hospitalized and may need some extra cheer.
"It's our tradition to give back to the community we serve," said Florida Poly Police Chief Richard Holland. "It was smaller when we started this five years ago, but now everybody comes together to support us and the toy drive."
The department collected dozens of dolls, toy cars, musical instruments, board games, and learning toys, engulfing the tree at its headquarters. Officers delivered the toys to the hospital on Friday, Dec. 11.
"Now more than ever we are dependent on our donors to make Christmas happen for our kids," said Jillian Haley, a certified child life specialist at Lakeland Regional Health. "Knowing we can depend on our wonderful donor partners like Florida Poly allows us to know we are going to be able to make Christmas magic happen."
Haley said many holiday events for the children have been canceled this year due to COVID-19. The toys donated by Florida Poly will be left by "Santa" at the children's bedside on Christmas morning. Toys also will be used as prizes to reward children for their bravery in undergoing scary medical tests and procedures.
"You can imagine the delight and magic of the feeling that they weren't forgotten and their Christmas wasn't over just because they were in the hospital," Haley said.
Holland said this magic is exactly what his department and the entire Florida Poly community were hoping to achieve.
"This shows that our employees care and really have the spirit of giving back," he said. "I think it can be depressing to be in the hospital during the holidays, and when we can put a smile on a child's face, that's what it's all about."
Holland said he knows firsthand how difficult it can be for families spending the holidays in the hospital.
"When my son was born, he spent some time in the pediatric ward of St. Joseph's Hospital in Tampa," he said. "Seeing those kids there broke my heart."
Carrie Mann, Florida Poly's director of financial aid, contributed several toys to the effort, which was also supported by the Office of the President. She brought her own children into the experience and asked them to pick out the toys she would donate.
"I think it's so great that we as a University are able to help and make the kids at Lakeland Regional just feel a little better," Mann said. "I enjoy donating and if I can make a kid's Christmas better, as long as I have the means to do it, I will do it."

Contact:
Lydia Guzmán
Director of Communications
863-874-8557