Purple Fire Robotics battles to number one in statewide competition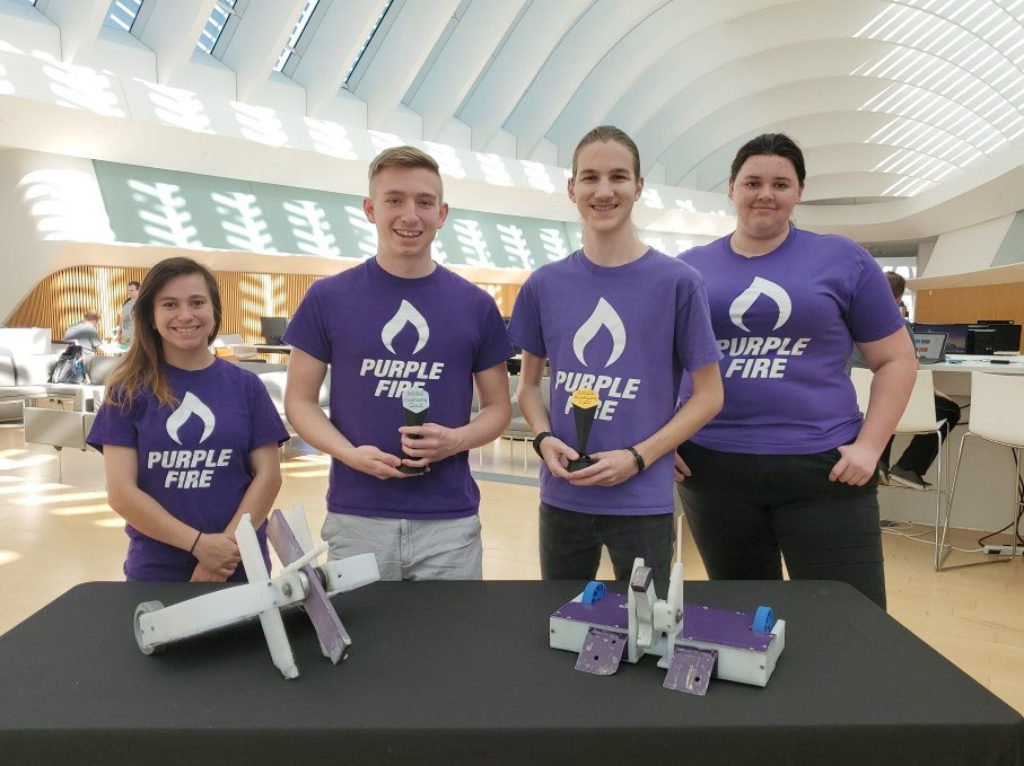 For the first time, the Purple Fire Robotics Club got to enjoy the sweet taste of victory. The Florida Polytechnic University team not only grabbed its first win in a statewide combat tournament, but they crushed their competitors on their way to becoming undeniable battle champions.
The Purple Fire team competed in the 15-pound category at the Robot Battles Tournament recently at the Martin County Fair in Stuart, Florida. They entered two robots carefully designed and built over long hours of hard work and precise attention to detail. Their competitors were six other robots from teams in Miami, the Panhandle, and other areas of the state.
Once all battles were settled, the Florida Poly team won by a landslide taking first and second place.
"We destroyed all of our competition," said Purple Fire leader Jacob Rogers, a junior from Jacksonville, Florida, majoring in business analytics. "It is an unmatched feeling to create pride in Florida Poly and establish a name for our University."
Purple Fire Robotics has competed in close to a dozen different tournaments throughout Florida this season, placing second or third place in many of them. But they'd never won the top recognition. Rogers wasn't surprised by the team's most recent success.
"Our robots are built to win with qualities like innovative armor materials, well-coordinated teamwork, and close attention to detail," Rogers said. "Most of the time, a team wins due to attention to detail because if a single wire disconnects the entire fight is over."
Another element that helped the team achieve its first big W was the top-notch facilities the Purple Fire Robotics Club enjoys inside the Rapid Application Development (RAD) Lab, according to freshman Reid Canyon Kaufman.
"We have a test arena that allows us to ensure the capabilities of our robots before throwing them into competition unlike most other teams," said Kauffman, from Bradenton, Florida.
For Kauffman, beginning his journey at Florida Poly as a member of the Purple Fire team is a perfect complement to the electrical engineering degree he is pursuing.
"Combat robotics is a breeding ground for material science innovation as well as electrical engineering," Kaufman said. "Learning how to keep things from breaking is a job tasked to engineers who work on anything from a shatter-proof smartphone screen to a space station."
Purple Fire Robotics now has its eyes on the upcoming National Robotics League (NRL) Championship to be held in Pennsylvania this summer. It is the last competition scheduled for the team this school year.
Rogers said they are preparing for a great showing, win or lose, but always excited to represent Florida Poly.
"Being able to grow pride in a 'smart sports' team is something I could only dream of when I first applied to be a Phoenix."
Contact:
Lydia Guzman
Director of Communications
863-874-8557