Students celebrate at Florida Poly's Degree Declaration Day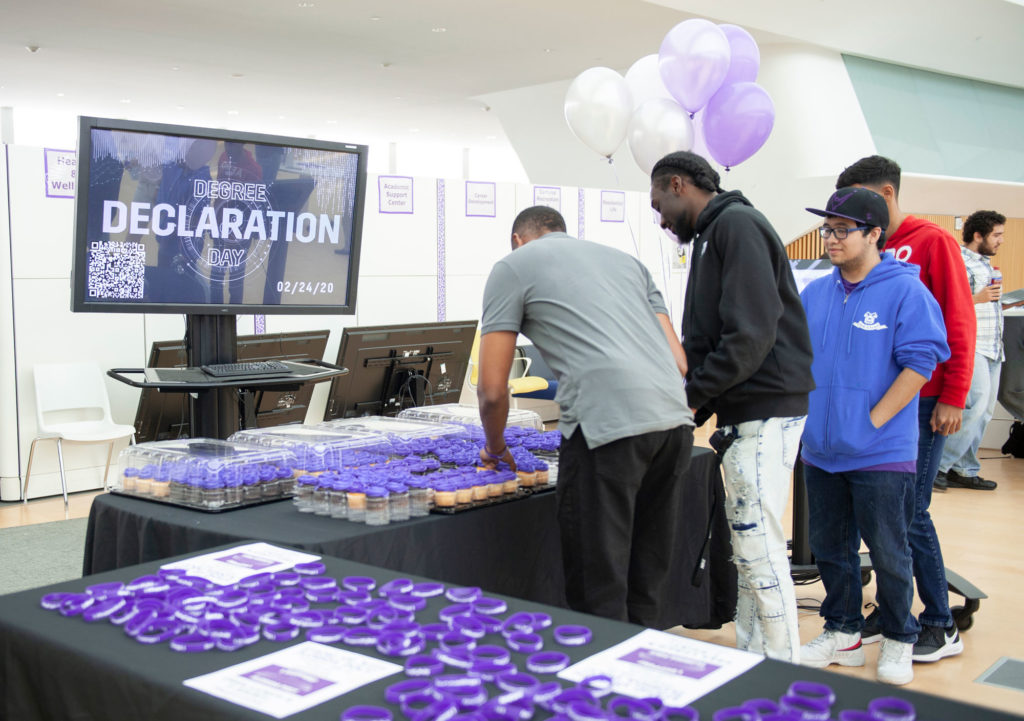 Freshman Timothy Honeycutt strode up to a kiosk in the center of the Saddle Creek Logistics Commons on Feb. 24 to grab a cupcake and officially declare electrical engineering as his major during Florida Polytechnic University's first Degree Declaration Day.
For Honeycutt, the declaration was a long time coming.
"I studied a bunch of circuit stuff on my own time because I wanted to build a guitar amp in high school and it's been a personal passion of mine ever since," said Honeycutt, from Dover, Florida. "This is a really nice event because this makes it feel official."
The festive event featured cupcakes, balloons, and Florida Poly staff members ready to assist students in declaring majors and minors.
"A lot of students arrive at the beginning of the school year and they're pretty sure they want to do computer science, for instance, but they're not sure what their minor is going to be," said Shannon Brandt, associate director of student success and retention at Florida Poly. "Now they've had time to learn more about their options and they're making a statement about their future.
"These are important decisions and we want to celebrate them."
Freshman Bruce Cheung said he was happy to declare his electrical engineering major at the event.
"I think it's nice that the University wants to celebrate what we're going into," said Cheung, a native of Miami, Florida.
Cheung' interest in electrical engineering stemmed from watching his electrical engineer father work with phones and other gadgets during his childhood.
"Back then the technology seemed really cool and my interest is still in that direction," Cheung said.
Kaylee Funaro also stopped by to make sure her computer science major was indicated in the University's system. Her degree interest is fueled by both passion and future job prospects.
"I want to go into cybersecurity and there's definitely a lot of growth in that field," said Funaro, a sophomore from Punta Gorda, Florida. "It's also a really interesting topic and even though it's still work, it seems like it would be a fun really job."
Contact:
Lydia Guzman
Director of Communications
863-874-8557