Students share high-tech project experience with future collegians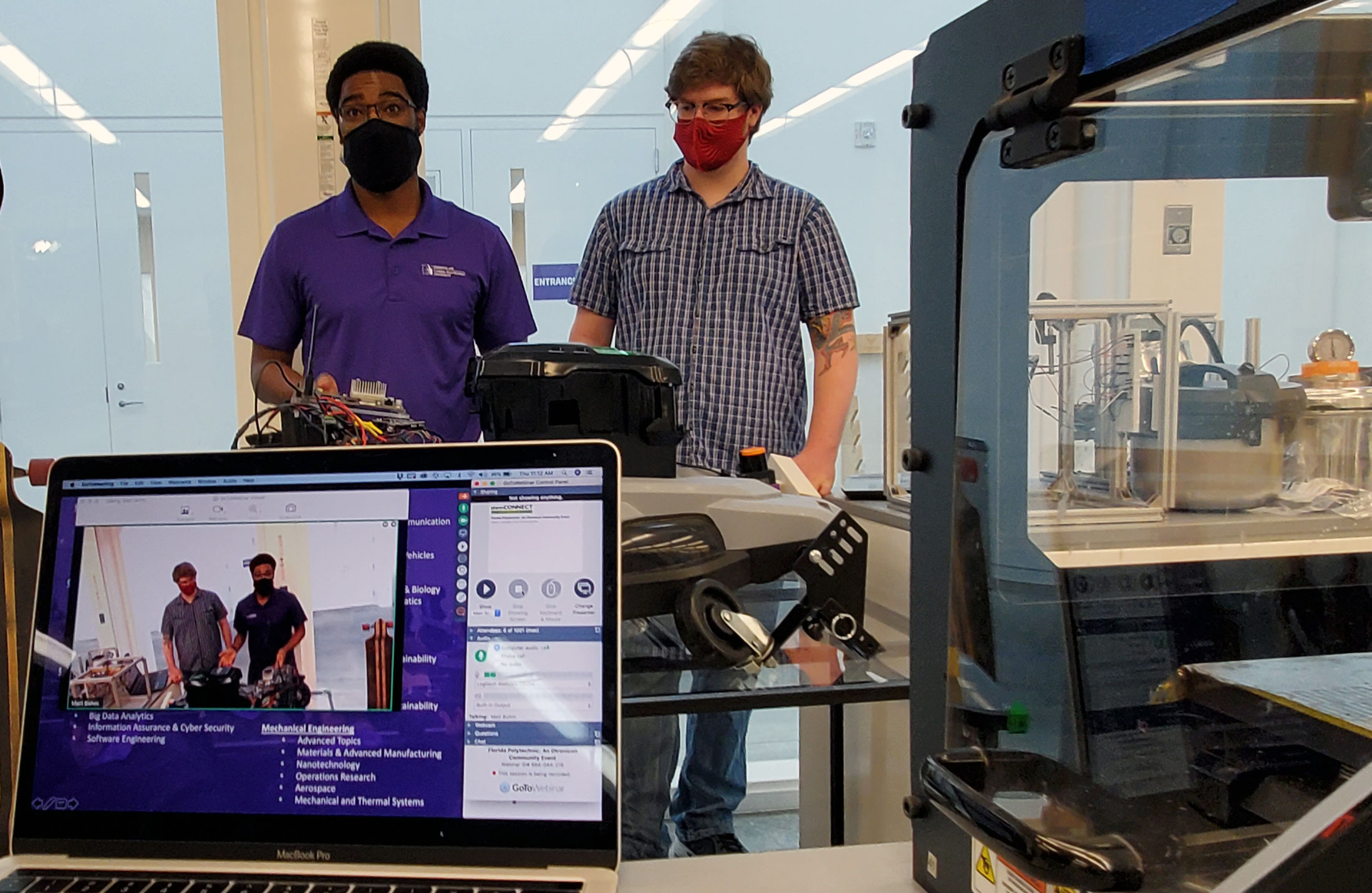 Middle and high school students at dozens of schools across the state learned about the culture of hands-on, high-tech learning at Florida Poly University on Thursday, Feb. 11.
The live virtual event was a joint effort between the University and stemCONNECT, a program of the Florida High-Tech Corridor, aimed at inspiring young students to consider STEM careers.
"I hope that high school and junior high school students across the state are able to see some of the hands-on and engaging activities that Florida Poly offers in a smaller environment compared to some of the other options they may have," said Dr. Matt Bohm, an associate professor of mechanical engineering and director of industry engagement and capstone projects at Florida Poly.
Six projects were highlighted during the virtual event. Chris Willman, a senior business analytics major, spoke to the students about the capstone project he's been working on in partnership with Lakeland Regional Health.
"In our project, we are trying to use public data sources like census.gov, USDA, and various medical resources to take data and put it together and run statistical analysis on it to find out what factors might correlate with higher or lower hospital ratings," Willman said. "Hospitals in all of Florida and the United States can use this to improve the quality of their care."
Other projects presented at the event included a planetary rover, an autonomous lawn mower, an autonomous golf cart, and 3D printing materials to use in aircraft engines and aircraft wing structural applications. Event attendees asked many technical questions as well as questions about the university and program experience.
"It's a cool experience because it's the sort of thing I wish I could have gotten when I was in high school," Willman said. "Having this interactive experience where they can talk to college students about what they're doing, ask questions, and see real-world applications of what their degree would be able to do is great."
Makail Davis, a senior majoring in mechanical engineering, talked to students about the autonomous lawn mower project he is working on. He said he was excited to share his team's work.
"It's nice to give younger students a chance to learn what we're doing as seniors here in the program at Florida Poly and to give them the opportunity to see what they could be doing," Davis said. "Something like this would have given me more detail as to what to expect from an engineering degree because I knew I wanted an engineering degree, but I didn't know which one."
Gunnar Sundberg, a senior majoring in computer science, was part of the team presenting their work on a planetary rover. He agreed that interactions like these can make a difference in younger students' minds as they choose a career path.
"When I was in middle and high school, I had to take a lot of math and science classes without getting to the application and it was easy to get discouraged because it was so abstract," Sundberg said. "I hope these students get to see that we have to use everything we had to learn up to this point, and everything that may have seemed abstract at the time has a very direct application and is very useful."

Contact:
Lydia Guzman
Director of Communications
863-874-8557