Phoenix Lacrosse shines in inaugural season opener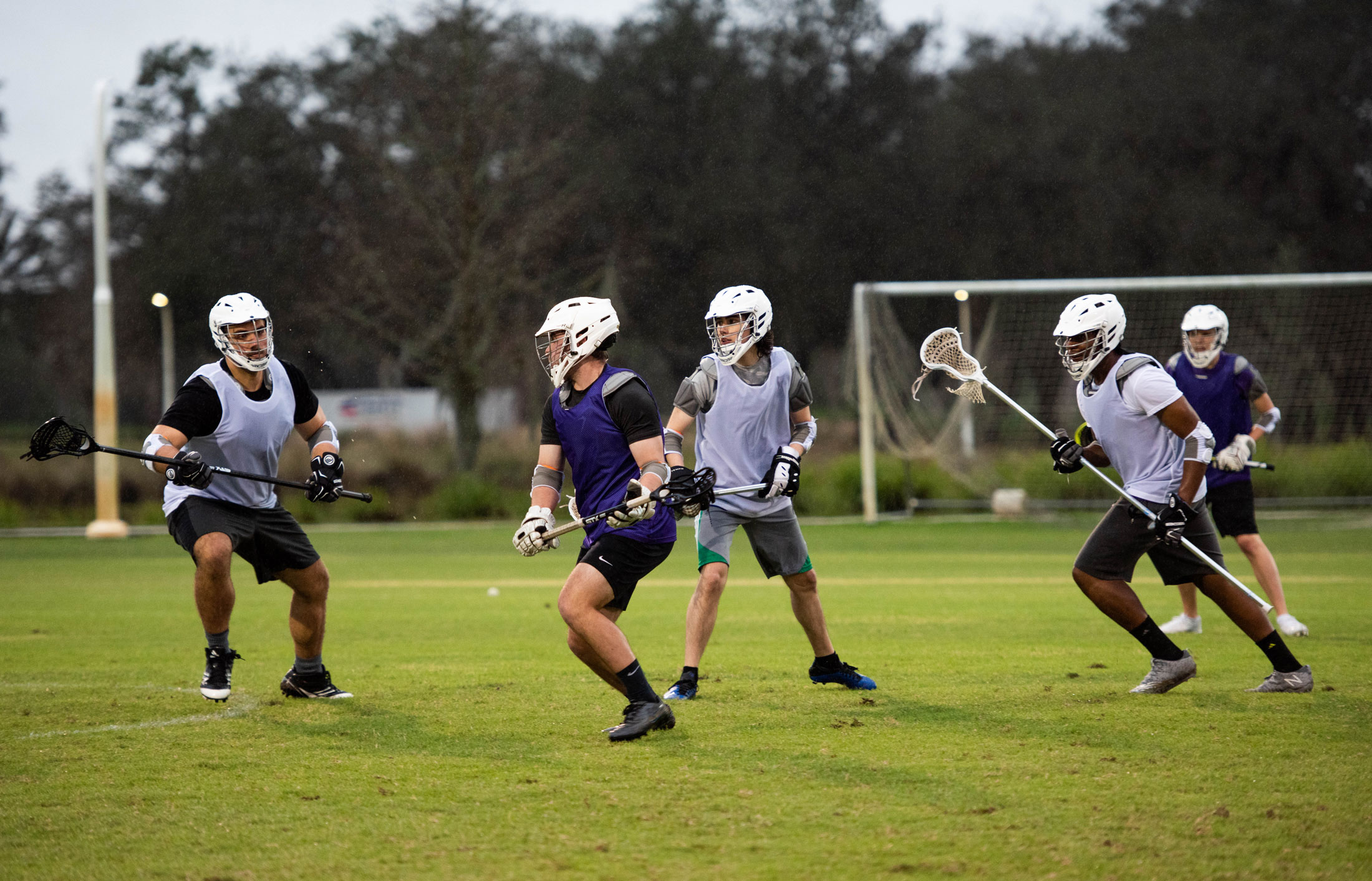 The Phoenix Lacrosse Team took the field for the first time on Friday, Feb. 19, in a Purple and White exhibition game. The spirited event drew a crowd of more than 100 Florida Polytechnic University students and other supporters eager to cheer on the student athletes in their debut game despite the cold, rainy weather.
"I think it went fantastic," said Jacob Rogers, the team's captain and founder. "I was very impressed with how many people came out, even with the weather being so bad. We kept up a really great energy."
The Purple team won 11-5 and received a trophy that will be passed to the winning team in the annual exhibition game.
The Florida Poly men's lacrosse team was born from Rogers' desire to get back to the sport he played as a student at Bishop Snyder High School in Jacksonville, Florida.
"It was the most fun thing I did in high school and I wanted to get some other people to play," said Rogers, senior business analytics major.
The student dug into his own pockets to buy secondhand lacrosse sticks to equip some friends to play the sport on the field behind the Student Development Center.
"Eventually we had about a dozen guys coming out consistently," said Rogers, who played goalie in the exhibition game, which also featured a halftime performance by the Florida Poly Band.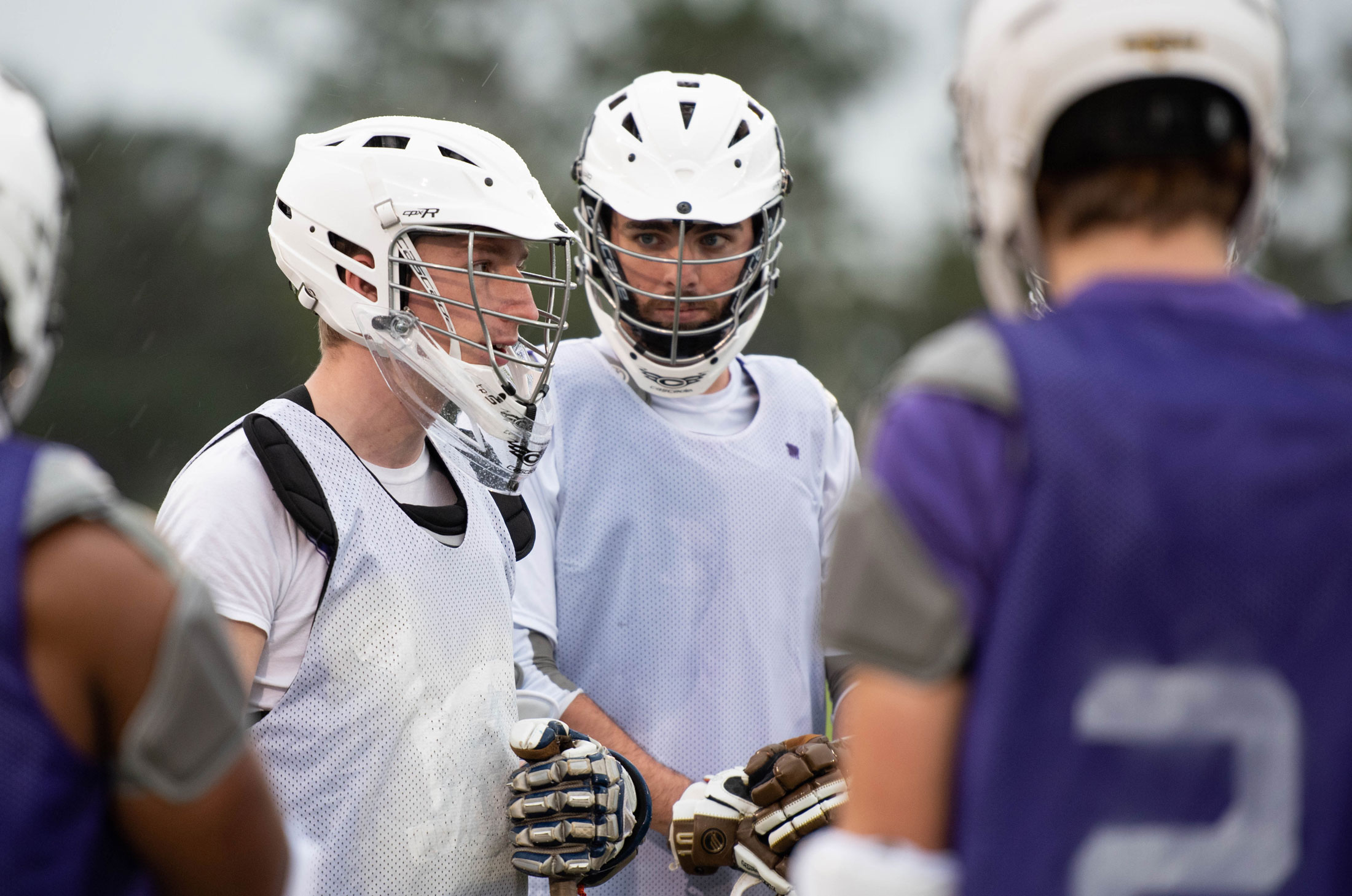 The University took notice and stepped in to support their efforts, purchasing gear, ordering Nike uniforms that will soon arrive on campus, and helping the team officially come to life. Rogers said the 15-member team is now hoping to join the Men's Collegiate Lacrosse Association and play against teams from other Florida institutions.
"University athletics at any level brings so many tangible and intangible benefits to the student population," said Derek Lower, Florida Poly's student life coordinator. "At the heart of sports is community, all of us striving for one common goal: success. This success is not determined by wind and losses, but by the foundation of University pride it creates from our students, staff, faculty, and community members."
The team members are eager to build this pride.
"I am pumped," said Kyle Tucker, a senior majoring in mechanical engineering who plays in an attack position on the team. "I used to play lacrosse back in high school and since I came to Florida Poly, that exited my life. It's great to have it back again."
The team features both experienced players like Tucker and those who are brand new to the sport.
"Some of the players are first-time athletes, but they've practiced for so long and so hard that I've seen so much improvement from some of these guys," Rogers said. "They're better than some of the guys I played with in high school."
Freshman Dillon Duchrow was among these first-time players.
"I am really excited," said the mechanical engineering major from Wellington, Florida. "It started out just for fun, but I realized I really like the sport and now I have the opportunity to get better and play for a little bit higher stakes."
Now that the team has played for the first time, its future is wide open.
"I was thinking we're just practicing and having fun, but I was told by many students on the team this was helping their mental health and giving them a sense of community," Rogers said. "Maybe one day we'll be known as one of the premier lacrosse teams and have school pride in that – it will be a big deal."
Contact:
Lydia Guzman
Director of Communications
863-874-8557