Engineering alum excels in leadership role with global tech company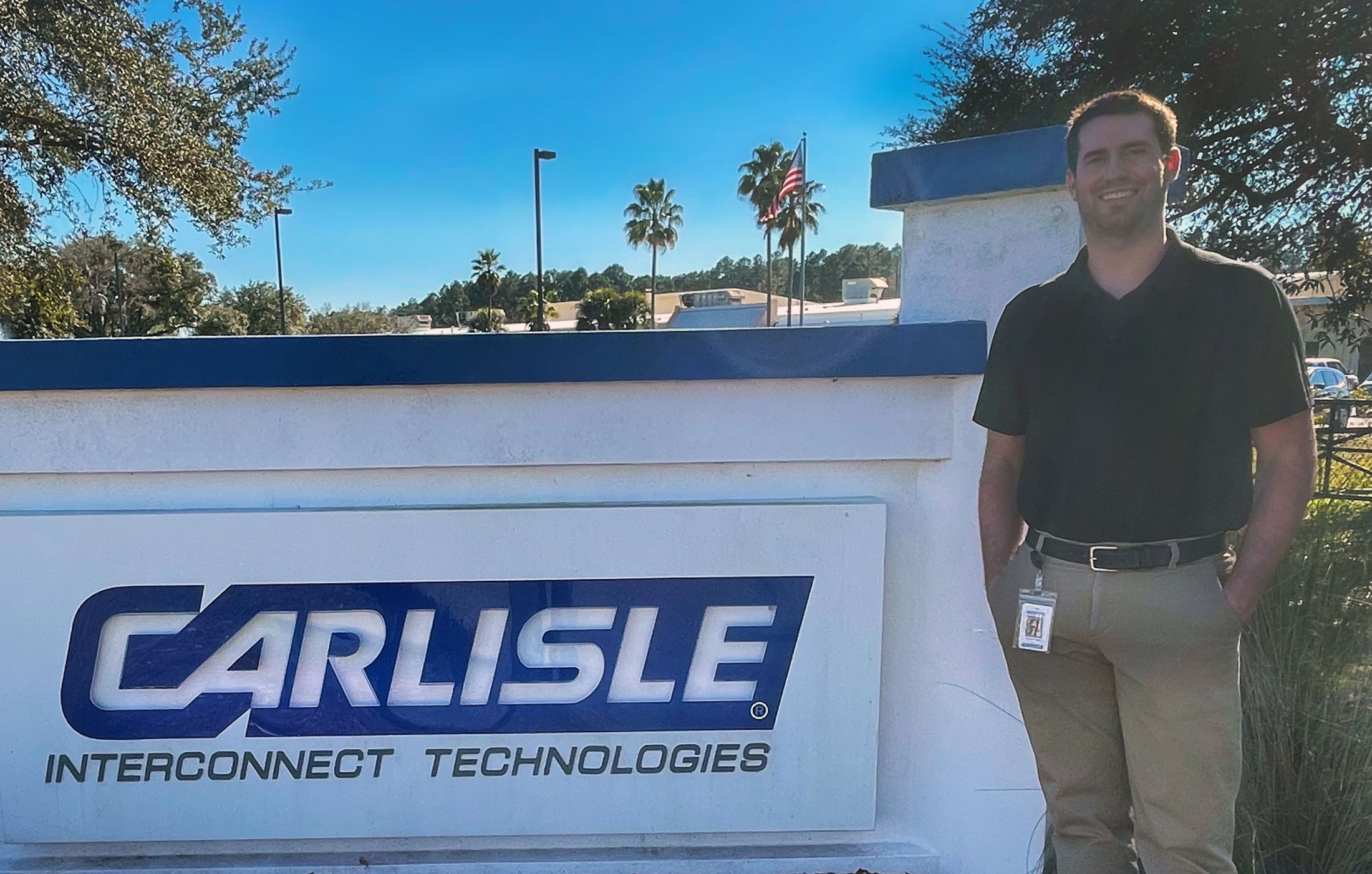 In the three years since Christopher Krenek '18 graduated with a bachelor's degree in mechanical engineering from Florida Polytechnic University, he has become an accomplished process engineer and manages a team of 20 at Carlisle Interconnect Technologies in Saint Augustine, Florida.
"I really enjoy creating relationships and developing other people, as well as seeing engineering projects come to fruition," Krenek said. "I get the best of both worlds."
As a process engineer at Carlisle Interconnect Technologies, a global leader in designing and manufacturing high-performance wire and cable, Krenek works to ensure the manufacturing of materials is efficient and always improving.
"You have a way to fabricate components and different materials and it all goes through a set of processes," Krenek said. "A process engineer is in charge of making sure it's a robust process, upgrading equipment, and developing better ways to fabricate these items – it's a continuous improvement outlook on production."
Krenek said the opportunities he seized as a Florida Poly student positioned him for success after graduation.
"Florida Poly was definitely a great experience," he said. "It provided an environment for learning I don't think you get at the bigger colleges. The professors are available, and you have access to great equipment and internship opportunities.
"Having these opportunities pushed me outside my comfort zone and allowed me to grow as a person."
Since joining Carlisle Interconnect Technologies in August 2018, Krenek said the world of possibilities made possible by his mechanical engineering degree has exploded.
"I own a house now. I don't have any car payments and have paid off all my debts," Krenek said. "This experience is setting me up for financial success I don't think I was aware of until I got into this position."
Krenek said with hard work and a willingness to embrace academic and life challenges, other Florida Poly students can follow his path to success.
"Always seek out the advice of your professors and really push yourself outside what you're comfortable," Krenek said. "My doors of opportunity are there for everybody."
Contact:
Lydia Guzman
Director of Communications
863-874-8557