Capstone team creates next-generation risk assessment tool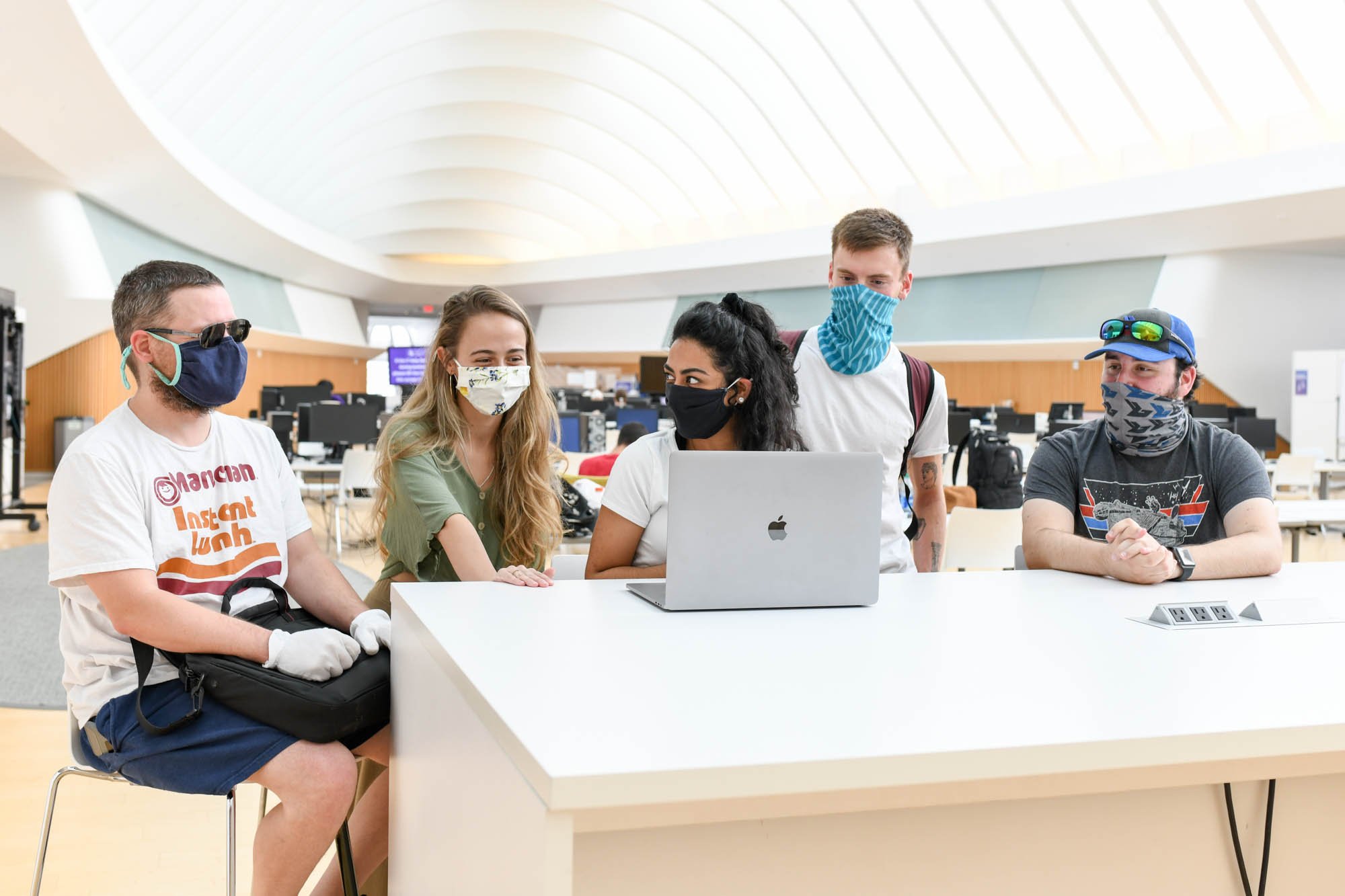 In business, it's important to know whether potential partners have hidden risks that could one day affect either company's operations. A team of Florida Polytechnic University senior capstone design students are developing a tool to assess this risk and help companies make more informed decisions.
"It's a way to quickly scan the web and give a report of whether or not that company is a good company to work with or a bad company to work with in terms of risk," said Bela Rangel, a computer science major and graduate of West Orange High School in Winter Garden, Florida. "Say a company has a history of cybersecurity breeches, we are supposed to find that in this process."
Rangel's team is working on the project for JustProtect, a Tampa, Florida, a software company that helps enterprises simplify and accelerate third-party and internal risk assessments.
"This could mean that we can accelerate relationships with commercial organizations," said JustProtect CEO Vikas Bhatia. "The best-case scenario for us is we take the output and present it to some commercial organizations, and someone says, 'That's a really great idea! It solves a problem for us and we'd like to be one of the first people to partner with you and make it fit our organization.'"
The team of students has been excited to collaborate on the project and is hopeful the tool will help transform corporate risk assessment.
"Working with JustProtect has been great and they've been really helpful in guiding us on what we need to figure out," said computer science major Ben Norris, a graduate of Hardee Senior High School in Wauchula, Florida.
The students have been working for months to develop the tool, which examines publicly available information on a company, such as disclosures made to federal reporting agencies.
"We are assessing operational risk – anything to do with distribution and operations of the product being made," said Raquel Julian, a business analytics major and graduate of Sunlake High School in Land O' Lakes, Florida. "Anything could go wrong within that process, so when companies disclose what could potentially go wrong, our creative framework would pick up on that."
Combing through this information manually would involve the painstaking review of detailed information from multiple online sources.
"This information is publicly available for everyone to see. We take those reports and use mining processes to assess the words in those documents," Julian said.
This streamlined review provides users with an easily digestible summary report.
"We have a process now that can produce an outcome, but we're working on making it more free flowing and concise and less like manual work," said business analytics major Zoe Zumbro, a graduate of Lakeland Senior High School in Lakeland, Florida.
The company is enthusiastic about the team's progress.
"I've been really impressed at what they've delivered, but more importantly, really impressed at how the team has worked together internally and with us as well," Bhatia said. "When we were presented the outcome of the first semester's work, I was flabbergasted. I thought it was amazing and could really tell it was a collaborative effort from all sides."
Contact:
Lydia Guzmán
Director of Communications
863-874-8557