Students get taste of tech start-up life at Embarc Collective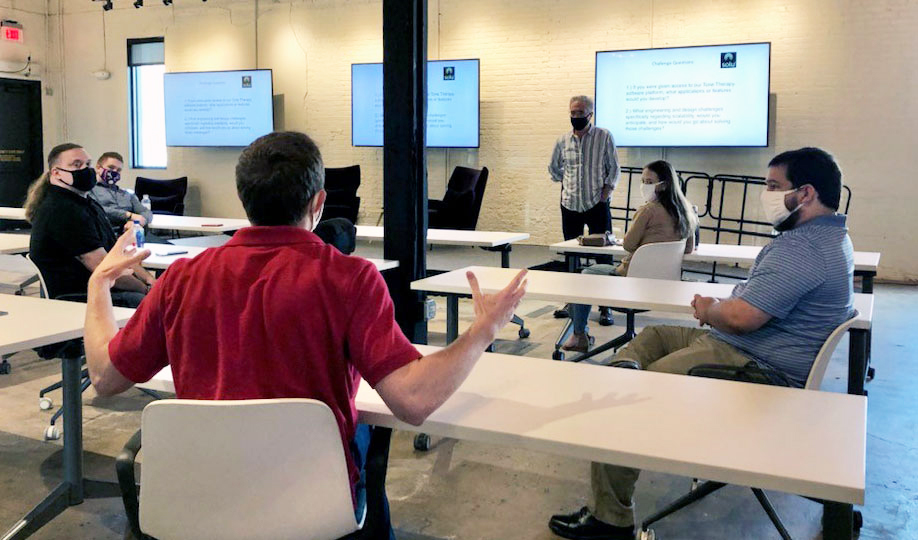 Embarc Collective, a Tampa Bay education nonprofit that helps startup businesses build scalable, successful companies, opened its doors to Florida Polytechnic University students recently and offered them a peek at the possibilities for those considering an entrepreneurial future.
"It's not every day you get to talk to the CEO of an emerging company," said Florida Poly senior Jason Chua, a computer science major from Cooper City, Florida.
Chua was among the dozen students who toured Embarc Collective and met with the leaders of SpotMyPhotos, a seamless photo sharing platform, and n.o.w. Tone Therapy System, an innovative meditation aid.
"Hosting students from Florida Poly helps us cultivate the next generation of startup founders, which is crucial to building this startup community," said Lakshmi Shenoy, CEO of Embarc Collective. "We want to show students early on in their careers that there are support systems and a peer population of founders to help them build new technology ventures right here in Florida."
After learning about the companies and viewing demonstrations of their products, students were presented with a real-world business challenge facing the companies. They then broke into groups to devise potential solutions.
"It was an insightful discussion of what tech entrepreneurs go through in their lives and the logic behind what they do with their business," said Justin Heacock, entrepreneurship coordinator at Florida Poly. "It was great seeing our students engage with that situation and use their STEM knowledge to help solve a problem."
Ryan Jacobs, CEO of SpotMyPhotos, said he was impressed by the students' insight and ideas.
"I was particularly struck by the extent to which these students rolled up their sleeves as true problem solvers," he said. "Whether applying themselves at startups or elsewhere after school, these Florida Poly students demonstrated that they have a lot to contribute."
Megan Morano, a senior business analytics major, jumped at the chance to take part in the unique experience. She has participated in entrepreneurial competitions, and said the event setup made a possible entrepreneurial future feel real and accessible.
"When you have a 100 percent STEM major, you wonder about all the different ways you can use it, and to see how people took an idea and created something out of it was an experience I wanted to see firsthand," said Morano, from Clearwater, Florida. "I think all Florida Poly students should see entrepreneurship in their future because we have such a unique background at this University."
Chua agreed and said he was happy to have taken part in the event.
"I know a lot of students who are entrepreneurs who can really benefit from the support system Embarc can offer," he said. "Additionally, a lot of the companies there are actively looking for talent and we got to meet with the person in charge of talent. Sending her your resume will be like sending it to 100 companies."
Shenoy said this was a big benefit for the startup companies at Embarc Collective as well.
"The 75-plus startups we serve are always looking for strong talent to join their teams, so connecting them with the Florida Poly student population is a win-win," she said.
Event organizers were pleased with the day's success and said they looked forward to more collaborations in the future.
"This event is a great example of Florida Poly's goal of collaborating closely with industry to solve real-world problems," said Paula Reed, director of corporate and foundation relations at the University. "Engaging with companies is so important and gives students exposure to the variety of diverse workplaces available to them upon graduation and it is also essential to their professional development."
Contact:
Lydia Guzmán
Director of Communications
863-874-8557