Alum grows into tech-forward career with Publix Super Markets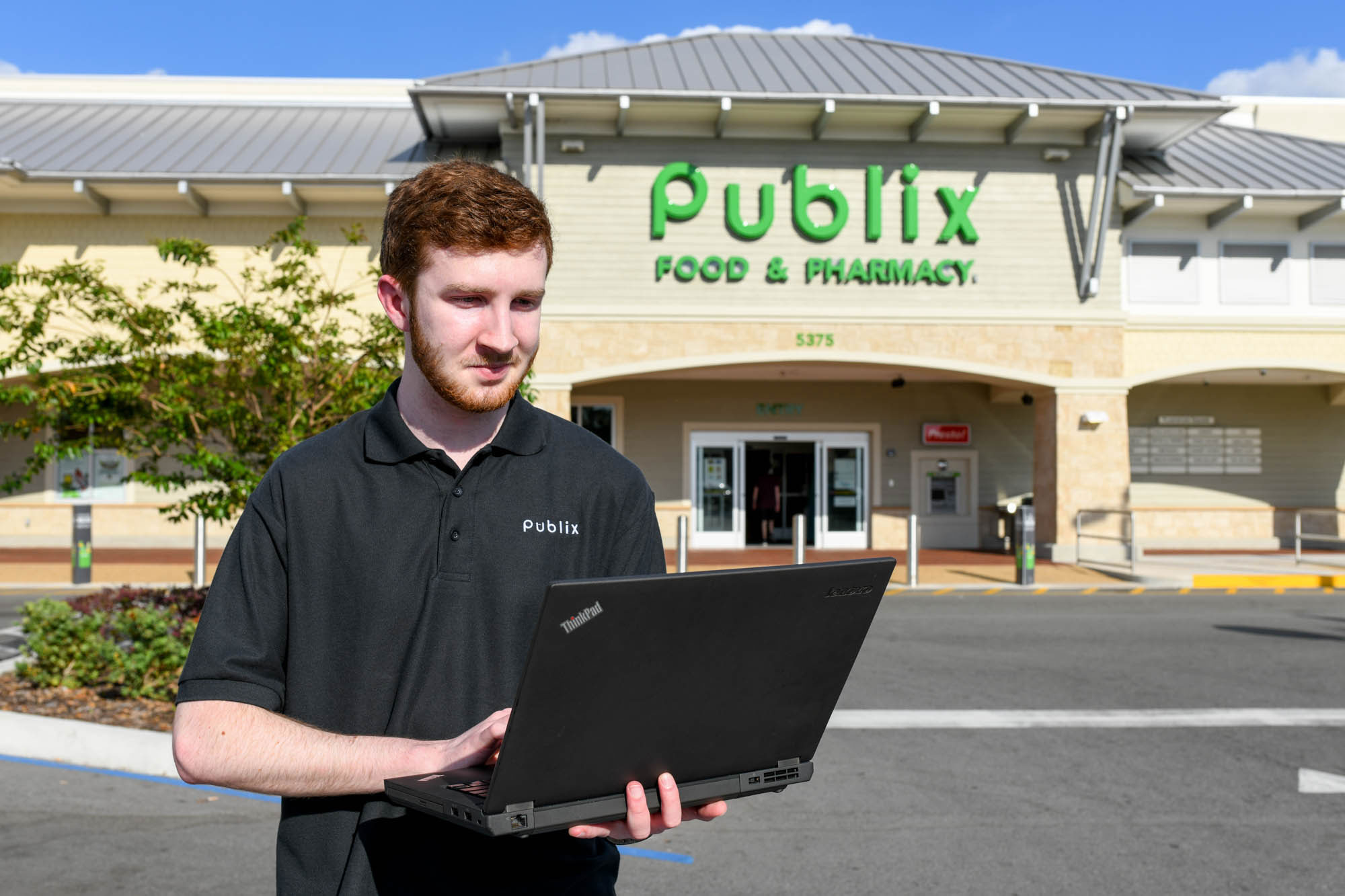 When Greg Willard '20 took a high school job packing and bagging grocery items at Publix Super Markets, he never imagined his time with the company would evolve from the supermarket floor to its website's technological infrastructure.
"I started as a bagger and worked my way up to customer service clerk – it's a good company to work for," said Willard, from Naples, Florida.
Willard earned his bachelor's degree in computer science with a concentration in cybersecurity in 2020 from Florida Polytechnic University. Today, he is a programmer and developer for the Lakeland, Florida, -based grocery chain, working to refine its website's in-store pick-up section, where customers can order cakes, subs, and other items online.
"It was cool to be able to go from working in a store and knowing how stuff worked and playing with the website in my free time, figuring out how certain parts of it worked, to really working with the website," Willard said. "Knowing a lot about how the in-store processes work helps."
As a student at Florida Poly, he had the opportunity to complete an internship with Publix and stayed with the company while he finished his degree.
"I have to applaud our amazing faculty for teaching a curriculum that helps develop the technical acumen that our students need to be competitive," said Pairris Jones, associate director of career development at Florida Poly. "This institution has done an outstanding job preparing Florida Poly students for career paths such as this. Publix is a remarkable company and I'm pleased to see Greg grow his career there."
While Willard's internship focused on quality assurance and testing website features, his current role involves implementing new website features and fixing any issues that arise.
"We're always striving to make our website accessible to people with disabilities and there's a lot of ADA (Americans with Disabilities Act) compliance items we're working on to try to better the experience for people with disabilities while keeping the same functionality for everyone else," he said. "We view accessibility as an ongoing effort and are continually seeking solutions that will ensure accessibility to all users."
Willard said his cybersecurity concentration has been pivotal in his workplace success.
"I'm always thinking, 'What if there's a way to perform a code injection attack via this particular feature we're adding or change we're making,'" Willard said. A code injection is a type of attack that involves injecting code into an application that is then interpreted or executed by the application. "I always remain aware of that and try to see it from the security side of things."
Willard said he is grateful for both his Florida Poly education and the opportunities he has received with Publix Super Markets. He's excited to see that his hard work is paying off.
"It's satisfying to be able to work for a company that I have such a long history with and be able to use the skills I gained at Florida Poly to help contribute to their success," he said.
Contact:
Lydia Guzmán
Director of Communications
863-874-8557