Q&A: Isabela Rangel ready to take on the future of AI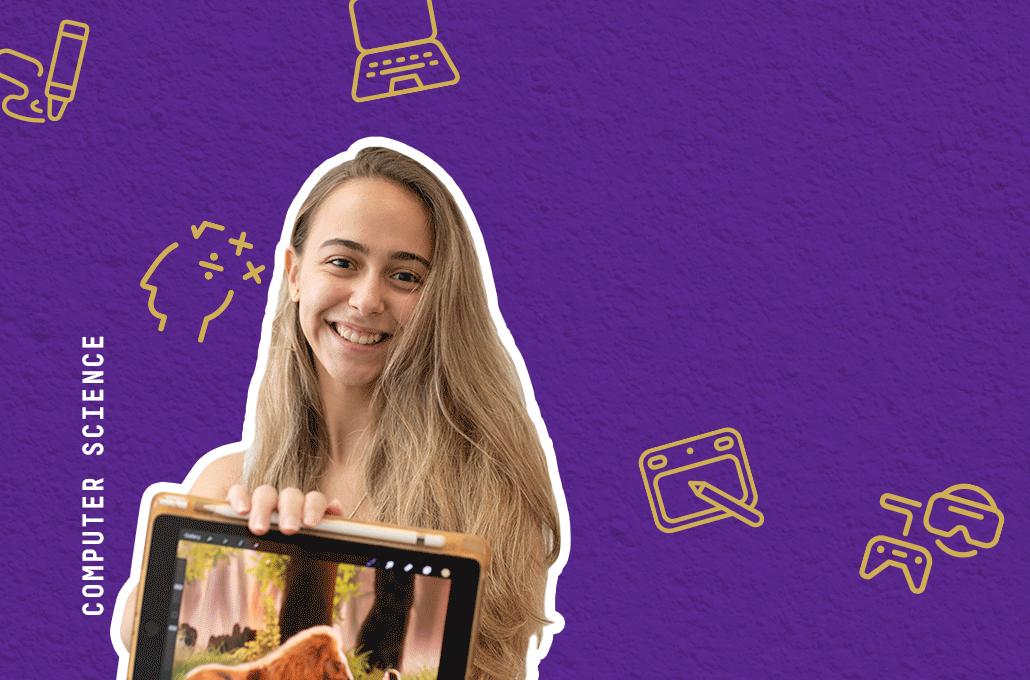 When Isabela Rangel '21 receives her bachelor's degree in computer science this May, she will be ready to charge toward the next chapter of her life, pursuing a career in project management. The graduate of West Orange High School in Winter Garden, Florida, has been active on campus during her time at Florida Polytechnic University participating in organizations such as InterVarsity, Baptist College Ministry, and the Art Club. Rangel, who was born in Brazil, now hopes to find new ways to use automation and artificial intelligence (AI) to benefit society.
What was your greatest accomplishment at the University?
I think it would have to be our team winning second place at the fall 2020 Game Expo. Asia's Adventure is a video game about a little girl who is having a dream and wakes up in the middle of her toybox, but it has a bunch of evil toys because the guardian of the toybox – her cat – was taking a nap. It was so much fun that we got to do that for a game. There were so many nights I went until 1 a.m. just programming, and it was so rewarding because we got to make an adorable game and I got to learn so much about design and development. It felt really nice that people recognized the amount of work that went into the game.
Why did you choose your major?
My dad is a computer scientist, and when I was about 10, he gave me a game called "LittleBigPlanet" where you could program. I enjoyed programming small games and levels and after that I got a robotics kit and started playing with robots. When it came time to pick my major, I just thought I would do programming and make games and robots. My dad loves it. Sometimes we'll be at the breakfast table just talking about computer science and my mom, who is a biologist, is left completely out of the conversation.
What advice would you give an incoming freshman?
Your free time will continue to decrease, so make good use of it. The time you have now you may not have later. Also, make sure you learn something new and just pursue your passion. Don't just learn inside class; put some time in to research your passion and do it on your own. For me, game development for a long time has been my passion and I've been doing a lot of it on the side. Now, I think my newest passion is automating things and making AI work and do things for me.
What does earning your degree mean to you?
It feels like I'm closing a really good chapter in my life. I'm really grateful for all of it, for Florida Poly and all the people who helped me. It feels like I'm ready for the next step. I have so much more to continue learning and continue growing after I'm done with my degree.
What was your favorite course and why?
I loved Discrete Mathematics. I love math and logic and that class combined both of them, so it was a lot of fun. I loved my Game Design 1 and Autonomous Robotic Systems courses, too. It was fun to learn how to put a robot together because I have used sets before that were pre-made, but that class taught me how to do that myself and how to do some sort of AI to get the robot to not bump into things, which was really interesting.
What are your long-term career goals?
I want to be managing projects and be leading bigger projects. I like leading. I really enjoy planning what has to be done and analyzing the situation, organizing things, seeing those things get done, and helping the team. It's really nice as a leader because you get to do a little bit of everything and help everybody out. I enjoy helping, teaching, and planning.
Where did you complete your internship and what did you gain from the experience?
I did my internship with WellCare Health Plans, now called Centene. I did a lot of data visualizations with them and helped expand an existing tool they had that is basically a dashboard that lets you quickly look at the status of your database on the back end. I gained a lot of experience with data visualization and other soft skills I need, like presentations. My public speaking fear is mostly gone now with how much I had to speak. I gained a lot of experience with how to contribute and how to adapt to a new team.
How well do you feel Florida Poly prepared you for life after graduation?
I feel I've been ready for the past year now. I like how Florida Poly does career fairs and how much support the staff gives. If you reach out to them, they will always respond and will help you. In terms of game development, the people from the media lab were really helpful, especially with the game jam and their willingness to let you go into the lab to code and see the projects you're working on. They help a lot.
What did you enjoy most about your time at Florida Poly?
I enjoyed the sunsets so much. Those would always brighten my day at the end of my day of work, especially when I was a teaching assistant and would work until 6 p.m. I would see the sunset every day and I just loved it.
Editor's note: This story is part of a series of Q&As with some of Florida Poly's Class of 2021 graduates.
Contact:
Lydia Guzmán
Director of Communications
863-874-8557