New class of Presidential Ambassadors prepared to lead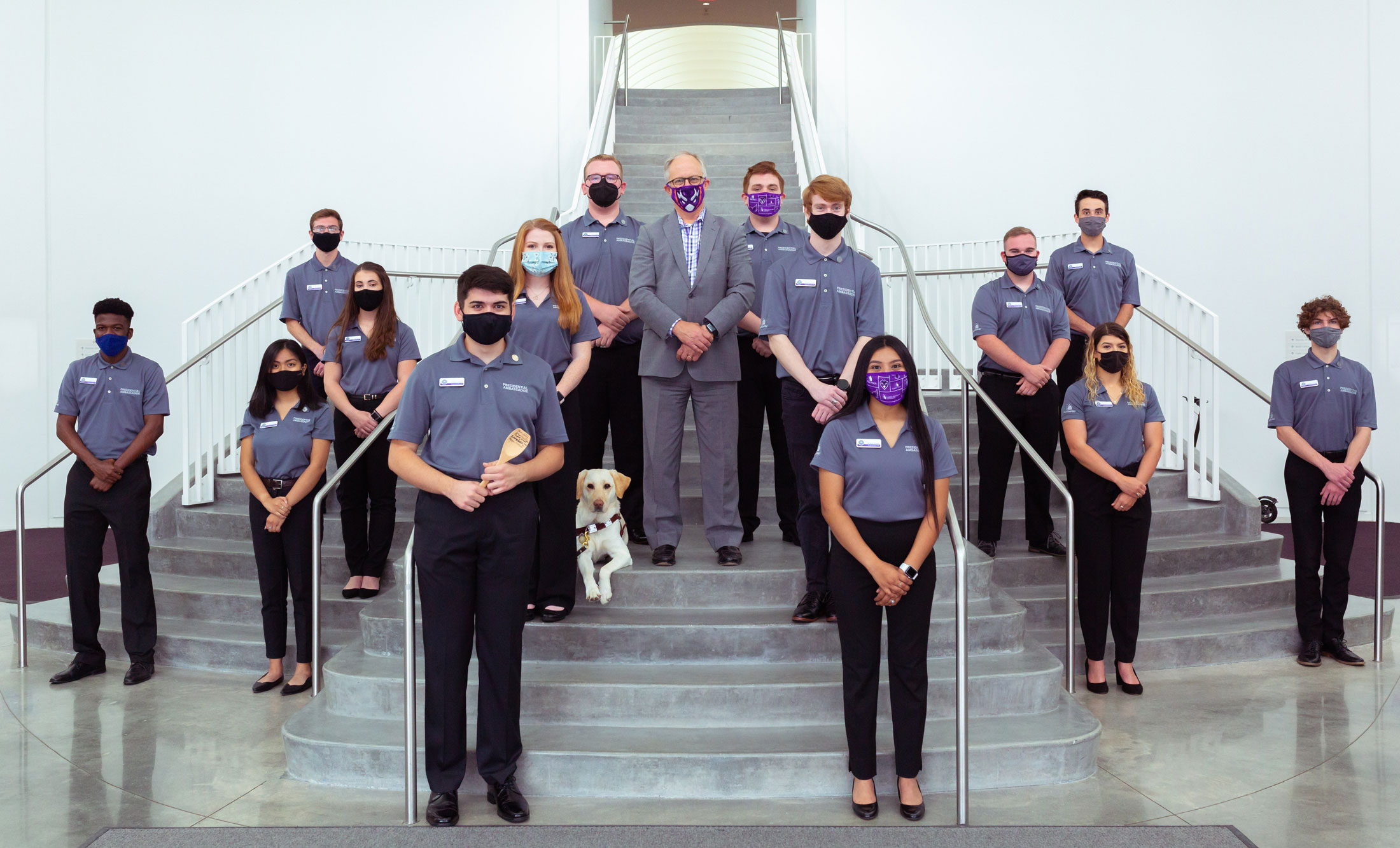 Dedicated, motivated students with a passion for supporting their University are ready to take on the job of advancing the success of Florida Polytechnic University as the 2021-2022 cohort of Presidential Ambassadors.
The new group includes six returning students and eight new ambassadors. Students selected to the group must apply to the program and complete an extensive interview process. The final cohort is selected by Dr. Randy K. Avent, Florida Poly's president.
"I wanted to be part of the program because I wanted to represent something bigger than myself and represent the University in a professional way while getting involved in the tight-knit community on campus," said sophomore mechanical engineering major Zach Kaiser, a new Presidential Ambassador. "Seeing them around campus and seeing how they held themselves and how they treated everyone with respect is what I wanted to be."
Presidential Ambassadors are official, formal hosts at designated events. They receive leadership, communication, and professional training, and their activities include meeting legislative dignitaries, co-hosting formal events, and conducting campus tours for industry partners and University donors.
"This group has helped me grow tremendously as a person. I've totally broken out of my shell and become more comfortable speaking to strangers and more willing to try new things," said Brandon Nickas, a senior majoring in computer science and the new chair of the highly selective group. "The people in the program have become like family and they are some of my closest friends. I'm super excited to meet this new cohort of ambassadors."
Among them is sophomore computer engineering major Jenelle Fernando.
"I'm just really grateful that the Presidential Ambassadors are extremely nice and friendly and I'm going to learn so much from them," said Fernando, from Apopka, Florida. "This will be a great opportunity to show myself to the outside world and show my abilities."
Fernando said she is confident the skills she gains from the program will benefit her for a lifetime.
"I hope to increase my professional development and proudly serve and represent Florida Poly," she said. "When I graduate and go into my career, I plan to use the leadership and core values of this program to help me succeed in whatever I do."
2021-2022 Presidential Ambassadors:
Brandon Nickas, chair
Magelee Delgado, vice chair
Austin Adams
Andre Archer
Ahna Cecil
Matthew DeCicco
Jenelle Fernando
Brennan Halsey
Zachary Kaiser
Braxton Kuder
Hailey Skoglund
Korrie Smith
Mykell Spencer
Madison Yonash
Contact:
Lydia Guzmán
Director of Communications
863-874-8557