New SGA leadership gears up for active 2021-22 academic year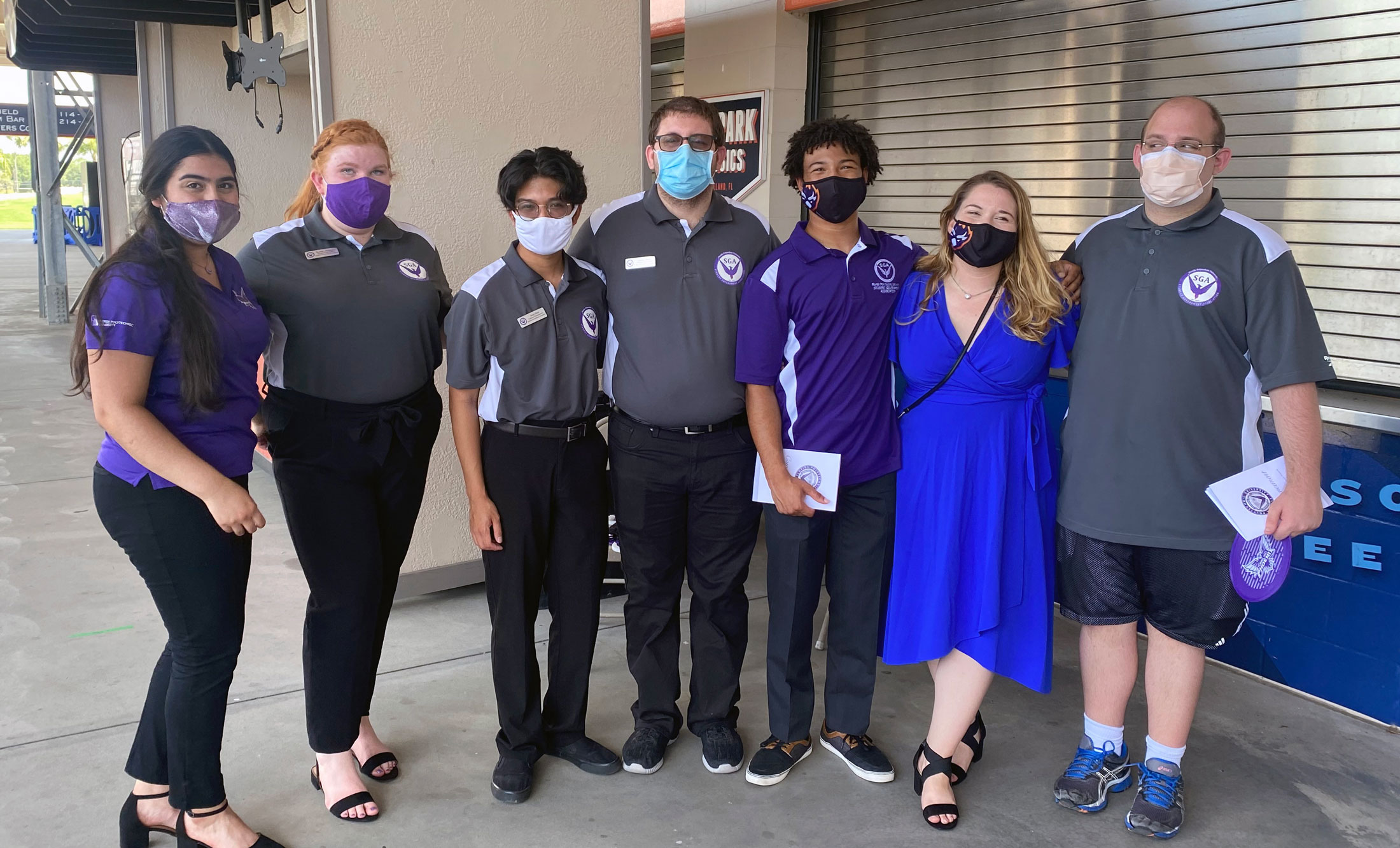 After an academic year stymied by COVID-19 restrictions and limits on in-person events, the Florida Polytechnic University Student Government Association (SGA) is ready to go big in the coming academic year.
New SGA leaders recently were elected, including executive board members Samantha Ashby, president; Antonio Hendricks, vice president; Victoria Correa Andrade, chief of staff; and Jake Greenberg, treasurer.
"This past year, we did all the setting up to do the big things," said Hendricks, a senior majoring in computer engineering. "We like to see that as students get involved, they're more dedicated to themselves, the University, the entire student body, and the future of the University."
Planned activities include hosting on-campus events, boosting the Campus Activities Board, and installing a new bicycle and longboard self-maintenance station outside the Wellness Center. As events return to campus, many will feature an outdoor setting.
"We've started working on a lot of ideas, and although we haven't been able to do them yet, we have the groundwork laid," said Ashby, a senior majoring in mechanical engineering.
Greenberg, a senior majoring in data science, said although much of the group's work during the 2020-21 academic year occurred behind the scenes, it was nevertheless impactful.
"We had changes in the last year and the past month has been insane," Greenberg said. "The consensus is this was probably one of our strongest years."
Jimmy Surin, SGA advisor and assistant director of student development at Florida Poly, said the success of the SGA stems from the commitment of its members and leaders.
"Every one of our leaders started off as a representative of their class or a particular major their freshman year, and then every year they kept increasing their responsibilities to SGA," Surin said. "Every year, they become more vocal and they take responsibility for issues that come up on campus and become people other students will come up to for help."
Ashby, who is excited to take on her leadership role as president, said SGA was enthusiastic about adapting its operations to COVID-19 restrictions. She added that some of the changes that were implemented due to the pandemic have been beneficial and may remain. These include the annual Club Row organization membership event featuring student groups hosting activities inside classrooms in the Innovation, Science, and Technology Building rather than in a clustered table setup in the commons area.
Phoenix Link, which was introduced in fall 2020, offers students a central place to learn about campus organizations and their upcoming events.
"It's given people a lot of motivation," Ashby said. "Hopefully that structure will make it easier for the clubs to expand their membership next year."
Ashby said it is important for students to get involved in any way they can to improve their college experience.
"Campus involvement has been linked to student retention on campus," she said. "College is great, but it can also be really stressful, and getting involved gives students a chance to connect with other students who enjoy the same things."
Visit Phoenix Link to learn more about campus organizations and find ways to get involved at Florida Poly.
2021-22 SGA leadership
President: Samantha Ashby
Vice President: Antonio Hendricks
Chief of Staff: Victoria Correa Andrade
Treasurer: Jake Greenberg
Engineering Representatives: Gustavo Maldonado, Alexander Gage, Douglas Poole, and Jake Karas
Technology Representatives: Melia Rodriguez, Graham Gilbert, and Ramnik Bharath
Junior Representative: Catherine Abraham
Senior Representative: Akshad Patel
Contact:
Lydia Guzmán
Director of Communications
863-874-8557