Alum thrives in successful career with major supply chain company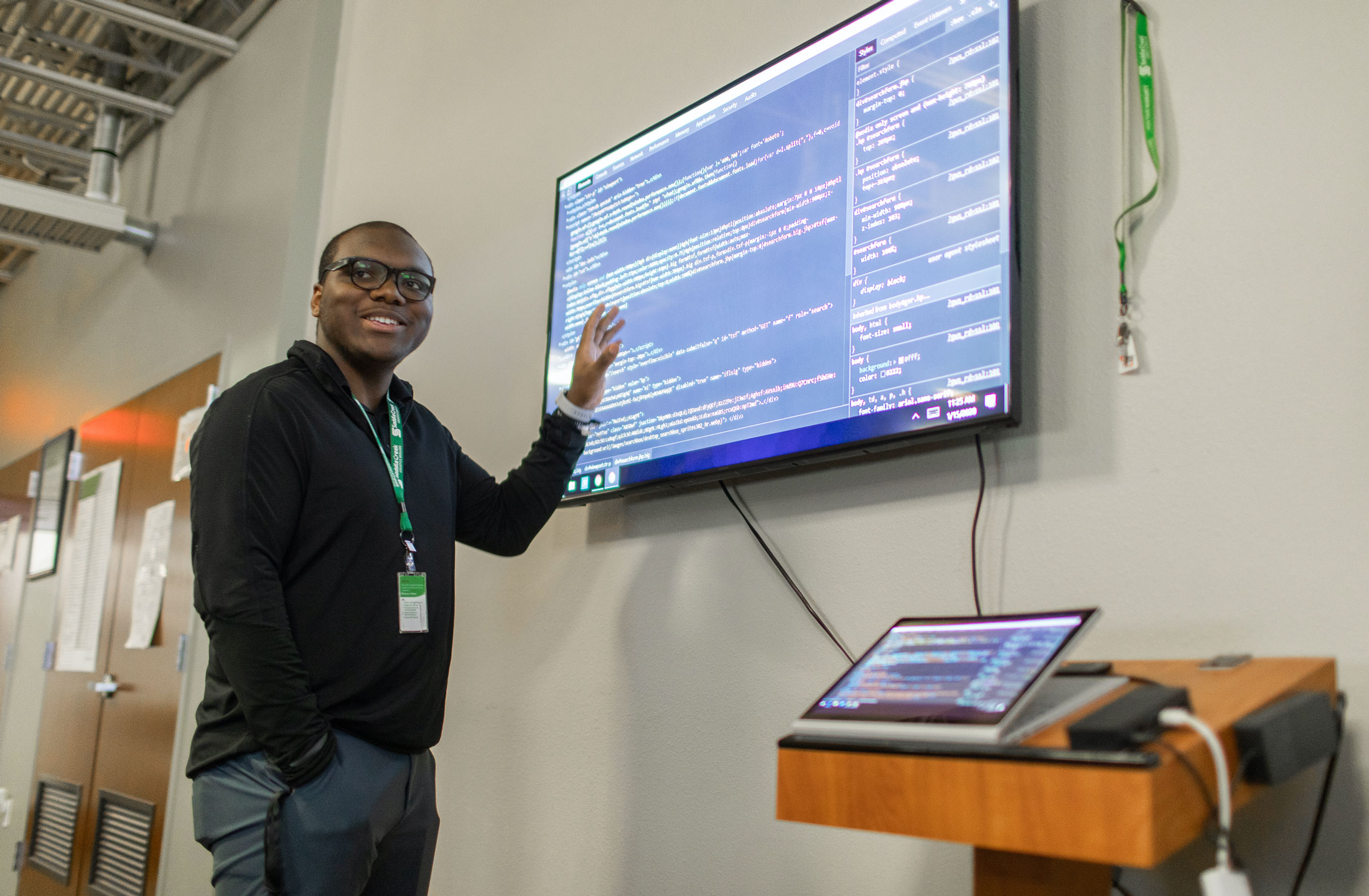 Early in his college days at Florida Polytechnic University, Travis Hills '19 began an internship at Saddle Creek Logistics Services that changed the trajectory of his professional life.
"I was a freshman about to be a sophomore, so I was a little odd and nervous, but it was a good opportunity, and it was definitely right for me," said Hills, who graduated in 2019 with a degree in computer science and concentration in cybersecurity. "The internship was supposed to be for six months, but they just kept me."
His internship eventually spanned three years and the Lakeland, Florida, -based supply chain solutions company then hired Hills as an information security analyst.
Nathan Everson, Hills' supervisor, said Hills has become a strong asset to the team.
"Travis has done a tremendous job bringing new ideas to our existing culture," said Everson, senior manager of information security and data privacy officer at the company. "A company like ours that has been around for 50-plus years can get used to doing things the same way, and he's come in with some innovative ways of solving problems."
Although Hills said he initially felt a bit unprepared when he joined the company as a rising sophomore, he quickly found his footing and began applying his classroom instruction to his internship experience.
"That helped me keep pace and continuously improve in the internship through those years," said Hills, from Tampa, Florida. "It was a good exercise of the technical things I was learning at school and putting them into practical use."
When it came time for graduation and Hills transitioned into a full-time role, his early trepidation was replaced by confidence, competence, and a desire to continue learning.
In his current role, Hills' duties include ensuring the company's users can sign into all of its different apps, overseeing and implementing the automation of managing user accounts, and onboarding and offboarding employees.
"It's definitely something new every day," said Hills, who was student body president during his senior year at Florida Poly. "It's always interesting and always challenging."
Hills' attitude has earned him a dynamic spot at the company, Everson said.
"He's always been one to dive right into something, and if it's not something he knows, he has no issue with doing the research, learning, and picking up on it really quickly," Everson said. "For example, we deployed a new tool and nobody in the company knew anything about this tool, but since we deployed, Travis has become the expert by attending conferences and trade shows, and while helping himself to grow he has helped the company grow along with him."
In 2019, Hills joined the Florida Polytechnic University Foundation Board of Directors. He said the experience has enriched his understanding of the University's student body and fostered an even deeper affection for his alma mater.
"Being on the board, I get to see where all the grassroots and community passion comes from," he said. "I love knowing the force behind the scholarships and being able to hear the success stories of the students. It's been really rewarding to be part of that body and hear the things Florida Poly is doing and how other people feel about the University."
Contact:
Lydia Guzmán
Director of Communications
863-874-8557