Alum finds success with major solar technology company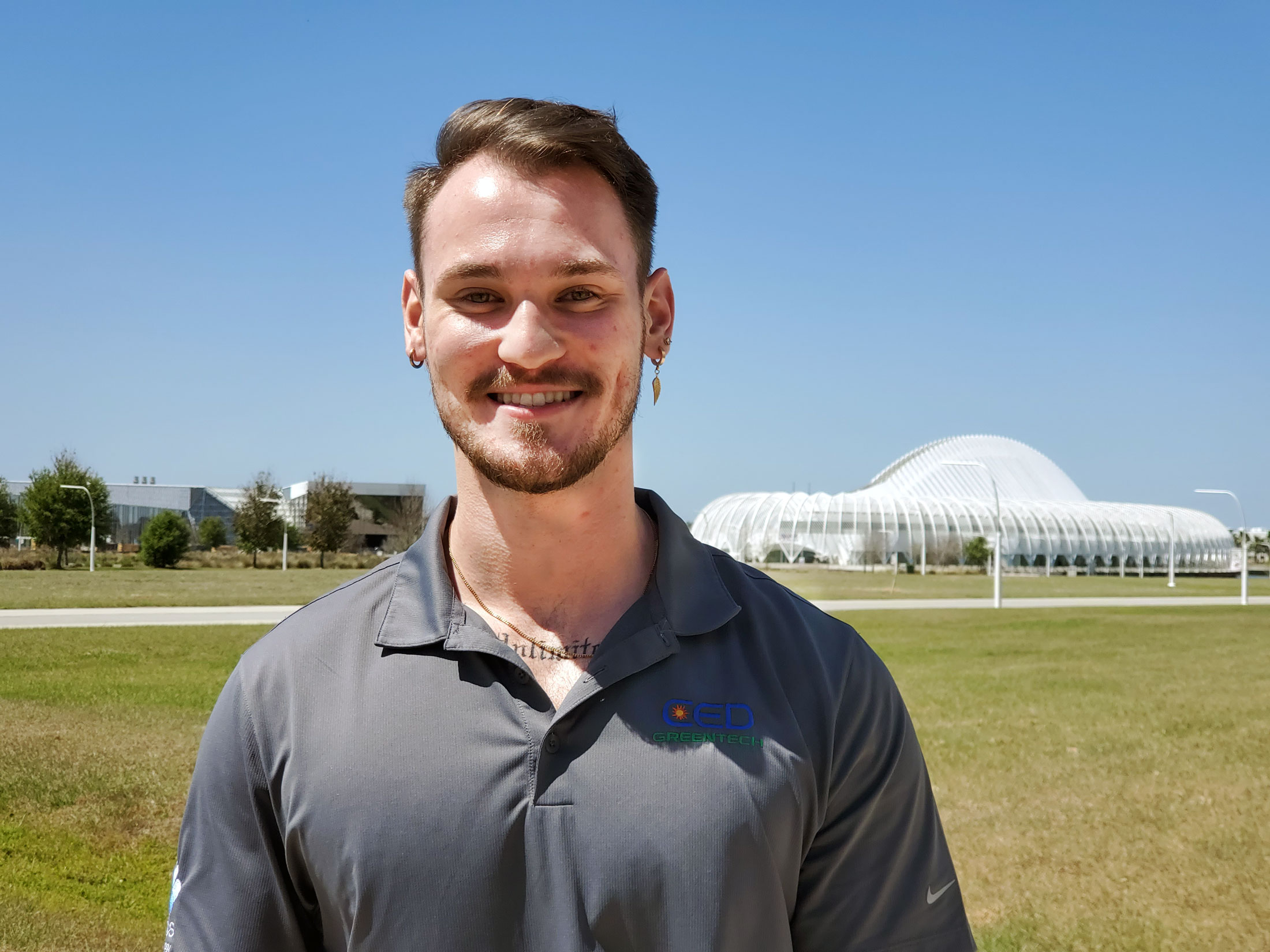 As an engineer for solar technology company CED Greentech, Zachary "Zeus" Unson '20 helps consumers safely implement the use of solar energy in their homes.
Unson, who received his bachelor's degree in mechanical engineering with a concentration in nanotechnology from Florida Polytechnic University in 2020, is now a solar engineer for the national company at its offices in Tampa, Florida.
"I make sure that the solar technology being installed on homes is safe and in the most efficient arrangement," he said. "Not only do I love doing what I do every day, but the culture at the company is what sets it apart. Everyone there is work hard, play hard."
Unson said he enjoys being part of the growing world of clean energy and helping consumers achieve energy independence.
"It's amazing to be part of this company and know that I am making a difference in people's lives," he said. "The technology we're using will is playing an important part in our country's energy future."
Josh Kearns, operations manager at CED Greentech and Unson's supervisor, said he has been an important asset to the company.
"He hit the ground running, which is a great comment on the education he received at Florida Poly," Kearns said. "We recently moved him to our location in Tampa where he's the only engineer, and he's helping to train the sales and the warehouse teams on some of the products and everything we sell."
Unson's journey to the company was not a direct route as he navigated his job search amid the pandemic.
"I had job offers prior to graduation, but those were canceled due to COVID," said the graduate of Seabreeze High School in Daytona Beach, Florida. "Then I spent $150 getting my resume professionally written and getting a cover letter written, but I was not hearing much back from companies."
Then, Unson decided to connect with Pairris Jones, Florida Poly's associate director of career development, for help.
"She got on the phone with me, and we went line by line through my resume tweaking it and then I started hearing calls back like crazy," he said. "Within the next month I had accepted this position."
Jones said she was glad to help Unson in his career preparation.
"I'm truly proud of Zeus," she said. "He is the perfect example of the amazing talent of Florida Poly graduates, and I look forward to many great things to come for him as he grows his career at CED Greentech."
Once Unson started at the company, he said he found his footing right away and quickly began contributing to the team.
"This is a very niche job, so you have to learn through doing the work, but I felt like I had a very solid foundation to actually take in the information and then turn around and apply it," he said. "Florida Poly makes you very well rounded, so even though I studied mechanical engineering, I did not feel intimidated by the electrical engineering side and I felt very prepared for the mechanical engineering aspect."
Since joining the company in October, Unson has returned to campus to recruit students for jobs and internships alongside him.
"Some of these students may not necessarily be planning to pursue a career in solar energy, but I talk to them and tell them that even if they are freshmen, they should apply for internships now," he said. "I'm very interested in the development of students on campus. My heart and soul are in Florida Poly."
Contact:
Lydia Guzmán
Director of Communications
863-874-8557