NSF research experience readies Phoenix for graduate school success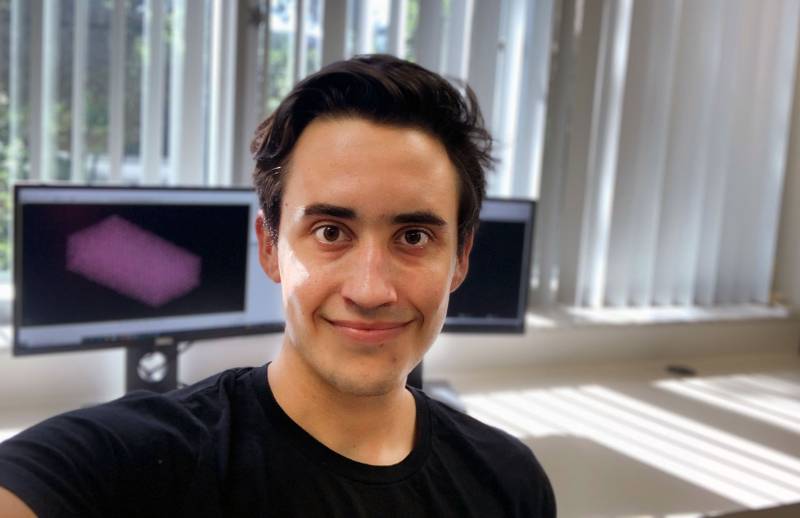 A summer research internship experience is allowing Florida Polytechnic University senior Andre Archer to gain close-up, real-world insight into the field of computational mechanics, a specialized area that he would like to pursue as a career.
"It is the overlap between mechanical engineering, computer science, materials science, and even chemistry," Archer said. "It's really interesting and exactly what I want to go into."
Archer is working on the atomistic simulation of hydrogels as part of his National Science Foundation Research Experience for Undergraduates at the University of Florida in Gainesville.
"Even though I'm a mechanical engineering major, my entire project is programming computers. We're looking at how hydrogels work," he said. "Hydrogels are basically polymer chains networked together to make a cage of sorts that holds water and sucks in water, like a contact lens."
In his work, Archer is studying what happens when the hydrogels fracture and how water moves around the crack to determine how it diffuses through the materials and affects the spread of the crack.
"This can be applied to things like using hydrogels for heart tissue," said Archer, from Pensacola. "It's much safer to use tissues that we make than real biotissue, and by using a high-performance computer to model them, we are able to track the water movement on the atomistic level."
Archer said working with Dr. Sanna Siddiqui, an assistant professor of mechanical engineering at Florida Poly, was critical to his success in this internship.
"I do a lot of research with Dr. Siddiqui and writing papers with her has helped me learn a lot," he said.
The prestigious internship has allowed Archer to connect with other outstanding students from across the country and learn about their projects. He also is working on expanding his professional network by building relationships with professors at his internship site.
"I definitely am getting pretty good insight into what graduate school would be like," Archer said. "I will be taking all the skills I'm learning here and apply them the field I choose to go into."
In addition to his research work at Florida Poly, Archer is a Presidential Ambassador and president of the University's chapter of the American Society of Mechanical Engineers.
"One huge thing that I've learned is what it's like to not just study, but focus all your energy on one specific task and do a deep dive into something more than I've ever done before," Archer said of his internship. "I definitely know I want to go to graduate school and be involved in research, learn new skills, and generate knowledge."
Contact:
Lydia Guzmán
Director of Communications
863-874-8557