Student leadership takes center stage at weeklong U Lead events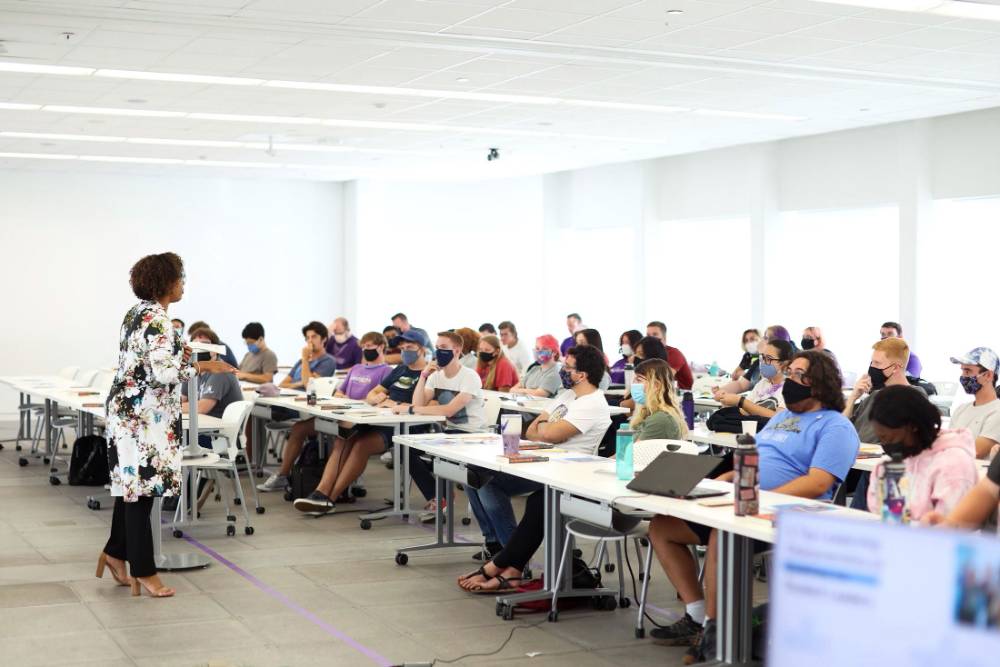 Presidential Ambassadors, orientation leaders, peer health educators, education assistants, and other student leaders at Florida Polytechnic University are gaining a deep understanding of leadership skills and techniques during the inaugural Florida Poly U Lead student leadership initiative.
U Lead works to help guide, educate, and support students in leadership roles across campus. The weeklong initiative began on Monday, Aug. 16 and ends on Friday, Aug. 20. Sessions include teambuilding activities, educational sessions, and skill-building workshops. The students also will assist with move-in and orientation activities Aug. 21-23.
"I want students to take away the tools and skills to actively live the Student Affairs values of collaboration, adaptability, and innovation through their individual leadership," said Dr. Kathryn Miller, vice provost for student affairs at the University.
Miller told the students gathered for the Aug. 17 U Lead session that the foundational principles they are learning will play a major role in their lifelong success.
"It's up to you to step in and to become the leader you're meant to be," she said. "This is about you and who you are becoming as a leader."
One of the main goals of the program is for students to develop essential skills that will assist them in communication, mentorship, and becoming leaders in STEM, according to program materials.
Juan Glinton is a senior majoring in computer science and an orientation leader this year. He said the program is an exciting opportunity for him.
"I like it a lot. At the end of this, I want to feel comfortable in the position that I'm in – and I'm getting there – so I'm confident that I can take care of anything I should be able to take care of," said Glinton, who is from the Bahamas. "I want to feel competent and confident, and I'll know all the other student leaders, so if I need to coordinate anything, I'll know who to talk to."
Dr. Lynn Johnson is owner and senior consultant at Triumphant HR Solutions, based in Lake Wales, Florida. She led an informative session about how students can individually develop the leadership traits they already possess.
"I aim to make you all believe you can do anything, and through that you can become the best leaders that you can be," she said. "Leaders make things happen. When you leave Florida Poly you want to be able to make things happen."
Other U Lead sessions focus on topics such as listening, mental health, and time management.
Ethan Marshall, a junior majoring in computer science, said the training will be especially helpful as he heads into the academic year as the new president of the Campus Activities Board.
"I'm new to a lot of this stuff and I think this will help with many things I'll be doing this year," said Marshall, from Fort Lauderdale, Florida. "It's also a chance to get to know the rest of the student body and people I'm going to work with the rest of the year.
"I really appreciate this opportunity and am very excited for this year."
Contact:
Lydia Guzmán
Director of Communications
863-874-8557